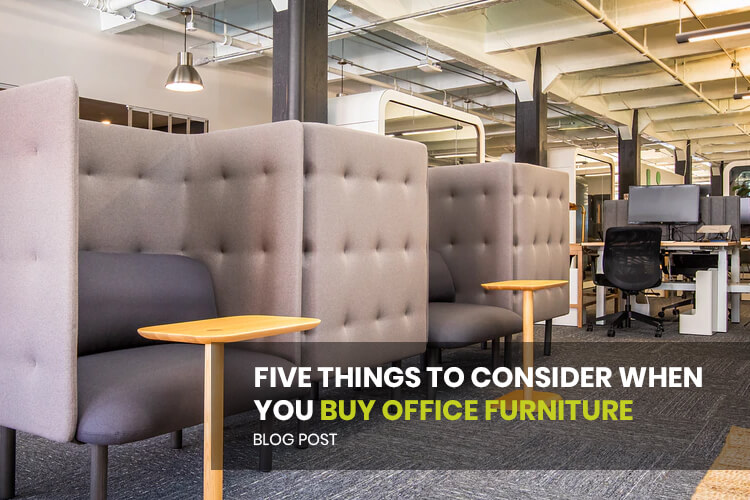 Five Things to Consider When You Buy Office Furniture
Whatever your reason for looking for new office furniture, there's five (ish) golden rules you should follow to make sure you buy the right pieces for you and your workspace. Read our blog post to find out what they are.
You may be buying office furniture because you're starting up a new business, moving your growing enterprise into a new premise, or just revamping your existing office space to bring it into the 'teens (finally). Whatever your reason for looking for new fixtures and fittings, there's five (ish) golden rules you should follow to make sure you buy the right stuff for you and your workspace.
1. Your budget
This is, as you can probably imagine, the primary factor when it comes to deciding what to buy. How much you can comfortably spend on your furniture determines whether you'll aim for cheap and cheerful, mid-range and a bit more durable, or all-singing, all-dancing pieces that will still be with you when you top the Rich List.
2. How much space you have
You also need to look at how much space you have in your office and how much floor area and free-flow you want in your premises. If there's only a few of you in a relatively small area then two or three large co-working tables might save space and money. If there's a fair number and you all need your space, then look at buying a bigger number of smaller tables and maybe a few dividers. It's important that no-one's cramped, though. Comfort is hugely important because if you or your employees are uncomfortable, feel hemmed in or are too close together, productivity will fall and you may even lose people.
3. The fabric you choose
It's important to keep things clean and hygienic, no matter what your business is, so make sure your office furniture is made of fabrics and materials that are easy to keep clean. Darker, hard-wearing fabrics that can be steamed, for example, as well as wipeable surfaces will help you to maintain good standards of cleanliness.
4. The look of your office
If you're really on a tight budget and you have to choose your office furniture from end-of-line odds and ends, then so be it…for now. If, however, you can buy Office desks, Ergonomic Office chair, Computer desks, Office chairs, dividers, tables and so on with a consistent theme, colour or wood, then do so. Having this consistency brings the place together, presents a professional image and also prevents people from assigning a particular chair as the favourite, or the "throne".
5. Ergonomics
People spend eight, nine or even ten hours a day at their desks and on their office chairs, so each item of furniture has to be physically comfortable so that no-one ends up with back pain or leg cramps after a hard day's work. Desks and chairs also need to be designed so that everyone can easily complete the work required of them without having to get up every few minutes to, for example, reach over their desk to a shelf or plug socket.
Bonus golden rule – your electronics
It's vital that your furniture should have your electronics in mind, from a simple cable hole in a desktop if you're on a tight budget to wireless charging chair arms and pop-up plug and USB socket towers if you're feeling fancy.
Interia
With over 30 years' experience, we offer Australia's best range of office furniture. With our user friendly online ordering capabilities through to complete design & construction we remain committed to exceed your expectations. Whether you're an aspiring start-up company or one of the world's best known blue-chip corporations, we have the solutions and options to suit your work-style and your budget, just contact us on 1300 734 105