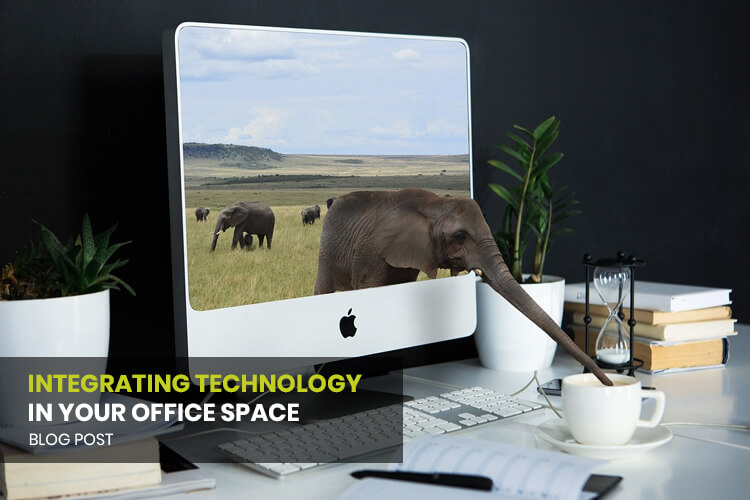 Integrating Technology In Your Office Space
Technology is transforming the way businesses work by enabling them to streamline their processes, improve productivity, and get results faster than ever. The influx of new technology has not only made our personal lives convenient but also transformed the way we work. The modern workspace has experienced a complete shift in how we carry out our jobs.
How Technology Is Changing The Workplace?
Technology, today, has completely transformed the way the workplaces perform. The advancements have reshaped organisations by making the business processes better integrated and more streamlined.

Office spaces have evolved over the years to embrace the modern innovations presented by technology. Technology is helping employees to carry out their tasks effectively regardless of their location.
With technology, the way employees collaborate, communicate and connect with each other has reached new heights, helping businesses achieve increased productivity in the workplace.
Recruiting the right employee for the right task has been one of the greatest challenges for organizations. Technology has made hiring processes more convenient for businesses today. Location is not the barrier for the deserving candidate anymore as tasks can be carried out remotely in some industries. Businesses are now able to easily research the background and filter applicants with the help of new technology. With the correct use of the right tool, businesses are providing the right training and getting the best out of their employees more than ever.
With the right tool, employees and leaders are able to connect with anyone they wish to, anytime, from anywhere to ensure the right information is conveyed to the right person.
Our workspaces are using up less paper and businesses are occupying fewer spaces for offices. Thanks to technology, our offices also exist in the virtual world so that we can carry out essential tasks on-demand without having to rush to our physical office locations.
Benefits Of Integrating Technology In Your Office Space.
A perfect office environment equipped with the best tools and technology is essential for improved performance. Hence assimilating technology in office space has now become a mandatory demand of time. Let's discuss the benefits and ways of integrating technology in your office space effectively.
Improved Communication and Collaboration: The way we communicate has transformed in recent years. The variety of virtual communication tools that exist in the market has taken business communication to the next level, improving efficiency and collaboration of employees. Adjusting such technology and tools in the professional environment has many benefits as the world has become a smaller place today.

Improved Decision making: In the fast-moving everyday work life, some decisions are to be made instantly, and some information is to be shared on-the-spot. Customers always appreciate the quick turnaround and rapid feedback. With technology, you can access the right information on time and communicate effectively to make quick decisions on demand. You can also respond to customer and client inquiries faster with technology integrated at your office space.
Improved Performance: Improved communication, better collaboration, and on-demand access to information—all lead to better performance. Integrating technology to the professional environment not only helps get tasks executed on time but also boosts productivity hence making employees more satisfied with their work.
The Impact Of Technology On Office Design.
The introduction of laptop computers, smartphones, tablets, and wireless connectivity has facilitated, or rather forced, a noticeable shift in the nature of office design. These rapid advancements in technology have allowed workers to work anywhere at any time and brought with it a higher level of mobility, and a refreshed concept of office furniture design.
The introduction of the flat screen monitor in the last decade facilitated shallower desktops and a shift to rectangular desking from the corner or 120-degree design which was required to accommodate the large CRT monitors of the past.
As the technology world continues to shrink the devices we use each day, most modern offices have transitioned to smaller office desks but with more technical support. Where power and data points were once the only requirements for connectivity, the provision of rapid USB charging is now high on the list.
With the introduction of electronic presentation equipment, meeting and conference areas have generally become less dedicated and the furniture increasingly more mobile. Today's conference tables must contain a multitude of cabling and equipment that is embedded within the table itself with connectivity designed to be readily accessible but without being visible.
The wholesale transformation from hardcopy to digital in the last decade and the rapidly advancing trend towards the paperless office environment has drastically reduced the requirements for filing and storage in the office.
Fully-networked MFC (Multi-Function Centres) have rendered multiple and dedicated office equipment such as printers and scanners obsolete and facilitated the integration of space-saving utility hubs.
Office Design.
Now that we know about the benefits of technology in your office space, let us take a closer look at how we can integrate them to your office design for different working style.
When we think about office furniture and fit-outs, it's important to consider the technology available and how we can best integrate it.
But it's not always straightforward to figure out what technologies to introduce and when. It can be hard to keep up with new developments. Spend time to understand the technology and to comprehend how you can utilise your space to incorporate more productive ways of working.
The office design process starts first with identifying your needs and then building a brief that highlights your most essential requirements to create a productive space as possible. Some design solutions drive better employee engagement and endurance in the face of an uncertain future.
Integrating technology in the workplace is key to keeping up with the trends. As most millennials are raised using technology, it is important to adapt your workspace with technology.
Multimedia capabilities: As workplaces become more and more virtual, our reliance on communication technologies will increase. Consider introducing multimedia solutions in your office to help you collaborate better. Think about how you share information with your clients and employees. Is it via video, mobile or in audio form?
Flexible furniture: Your furniture should be able to offer a flexible way for technology to be executed. The nature of technology is constantly changing, so make sure your furniture can adapt accordingly. This could simply mean investing in furniture that's not permanently built-in.
Go mobile: Tablets are a great way to work on-the-go. If your employees are out at a meeting, they can check their emails and use the technology as part of their presentation. You can also use tablets to book meeting rooms and sign visitors in and out. This 'mobile' technology can help your business go paperless.
Collaborative hot desks: Do you hire freelancers and contractors? Hosting weekly brainstorming sessions? Choose an area that's close to power outlets and install a hot office desk. This will be your 'hub' for short, collaborative sessions.
By embracing technology, you can achieve a minimalistic design and make space for the things that matter to your employees. Invest in cloud storage, embrace new applications using mobile devices, and train new employees with technology.
Explore your needs and match the technology to suit your needs. Remember, technology will continue to change, so prepare your workspace with adaptable furniture and design. Choose solutions that help your employees connect, collaborate, and share information. Work processes should be as fluid as technology.
Making Technology A Priority.
Most businesses integrate technology once construction is completed. However, this limits the functionality and efficiency of your space. At Interia, we help you and your team to integrate technology at your workspace by facilitating discussions between fit-out and IT in the early stages of your project. We provide detailed plans and collaborate with IT throughout your project to create efficient modern workspaces.

We understand the relationship between a productive workspace and your office furniture. Your company is unique, and your furniture should be, too. For customised office solutions that fit your needs, talk to us.