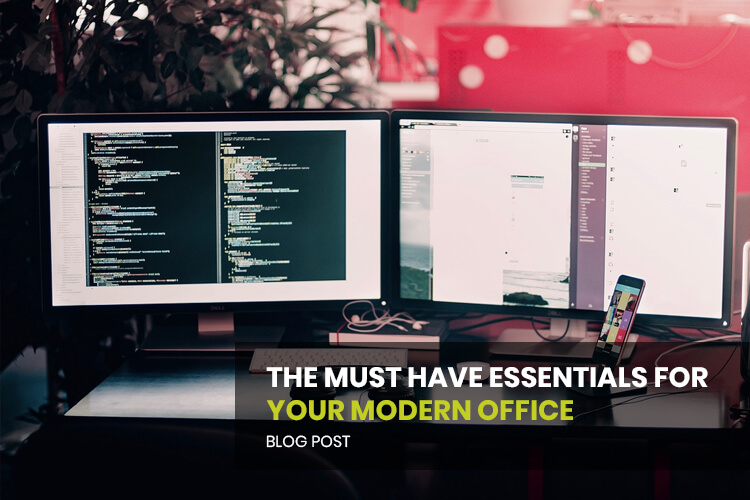 The Must Have Essentials for Your Modern Office
An office partition is the perfect finishing touch on an open plan office. Whether you're working from home or managing a team in a big office, focus is key. Our environment plays an important role in how productive we are.
Just try and work in front of a loud TV and you'll see what we mean.
Of all the things that affect engagement, it's the employee's experience that's at the core of this. When we talk about the physical workspace, it's the one we can see, touch, taste, and smell – all of these senses matter. It's the office floor plan, the wall art, and the people in the space.
Focus, collaborate, learn and socialise
For employees to thrive, there are four things to keep in mind. Create opportunities to give your team multiples ways of doing their work. The modern office is progressive and are multi-dimensional. This includes cubicles to focus, a 'central hub' to collaborate, conference and meeting rooms to learn, and an open space to socialise.
The most innovative companies are moving away from a single floor plan and towards multiple plans.
Consider introducing these things into your office if you haven't already:
A collaborative workspace Build a sense of community and unity by having a dedicated collaborative area. All the different departments can relax, hang out, and get to know each other. The more connected your team is, the better.
A 'mobility' area More companies are embracing freelancers and contactors. Allow independent workers and part timers to drop in and get work done.
Sustainable products Encourage sustainability in the office by using local products and having a recycling procedure. Non-toxic environments should be a focus for every one of us.
Good design Spend time exploring your office furniture needs by focusing on the requirements of your team. Consider space planning, colour, textures, and lighting.
Flexibility The more flexible the space, the better. As office spaces are getting smaller, creativity thinking is critical. Can your meeting room double as your conference and educational space? Don't be afraid to 'make your own rules' when it comes to designing your ideal office. It's got to work for you and your team, after all.
On top of these points, make sure you've got all the essentials too. Keep in mind things like fast internet, interactive whiteboards, enough natural light, and decent chairs. All of these things help promote a positive, productive work environment.
Your home office furniture designers
If you're looking for a quality made a partition for your office or at home, we can give you advice.
It's about striking that perfect balance between too high and too low. You don't want your team to feel like they're caged in. At the same time, partitions are designed to achieve privacy.
Partitions work best when combined with modular workstations and accessories. Maximise your productivity by investing in your office furniture and design.
And for home offices, distraction-free zones make all the difference.