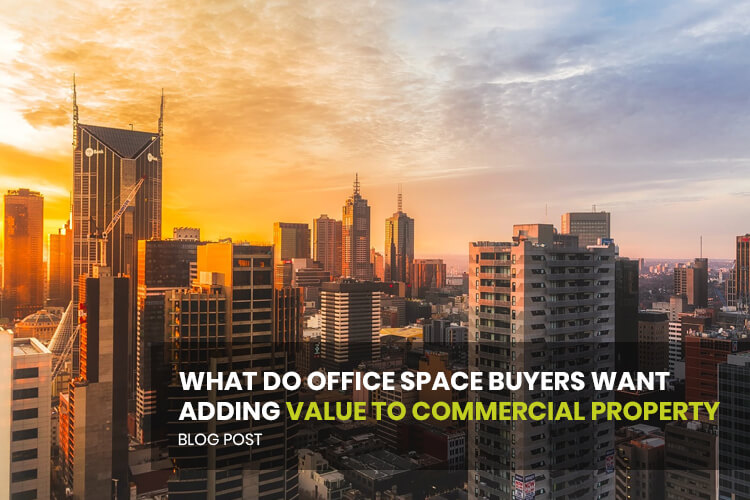 What Do Office Space Buyers Want Adding Value To Commercial Property
The commercial real estate market is in a state of constant flux: the changing needs of modern business dictate office design trends, and CRE sellers have to keep adjusting to a growing list of demands if they want to stay competitive and capitalize on their property with minimal DOM time. But what exactly sells an office fast and for a fortune these days? Here are the top five CRE features 21st-century businesses want to see in their future HQ: the list can help you tweak your commercial property to increase its value and attract more potential buyers.
1. Spatial Flexibility Is an Asset
The number of co-working brands eager to buy a space of their own is growing at a steady rate, and spatial flexibility is one of the first points on their list of office must-haves. The open-floor office is making huge waves in the CRE waters, and even though the open layout doesn't exactly come without hitches, it's still the most sought-after (and fastest selling) workplace plan. For this reason, it may be lucrative to bring down divider walls in your closed-layout office before you put it up in local CRE listings. The upgrade will boost both the aesthetic and functional value of the property and help it turn a few dozen more heads in the crowd of office buyers who know that spatial flexibility is the key to sustainable business success.
2. Smart Offices Are In To Stay
Along with the increasing popularity of home automation, we're seeing a steady rise in demand for button-operated offices. Remote-control doors and windows are just the tip of the smart office iceberg: smart designs are no longer considered luxury today; they've become a necessity as modern employees don't want to waste precious minutes on tasks they can complete by a simple tap of an LCD display. Office access automation, state-of-the-art security devices, one-touch HVAC systems, water filters, and remotely controlled appliances are all the rage these days, which makes such upgrades perfect for CRE owners who want to make smart investments that'll add a few neat figures to the final property sale contract.
3. A Green Change in Demand
Another thing 21st-century businesses have become very attentive to is the HQ environmental impact. The shift to green design is propelling drastic changes in the CRE market now that modern office buyers have realized that long-term utility savings are worth the higher property purchase price. Solar panels, triple-glazed windows, insulation updates, LEED lights, low-VOC paints, non-toxic finishes, and replacement of conventional with green flooring can add value to your office and increase its appeal in the eyes of environmentally responsible businesses looking to get the biggest (and greenest) bang for their buck.
4. Increase Square Metreage
These days, size matters in the CRE world just as much as office location. If you want to leverage access to a greater number of interested buyers, you should take a closer look at the office building plan and find ways to increase total square metreage of your office. You can achieve this by bringing down the walls and going open-plan with the office layout – but if this is not an option, you may want to consult an expert about comprehensive renovation and layout changes to add a few square feet of functional space to the property. A layout makeover does cost a bit, but it offers a handy backup strategy to max out on the marketability of commercial property at hand if your office doesn't have a hot location for a trump card.
5. Glass, Wood, and Colors
Natural materials are a huge trend in the office design world, and millennial workforce likes it. In fact, experts say that offices with natural stone and wood flooring usually earn higher sales figures than those with floors coated in standard linoleum or vinyl. To amp the aesthetic appeal and market value of your office, you can have vinyl or linoleum floors replaced with natural wood, marble, limestone, or travertine. Also, a modern office should be painted in professional colors, so updating the walls with a fresh paint coat is highly advisable. For finishing touches, you can also swap standard windows for double- or triple-glazed panes and doll up the driveway, parking, and office exterior to boost the office curb appeal.
Modern businesses can tell a CRE bargain from a sham, and a potential office buyer will turn on their heel and walk away if they but smell a red flag. That's why your commercial property has to be armed for the challenge from the floors up, and it would be brilliant if you could provide ergonomic office furniture to go with top-notch real estate. Still, even if all you have to offer to the future office owner is empty commercial space, you won't go wrong if you stick to the tips above and carry out the critical updates before first viewers show up for a preliminary tour.
Want to get the most out of your office fit-out design? Contact one of our workspace consultants today on +61 8 9359 1288 or email sales@interiasystems.com.au.