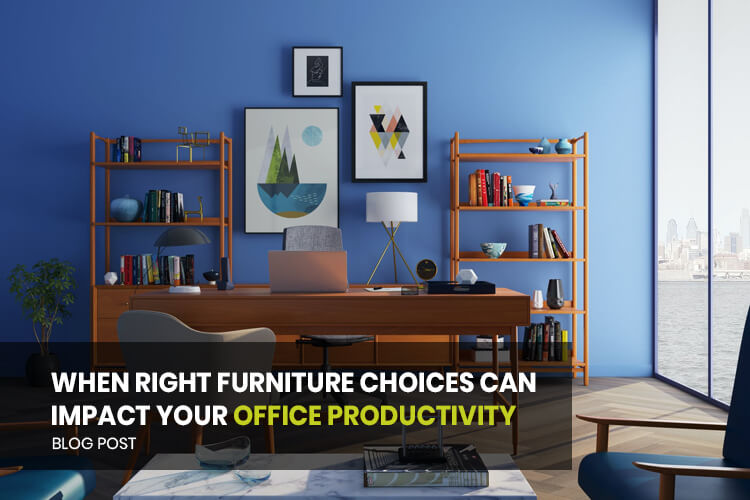 When Right Furniture Choices Can Impact Your Office Productivity
The Right Furniture Choices Can Impact Your Office Productivity
When business owners and managers really start to focus on increasing productivity in their work environment, they soon discover that training, goals, and processes can only take the company so far. There are also foundational concerns that need to be addressed to ensure that employees have everything they need to be motivated and empowered to be at their best each and every day. The right office furniture choices can go a long way toward providing that motivation and empowerment, and can significantly boost employee productivity.
A Focus on Ergonomics
For some time now, the need for ergonomics has been stressed in the business community. Furniture and tools that are designed to facilitate maximum efficiency while reducing employee stress can play a tremendous role in the effort to help employees be more productive. When you select furniture, you should be cognizant of ergonomic principles so that you provide your team with the basic tools needed to get their jobs done as efficiently as possible in a safe manner that reduces the potential for repetitive stress, injury, and disorders that might reduce productivity over time.
That means choosing desks, office chairs, and other furniture items that are sized for efficient workflow, or capable of being adjusted to each employee's individual needs. Remember, the goal of ergonomics is to reduce the risk of sore backs, carpel tunnel syndrome, and other repetitive stress injuries that can result in time away from work and lost productivity. It can be extremely helpful to perform a workplace audit before any furniture purchase, so that you better understand how your employees actually work throughout any given day and the tools needed to make them as productive as possible.
Work Flow Matters
There are different ways to create the ideal work flow, depending upon your productivity goals. Many modern workplaces have adopted a minimalist design that emphasizes open space and clean lines – creating an ambiance that is often likened to that of an art gallery. Others favor an open and interactive workflow that encourages employee exploration – something that has been demonstrated in recent years to be key to boosting both productivity and innovation. Still others require a different kind of engagement that relies on carefully assembled enclaves within the office that help guide groups of employees toward targeted collaboration.
The furniture and accessories that you select are among the most critical components in any of these office designs. One Stanford study demonstrated that even seemingly innocuous objects in the workplace can affect employee attitudes, competitive drive, motivation, and productivity. For example, business tables, work stations, and even briefcases were shown to inspire employee competition and cooperation more than neutral objects.
In today's highly competitive marketplace, productivity is more important than ever before. To achieve maximum productivity, you need to ensure that every element within your work environment is selected with optimal employee performance in mind. With a little forethought and strategic planning, you can ensure that the furniture you choose for your office design and workflow helps you to meet your team's productivity goals.
If you would like assistance with your office layout please do not hestiate to call us on +61 8 9359 1288.
This was written by guest blogger Sadia. She is a business postgraduate and currently living in Manchester – England. She is a full time freelancer write and worked wiht different people around the globe using different platforms. She is a versatile write and worked on many niches like medical, health, travel & beauty.