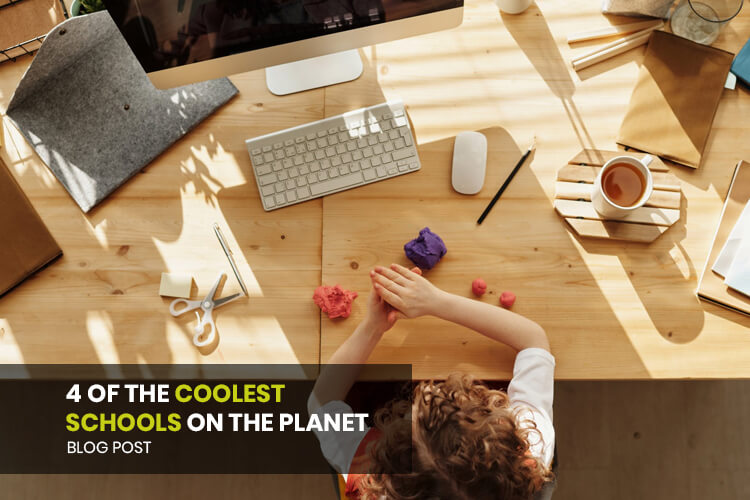 4 of the Coolest Schools on the Planet
Check out our list of the top 4 Educational Facility Interior Designs in the world…
With such inspiring and motivating environments for the students to study in, it may be the case that they actually look forward to going to school…
1. Orestad High School – Copenhagen, Denmark
The Orestad High School is unique in the fact that contrary to the way traditional schools are designed, this architectural masterpiece has no classrooms.
The school has been divided up into 4 sudy zones much like the Activity Based Work philosphy that the corporate world is currently implementing into office fitouts. This philosphy creates a much more flexible, creative & collaborative environment than the aged classroom approach.
Most fascinating is the central, massive staircase which links all 4 levels.
2. Harvester Technical College – Melbourne, Australia
This campus would have to be one of the most incredible education facilities in the world. In fact, it was shortlisted for worldarchitecturenews.com's Educational Buildings Award in 2009.
The school is home to 350 students studying a diverse range of trade based subjects such automotive, construction, plumbing & engineering. It was these students who also put the finishing touches on the construction of this magnificent building as they were encouraged to participate is the interior furnishing projects.
3. Meti Handmade School – Rudrapur, Bangladesh
Truly incredible is the fact that this school was built entirely by volunteers from Austria & Germany, local villagers, teachers & students but maybe even more amazing is the design.
The building, constructed from earth & bamboo, features passages carved into structure which double as access between classrooms and as retreat areas for the students to use when studying and reading. The construction phase of this project was also used as an opportunity for the volunteers to teach the local villagers new and sustainable construction methods.
4. St. Georges Anglican Grammar School – Perth, Australia
Firmly entrenched in the heart of the Perth CBD is a small but very energetic school.
St. Georges Anglican Grammar School undertook a move from an ageing campus to their new, highly motivating facility. The school has a very modern look and feel to it and the carefully chosen colour scheme exudes energy & creativity. With very clever use of the limited space in what used to be an office building, the students have access to several zones. The classrooms are used in group study situations, the breakout areas allow the students to relax & recharge or study undistracted whilst the locker lined walkways are a collaborative masterpiece.