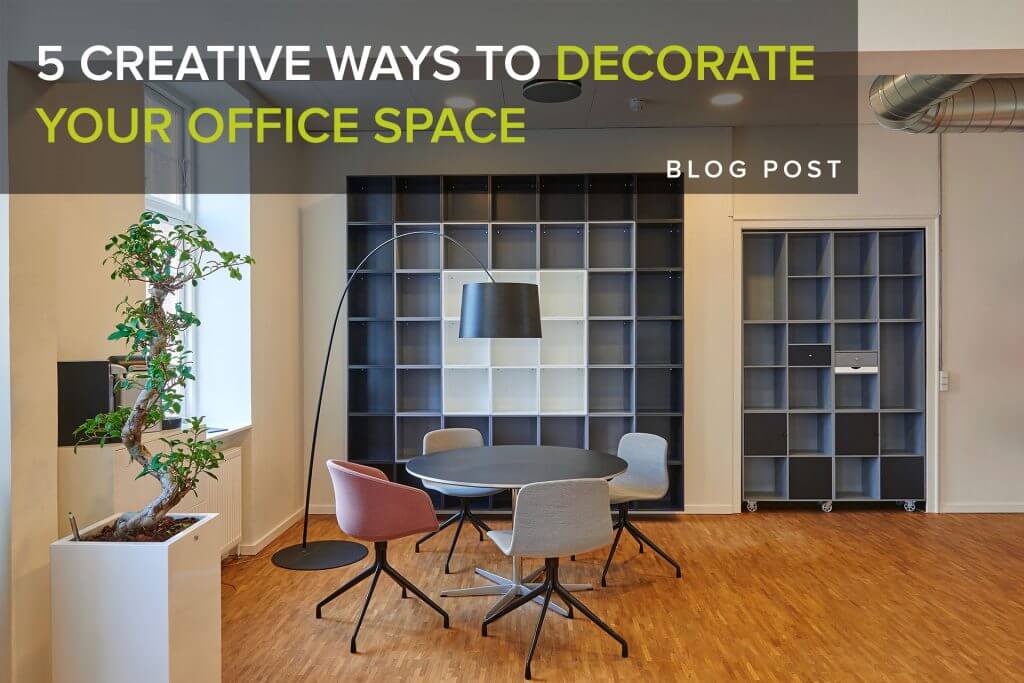 5 Creative Ways to Decorate Your Office Space
Although there's something very satisfying about a neat office, a well-equipped office generally tends towards the bland. After all, it must be functional, uncluttered, and professional-looking. So, is there any room for creativity? There certainly is!
The main thing to remember is that though office décor is there to please people, it reflects the business's personality. Bring the two together, and magic happens. Try these office décor ideas to individualize your office.
1. Turn Your Mission Statement or Company Values into Art
There are tons of ways to turn the things that matter most to your business into an artwork that reminds employees and visitors of your mission, your values, or both. Forget the discreet A4 frame in the waiting area – make it big and bold – give it a striking background and use dramatic fonts. If you have the budget, go 3D for extra eye-candy.
2. Get Bold With Office Plants
Greenery in offices is thought to boost productivity, so feel free to investigate plants and planters. Be sure to hit the sweet spot with your choices. Fake greenery can give a tacky impression, but sad, struggling indoor plants are even worse.
You have two broad options – choose structural foliage plants that are durable and tough enough to tolerate office conditions or get a professional office plant service to keep the office plants fresh.
Your big, accent plants will make the biggest contribution to décor, but be sure to add a few desktop-sized plants in wherever you can. Container choices will be important to keep the office plants part of a unified theme that compliments your office furnishings.
Does your company have a green theme? Whether it's the brand colours or what you do, a trendy hydroponic living wall of plants is the ultimate statement. You can even have your logo picked out in plants! Our advice? Get professionals to help you with this unless you're a very avid hobby gardener.
3. Celebrate Your Business with Collages
Every business has proud moments that are captured in images. Hand-made collages can be very effective if you're feeling arty and use good materials – or talk to the company that generally prints your marketing materials to find out whether it has a graphic designer who can help.
Reminding the office team of the company's achievements helps to keep motivation high, and clients visiting your office will enjoy seeing more of your company's story in these artworks.
4. Surprise with Pops of Colour
Ergonomic Office furniture and décor shouldn't create an environment that could be jarring to people whose tastes differ from yours, so there's generally quite a big focus on understated, neutral colours – but you can let your business's personality shine through with pops of colour. Just look at our case studies to see how coloured partitioning or work-station dividers can bring liveliness to office interiors.
5. Support Local Artists
Artworks as office décor are a durable investment. If you follow this route, go big with a few choice artworks that make a big impact. Whether it's paintings or statuary, the last thing you want is a cluttered look.
Be very selective about focal point décor items and give them added prominence with clever lighting. One really effective feature will make more of an impact than ten scattered decor details.
Last Tip: Don't Let Creativity Get in the Way of Comfort
You absolutely had to have that cactus pot, but now it threatens you with grievous bodily harm every time you reach across your desk. That quirky chair looks fabulous, but your back tells you it wasn't the best choice after all.
No matter how creative you get with office décor, remember that offices work hard and keep practicality, safety, and good ergonomics as a priority. With great-looking, scientifically-designed furniture options and tons of customizable features to choose from, you can easily combine creativity and comfort.
Try our design tool to see just how your office will look, fill out an enquiry form to get a call back, or call us for in-person advice. Or visit our Office at Perth and Melbourne for Office Furniture.