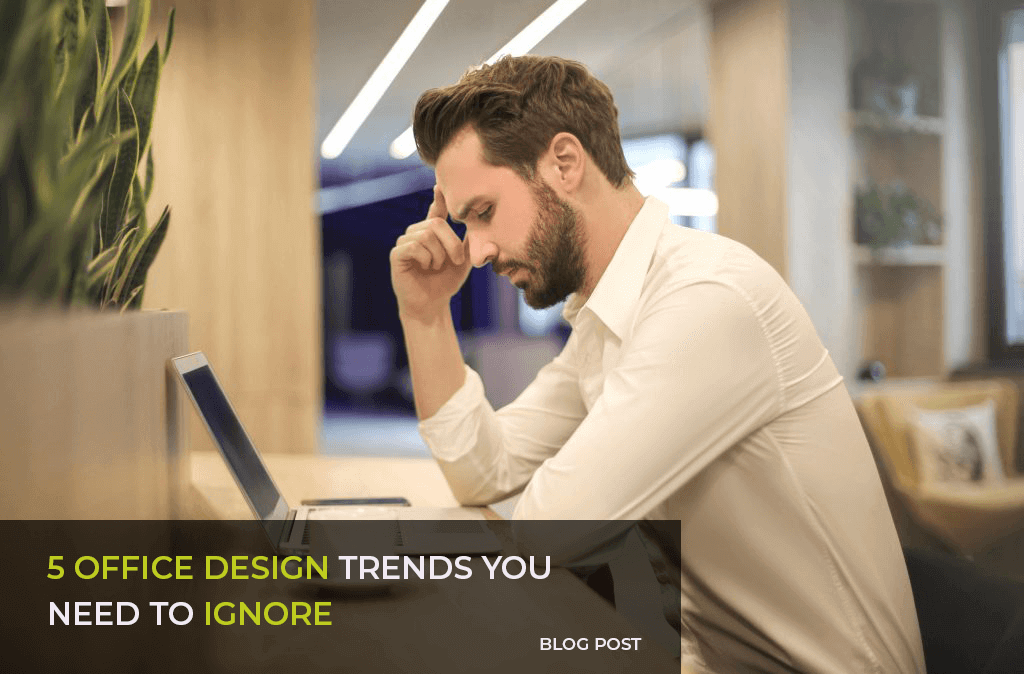 5 Office Design Trends You Need to Ignore
New office design trends are all about bringing more colour, adaptability and fun into the workspace. But some of these design trends, whilst they may seem like an innovative idea to begin with, could end up being a disastrous decision that you'll regret ever having spent good money on. Let's take a look at some of the more dubious office design trends, which you should probably ignore when planning your office design.
Industrial interiors and reclaimed wood – while reclaimed wood is certainly eco-friendly and can last for years, it may not be the best fit for your brand or the look you're trying to achieve. Industrial interiors with unpainted walls and rough finishes, can result in a cold environment that will soon look and feel shabby and depressing. So best not to jump on that bandwagon too soon.
An excess of fun– bringing some fun into the workplace is a great idea, but how long will the novelty of a playground type slide, a fireman's pole or a climbing wall last? And will staff actually use them? These kinds of fun additions can be a bit of a gimmick and can make your business seem less than professional. In addition, games areas should be implemented judiciously and situated well away from the main work area in order to minimise distractions.
Open plan office design – while open plan office designs have been widely lauded for enhancing collaboration and creativity, the reality is that often these result in more distractions and less productivity. Employees often don't have any privacy, and the constant noise of other people talking nearby can make concentrating on tasks difficult. There are also some concerns around health and hygiene, as any germs going around are much more likely to spread. The open plan office workstation needs to be re-imagined to give office workers more space and at least some sense of privacy.
Themed meeting rooms – bringing the fun into the meeting room may not be as clever an idea as it appears. With telephone boxes, beach huts and even a London bus serving as meeting rooms, this is a trend that's clearly in danger of getting out of control, and can make your office look just plain silly.
Themed breakout areas  – a trend around themed relaxation areas, such as a park, picnic spot, or a lounge with comfy couches might just be a bit more relaxed than is appropriate at work. Should staff be able to take a nap on the couch while at work? No, an office is still for working after all, and shouldn't be too relaxed. Mirroring a home environment can have a seriously negative impact on employees motivation and productivity.
Standing and walking desks – these were someone's bright idea to combat the admittedly valid health concern of sitting at a desk all day. But while a treadmill or standing desk may have health benefits, how many people are really going to exercise while they work? Best to exercise caution before investing in any of these trends, and rather consider giving staff gym passes to use after work.
So rather than blindly copying a trend you've seen in other offices, it's best to work on a look that it is unique and suits your brand and business.
Interia, Australia's leading online furniture retailer for custom office furniture fitout solutions in Melbourne, Perth, Brisbane, Sydney and all major cities in Australia.. We're passionate about creating ergonomic office spaces and ensuring that your office not only looks good but also functions to the highest standard. We're committed to bringing style, productivity and engagement to your workspace.
Contact Interia today and find out how we can help you transform your workspace, without the fads. We'll get the job done professionally and efficiently, first time around.