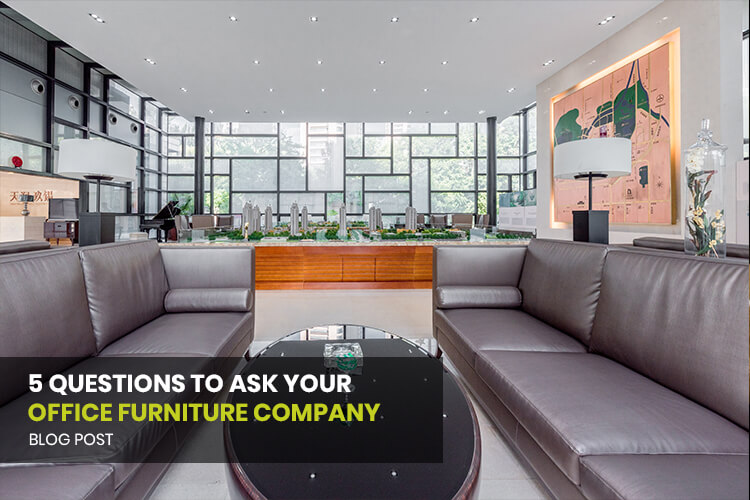 5 Questions to Ask Your Office Furniture Company
If you're moving into a new office or redesigning an old space, partner with an office furniture company. It can be difficult to know what to invest your money on – that extra office desk, new computer desks or partitions. Having a professional team to guide you through the process will help you design a space that reflects the future growth of your company.
Keep these questions in mind when you're purchasing new furniture for your office.
How long have you been in business?
It's a simple question, yes, but an important one. You want to know that the company you invest money into has been around for a few years. It's not just about fancy products, but the amount of post-service they can provide, including warranties. Don't be afraid to ask for testimonials, view past work, and see the type of projects they've been involved in.
What's your specialty?
Every furniture designer has their own area of focus. The best place to start is to work out what you want first. Is it quality made desks, seats or office partitions? Are you looking to switch to standing desks? Once you know what you want, you can find a company that matches your needs. And if you're starting from scratch and need help with this, make sure your furniture company can provide a full design service, not just product supply.
What is your purchasing process?
The company you choose should be able to oversee the entire process for you, from the pre-purchase to installation. There should be a clear line of communication so nothing is lost in translation. Talk to them about your needs. If you've got a new employee starting in two weeks and you need the desk installed by then, your designer should be able to fulfil this.
Are you restricted to specific materials?
Be clear on the type of materials and products used in your new furniture. It's important to know whether there's any limitations. Can they match your new pieces to the look and style of your office?
What happens if there's problems with my furniture?
Get everything in writing and make sure you understand the process after the furniture is installed. If something goes wrong or there's an issue with the quality, you should know exactly how the warranty works.
Ask us, your office furniture company
Contact our office furniture and office fitout specialists will bring style to your space, while increasing engagement and productivity. No matter how big or small your office is, our team of furniture designers can help maximise your space. We sell office desks, office chairs, workstations, office storage, office tables, and partitions.
Create a workspace that people actually want to come to. You'll see an improvement on your bottom line, just you wait.