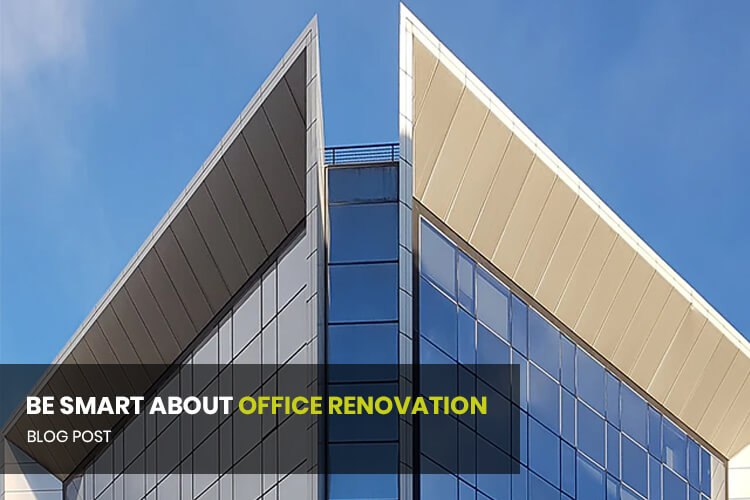 Be Smart About Office Renovation
Be smart about office renovation, and create an impeccable shrine of productivity
Office is the ultimate hub of business activity, an all-important headquarter of your project to conquer the world with ingenuity and devotion. Therefore, when the location is chosen, and the stage is set, it is time to infuse the space with sublime style and functionality. This endeavor reinforces the corporate culture and reflects the core business values. Some of the work you and your employees might be able to tackle yourself: This enables savings in the budget and also instills a sense of teamwork, taking the cooperation within the company to the next level.
A checklist of essentials
What you want is an office appeal that emanates the professionalism and provides the best possible environment for workers to display top performance. Another item on the list of priorities is sustainability. And do not be fooled because things like choosing low-emitting and materials with the recycled content pays off in more than one way.
Moreover, when picking finish materials, put the durability, water-resistance and low maintenance requirements in the spotlight. Digitalize the office, utilize electronic files and reduce those piles of paper, or at least chose products that have a rich recycled content. Opt for office appliances that have an energy-efficient standby power and Energy Star label.
Save the day
Smart technologies spur the information sharing, which means that wireless connectivity and advanced communication tools are an absolute must. Additionally, embrace the no-waste ethics with re-usable dishes, utensils, collector bins and containers. Go for environment-friendly tech: C02 sensors can monitor the ventilation rates, while the occupant sensors power down the lighting and temperature based on the flow of movement.
Compliment these instruments with the automatic lighting controls and dimmers that may involve professional installation. Furthermore, turn your attention to water conservation and invest in new sink aerators, lavatories and shower heads that can be placed with basic tools.
The perks of being flexible
In the tumultuous business world of today, agility is another highly-valued virtue. Offices that are flexible and adaptable are all the rage, and include the many hallmarks of the modern corporate world. After all, you need to accommodate the shifting business requirements and even individual preferences of the workers.
So, think in terms of individual control and personal adjustability when picking the office furniture, as well as lighting, ventilation and heating systems. Separate workstations with prime equity and flexibility, ergonomic chairs and properly positioned computers can do wonders for workers' satisfaction and performance.
Open up
Open plan offices are stealing the business show as of lately, showing us the way ahead to the offices of the future. This kind of layout is exceptional in terms of opening the lines of communication, encouraging collaboration and keeping everyone on the same page. It is dotted with places where spontaneous conversation and casual meeting can take place.
So, when restructuring, reuse existing walls to maximize material savings, and prioritize flexible, modular walls over hard ones. Also, make an effort to set up some dividers to ensure privacy and concentration. The similar thing could be achieved by opaque glazing or putting the polyester opaque film above the finished floor.
Off the wall
Bringing down walls and obstacles is a tricky business that requires a thorough knowledge of the building's structure. What is more, notice that the tasks of this scale may require complex equipment, meaning you could need one of those tractable duct liftsnot a just good old crowbar. This implies that the helping hand of the contractor or a structural engineer is required.
Regardless, we have witnessed some stunning large-floorplates and urban vertical campuses that lean towards a more active, fluid, walkable and transit-friendly space. Just bear in mind that the level of noise here is higher, which is why sound masking systems come in handy. You may install some acoustical ceiling tiles with high Noise Reduction Coefficient (NRC) on your own.
Business rewind
Conduct space utilization analysis to maximize the use of the room and pull together a plenty of storage space and higher workplace density. Also, remember that you can take advantage of office desk sharing and remote work to cut down the expenditures in the long term. At last, install community-serving amenities and areas where people can sit back and relax.
Today, traditional business thinking meets non-office features to bring forth top-notch productivity and drive innovation. Bring some reconfigurable furniture, try to summon sufficient daylight and windows that provide a nice view of the exterior. Muse on blinds and shading systems that workers can adjust according to their specific needs.
Bank on smart design
Business premises are an integral part of any business machinery, and one of the mainsprings of the company's development and growth. Amenity-filled office that can be scaled up for faster growth, but it must feel organized, future-proof and inspiring. Thus, leverage the smart technology, promote the wellbeing of workers and boost the energy efficiency. Stay within the budget by harnessing the power of sustainable solutions and leave clients and partners standing in awe without breaking the bank
Author Bio: Chloe is an art historian and a contributor at smoothdecorator.com. She is in love with photography, dance and writing. Her biggest dream is to travel the whole world and take some stunning photographs of beautiful places. Chloe also enjoys learning and writing about interior design, business and productivity management. You can find Chloe on FB and Twitter.
For help with your office furniture requirements please call us on +61 8 9359 1288 or email sales@interiasystems.com.au