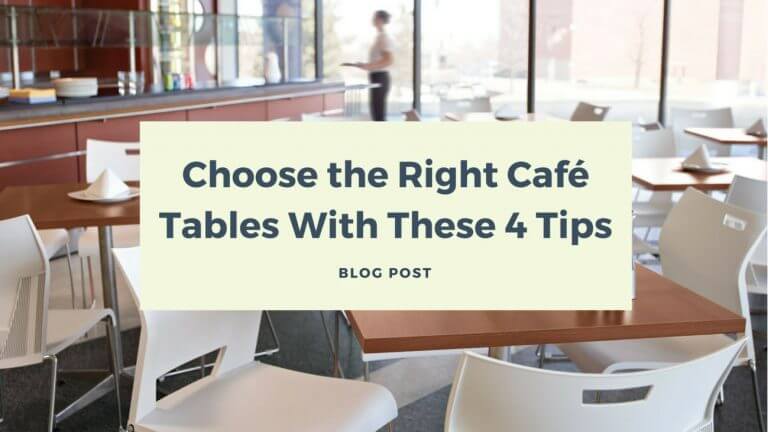 Choose the Right Café Tables With These 4 Tips
Do your staff always go to a local café on their break? If they always run back, flustered, rushed for time, consider creating your own 'café.' Design a cool lunch room space for your staff to hang out in. Start by adding café tables and chairs.
Coffee shop style break rooms
Have you ever worked for a company that doesn't really have a break room or kitchen? There's nowhere to eat your lunch or spend time with other team members. You're forced to go outside, which isn't a bad thing, in summer. But, what about during the winter when it's pouring down outside?
Regardless of the weather, though, creating a comfortable, cosy area that your staff can enjoy on break is important. While traditional break rooms are dull with industrial-type seating, modern offices are embracing more of a trendy coffee shop style. The idea is to let your team relax, unwind and enjoy their breaks, like people would in cafes.
When outfitting your break room, think about these five points:
1. Think commercially
While the first thing you'll think about is the look, don't forget to consider how your ergonomic office furniture will be used. You'll need strong, hard-wearing tables to cope with the constant flow of staff using them. Your café tables might even double as workstations every now and then. Keep this in mind.
2. Indoor or outdoor?
Will your tables go inside or outside? Are you trying to encourage your employees to spend more time outdoors? Maybe an outdoor break area is a good option. Whichever you choose, make sure the furniture you select can withstand all seasons. Different materials will suit either indoor or outdoor environments. First, you need to work out the placement of your break room.
3. Table size
How big is the space of your break room? This will be an important factor in deciding the size and style of your office table. Make sure you account for plenty of room for chairs and free space, so your employees don't feel cramped. If it's a big area, allow at least one metre in between tables. This way, people can pull out their chairs without worrying about bumping into others.
4. The style & finish
Is there a specific look you're trying to achieve? Café tables come in a wide range of designs, colours, and finishes. In laminate, for example, it's best to avoid gloss. It doesn't bode well in commercial environments. And if you're going for an organic vibe, timber could be your material choice. However, you'll need to invest in a protection to stop scratches and dents. A simple tablecloth could do the trick.
Café tables
If you've got ideas for your break room, talk to us. We have a large range of cafe tables that can be integrated into modern offices. Perfect for cafes, pubs, staff lunch rooms and hangout areas, our tables are designed ergonomically. Choose your look – square, circular or rectangular – and pair it with our chairs.
Now, you just need a good coffee machine.