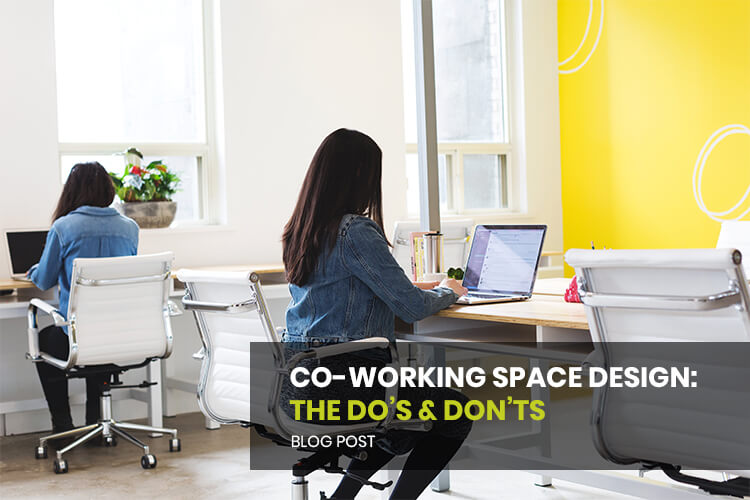 Co-working Space Design: The Do's & Don'ts
With technology blurring borders and making it easier to work with clients no matter where they are, co-working spaces have risen in popularity. It's not just for freelancers and contractors, but also SMEs. Companies are hiring out rooms or 'pods' in collaborative working spaces to network with other brands, boost creativity, and often, to save money. A lot of the office fitout is done for you already.
But just because you're working in this collaborative setting, it's still important to think about the use of space. It's great that the kitchen, bathrooms and hang out areas are already taken care of, but you can't forget the most important part of your 'office': the workstations.
Follow these do's and don'ts, and you can't go wrong.
DO:
Say yes to open plan
Do you (or your team) work on various projects, often in groups? Then, an open plan layout could suit your business. It promotes collaboration, greater spatial flexibility, and less isolation – bringing the team together and fostering engagement and connections. Stay on trend, dilute the 'we' vs. 'me' mindset that old offices tend to embody, and make use of the entire office.
Style matters
As offices start to get more casual and crossover into feelings of 'home', so does the look. Co-working spaces have an energetic feel. You can see it, too. Hanging plants, exposed brick, funky lights, and rooftops and terraces. Use all these features to add style to your company and brand. It's all part of the package.
Also, always clean up for yourself, connect with other guests (think of them like your neighbours), and share your knowledge.
DONT:
Shoebox yourself
Is your company growing? That's great. And while co-working might work for you now, be conscious of how fast you're evolving, as well as your changing needs. Sometimes, co-working is only good for a certain period. Listen to what your employees need. Observe how they're working and if they're outgrowing the space.
Be that loud, distracting team
While you might have your own little office in the co-working space, there's only a pane of glass between you and dozens of other businesses. Be conscious of how loud you are – whether you're on a phone call or enjoying a few wines on a Friday afternoon. If you ever lived with people, this is the time to bring back those skills you learned. As with any sharing space, it's all about compromise.
'Designing' your co-working office takes some planning but it's a worthwhile investment of your time.
Don't make sacrifices when it comes to furniture. It affects everything – productivity, motivation, inspiration, health, and your bottom line.
Self Improvement from SelfGrowth.com– – SelfGrowth.com is the most complete guide to information about Self Improvement on the Internet.