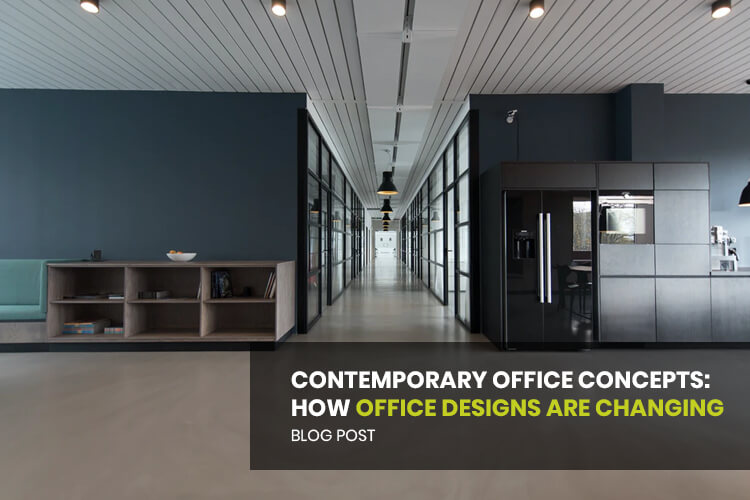 Contemporary Office Concepts: How Office Designs are Changing
There's no denying that office spaces have changed over the centuries. It's not just the technologies we use to get the tasks done but the way we work together – and the way in which bosses work with employees – that's at the heart of the change.
Only consider the earliest versions of the open-plan office. They gained traction during the first half of the twentieth century, but few modern employees would even consider working in serried rows like schoolchildren under the watchful eye of a strict supervisor. Still, that was the management philosophy of the time – close supervision and regimentation were the order of the day.
We take a look at the latest contemporary office concepts and how they reflect changes in our approach to business.
It Started in The 50s – and it's Returning There
The concept of a Bürolandschaft or office landscape emerged in the 1950s and is often referred back to in contemporary office design. Interaction, teamwork, and engagement were key principles, and workstations were grouped so that teams could work together but without the strict regimentation of earlier decades.
Office plants formed part of the landscape, acting as a permeable partition between working groups. Today, we see research supporting the benefits of a Bürolandschaft-like approach to office design and many of the most acclaimed office designs make use of the basic design principles that characterize the concept.
The Action Office
The action office concept is still valid although early interpretations wouldn't suit todays' workplace. The idea was to create spaces that were designed specifically for certain tasks. Workers would therefore not necessarily remain in one workspace all day.
Essentially, the action office was an office furniture company's marketing concept and an early version of the cubicle. However, the idea of having different spaces for different tasks that any single employee might perform is seeing a revival today.
A Short Trip to Office Hell
While the sixties gave birth to many of the design philosophies that have evolved into the modern design concept, the eighties was the undisputed low-point of office design. So-called "cubicle farms" were the norm. They came to illustrate everything that is depressing and impersonal about office work, and happily, they're rarely seen these days.
Then We Collaborated Like Crazy – And Realized We Need Space Too
The backlash was inevitable and takes us almost all the way to the present day. The barriers dropped completely. Open tables and chairs shared for maximum collaboration became the progressive thing to do. And in some contexts, it worked wonderfully well – but in others, it wasn't as much of a success. Although collaboration on group tasks is great, you might need just a little room to concentrate when getting individual ones done.
Top Trends in Office Design
Look out for these top trends in office design – they're all based on the assumption that productivity and wellbeing can get better if they're taken care of.
Natural light as opposed to artificial light

A combination of quiet rooms, lounge-like collaborative workspaces, and more conventional open-plan office workspace.

Tons of greenery and "outdoor" elements.

Minimal barriers between employees, with enclosure on maximum of three sides at a height that can be seen over.

A focus on employee wellbeing and workplace satisfaction that guides office design.
Furnish your Workspaces with Us
As office furniture professionals, we make it our business to stay on top of the trends – and even lead them with a few ideas of our own.  If you're looking for the office furnishings in Brisbane, Sydney, Melbourne Perth or any part of Australia that you need to give your employees comfort, variety, and their best shot at success, look no further. Australia relies on us for office furniture supply that's as efficient as you'd like your office will be.