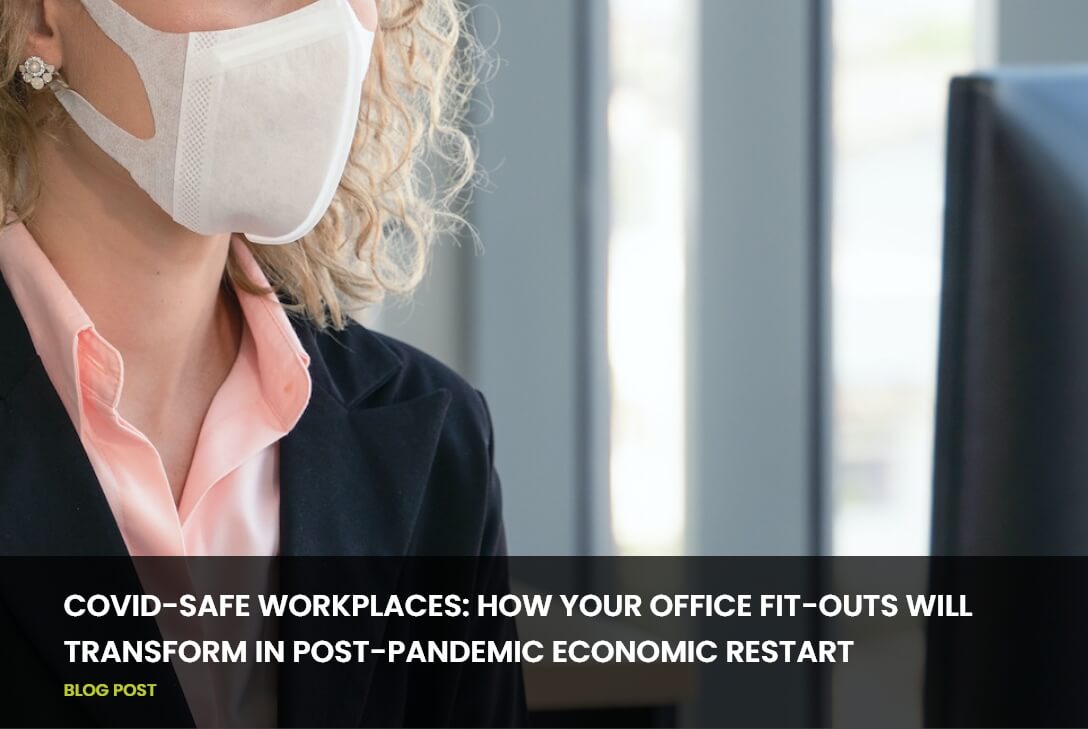 COVID-safe Workplaces: How Your Office Fit-outs Will Transform In Post-Pandemic Economic Restart
It might be early to say, but Australia has been one of few countries that have tackled COVID-19 situation in a praiseworthy manner. With less than one thousand active COVID-19 cases (at the time of writing this article) and the infection curve flattening, the country is willing to restart its economy. But our workplaces may never be the same again.
With the government announcing a three-point plan for reopening the country and issuing new workplace safety protocols that include information on physical distancing (for staff and customers), guidelines on using protective equipment, emergency planning, health and illness monitoring, and hygiene and cleaning standards, it is understandable that we are entering the era of new normal, and it's not just limited to our workplaces.
From door handles, lift panels, handrails to vending machines – between stepping out from home for work and coming back at night, it is estimated that a regular worker comes in contact with approximately 40 different touchpoints that could potentially transmit coronavirus throughout the day on a regular workday. Managing those touchpoints would be crucial for offices, and so would be managing the flow of people.
These new practices will surely transform the fit-out style and preferences of our workspaces completely. Now that we presented a rough idea about COVID-safe workplaces, let's talk about how our office environment will change in the post-COVID days.
Personal Workstations
Hot-desking is likely to disappear from office spaces when businesses will restart. Any place enabling a common touchpoint including hot-desks shall disappear for good.
To create a safe workstation that maintains social distancing and less physical interaction between the employees, cubicle may make its comeback.
We had mentioned about cubicle workstations in our previous articles and explained how they were replaced by hot-desks and open-plan layouts. Well, they are likely to make their introduction to the millennials who started their career after the mid-2000s.
Open space plans may not make sense anymore because hygiene, safety, and social distancing will determine the future office layout more than ever. Acrylic screens that easily fit in between the desks and provide employees with personal space and contribute to reduced physical interaction may see increasing demand.
Decreased Use Of Meeting Rooms
Thanks to technology – interacting, discussing, and brainstorming activities are not limited in the meeting rooms anymore. But you may argue that a meeting room environment can not be replaced with virtual tools. Well, you might want to compromise that habit and adopt new ways of interacting from now on. Regular meeting room layout does not follow the principles of social distancing.
Along with the adoption of other new measures, offices will likely opt to create single entry and exit points to ensure a disciplined and less interactive flow of people. Organizations will have to either change the total layout of their meeting spaces or shift their meeting activities away from the regular allocated point that has been in there for a while. A virtual space for the meeting has been the popular replacement option so far.
No More Shared Items
Not just the cookie jars, there are several items such as desk kit, stapler, stationery items etc. that members of staff share every day throughout the working hours on a regular office environment. Not anymore.
Most of the tools and items will strictly be personal in the post-COVID office environment.
While it might not be completely possible to personalise equipment such as the photocopier, food, beverages, and their containers can't be compromised. Other touchpoints can be sanitised after each touch.
New Technology And Hygiene Facilities
New technology to monitor the health and regulate social distancing activity of the employees are likely to make their way to office spaces. Automatic temperature detection during the entrance and exit and heat mapping software to allow employers or managers to detect social distancing between employees are likely to be installed in most offices.
More hand washing and hand sanitising stations will be created and cleaning activity will be given special attention. Since microorganisms can not be detected with human eyes, new special measures in cleaning the office spaces should be accommodated. There will certainly be more frequent cleaning activity inside the office spaces in the post-COVID workplaces.
Staggered Timing, Remote Work, And Less Employee Density
The common office timing had been contributing to long queues at elevators and huge crowds in public spaces and transport facilities during the peak hours. Businesses will not follow the same regular routine to run their operations anymore.
The design of most of the office spaces is too congested to accommodate the COVID-safe regulations at the current stage. Maintaining a distance of 1.5 to 1.8 meters between the employees and accommodating them will require a larger space, new planning, and new fit-outs.
Employee density in office spaces will decrease drastically in the post COVID office environment.
Different businesses incorporated remote work for the first time since COVID-19 started spreading throughout the world. Remote work will not be overlooked even in the post-pandemic situation. Since offices will surely run out of spaces while following the new health and safety measures, they will still get some of their operations carried out through remote work.
It is good news that our economy is restarting even though there are strict new health measures to be followed at work. With the right planning and right fit-outs, it is possible to run our office spaces safely and resume the operations. As the best-rated fit-out experts in Perth, we offer the best economic fit-out options for COVID-safe workplaces. Feel free to contact us if you need any advice about your future office environment.