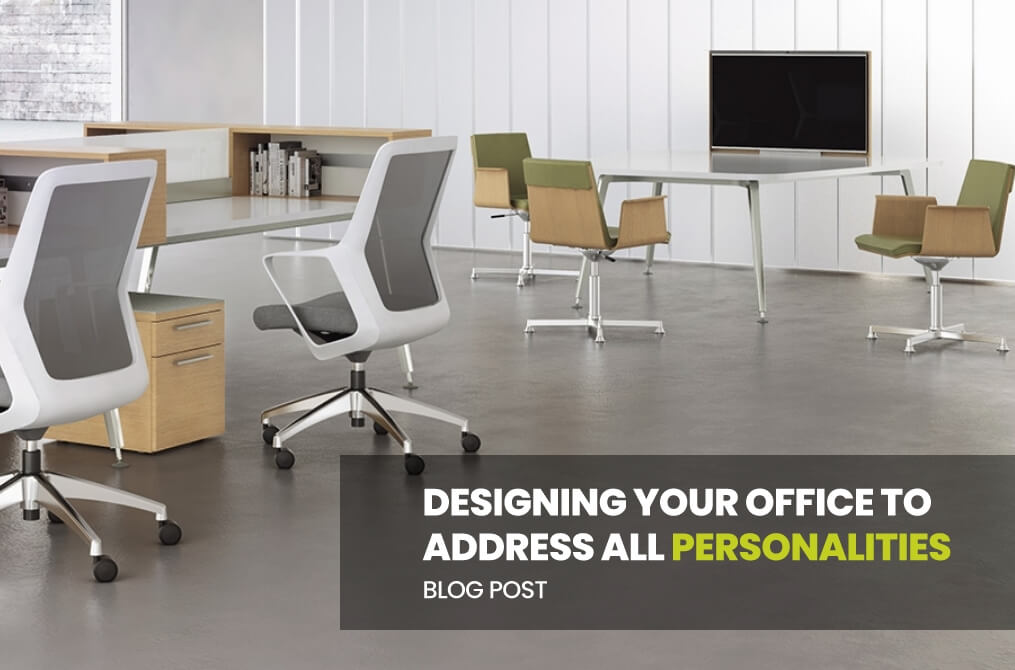 Designing Your Office To Address All Personalities
An office design is only functional when it caters to all team members equally. A finding from Harvard Business Review states that the most successful teams have the most diverse mix of personality traits. Different personalities prefer working differently and thrive in different environments. Thus, the design of an office impacts differently on each team member. If you want them to flourish, you need to understand the environment they prefer working in.
You must be familiar with various personality tests different companies run before hiring new employees, or you may have it in your schedule during the recruitment process. Such personality tests have helped a great deal in understanding employee behaviour: how different personalities perceive things differently and what impact it makes on the collective effort. Sadly, the results are yet to widely influence the company strategy though it's been quite a while since such tests are around.
Good news is: companies these days are recognising the value of creating functional workspaces for employees with different personalities. According to a ScienceDirect research, the working environment has a profound impact on performance and job satisfaction in employees. Therefore, you should dive deeper to understand personality traits if the aim is to create a more efficient working condition in your office space.
The personality tests have been traditionally carried out based on the Myers-Briggs test that analyses sixteen characteristics. Now, the personality types are analysed based on the five most dominant traits, i.e. the 'big five personality traits'. They include openness, conscientiousness, extraversion, agreeableness, and neuroticism. These traits remain stable throughout most of the lifetime of an individual.
Base your office design on your employee's personalities
Every employee has their unique personality that affects the way they work. You should consider this fact the most while planning your office space. An ideal office design should be less about the physical environment and more about how it caters to your staff. The more the environment blends in with your team, the greater the productivity and motivation.
Don't know much about your employees beyond what they do on the weekends? Why not ask them to take a personality test and analyse the results together so that you can implement your plans correctly. Use the findings, as well as what your employees tell you, to redesign your office. You'll see the positive effects, probably instantly.
Right Office Environments For The Right Personality Types
Agreeable People
Agreeable personality types are more cooperative, and they tend to get distracted easily in open-plan spaces. They are more of an ambivert people who often fall somewhere in the middle of extroverts and introverts. They can adjust to a changing environment easily but thrive in private spaces where they can focus, rejuvenate and stay refreshed.
Open Personalities
Open Individuals enjoy diversity and change. They prefer a flexible working space where they can contribute to creativity. Since they are likely to possess a unique capacity for abstract thinking, designs that harness the beauty of nature can be the right environment for these personality types. Have you ever tried introducing natural elements in your office space? If not, try it and see the difference it makes to open individuals
Conscientious Individuals
Conscientious personality types are perfectionists, who are motivated to deliver more than what the employer expects of them. They need well-prepared and organised dedicated desks where they are aware of everything around them. At the opposite end of the scale are the impulsive personalities, who are near related to extroverts in the sense that they can make quick decisions and act in a flash. However, since impulsive people are easily distracted, they perform better in confined spaces.
Neurotics
Individuals with neuroticism are not often the personalities more companies want to hire, but they can be an asset to a company if understood correctly. Though they may not handle the pressure correctly and perform well in rigid situations, they can be great for risk assessments. They need a balanced working environment where they can work privately as well as collaborate with people (who they are comfortable with). Though private workstations can be ideal for neurotics, they should be encouraged to experiment settings where they can deliver their best.
For Introverts And Extroverts
Extroverts thrive in collaborative spaces, whereas introverts perform better in quiet environments where they can focus and think without being distracted. Creative extroverts prefer spaces where large groups can interact and discuss. Mobile offices that encourage employees to move around can be a good treat for such personality types. In contrast, personalised workspaces are suitable for introverts because they tend to prefer traditional ways of working and are less open to changing environments.
A diverse workspace that accommodates the needs of OCEAN personality types is the requirement of productive office spaces. As companies are incorporating human-centric approaches in designing office spaces, the results of personality tests should dictate how you will design your office. Layouts that support workers to perform as well as enrich their psychological demands will certainly deliver positive results, helping you achieve your business goals effectively.
Interia
With over 30 years' experience, we offer the best fit-out solution to Australia Offices. Whether you're an aspiring start-up company or one of the world's best known blue-chip corporations, we have the answers and options to suit your work-style and your budget, just contact us on 1300 734 105.