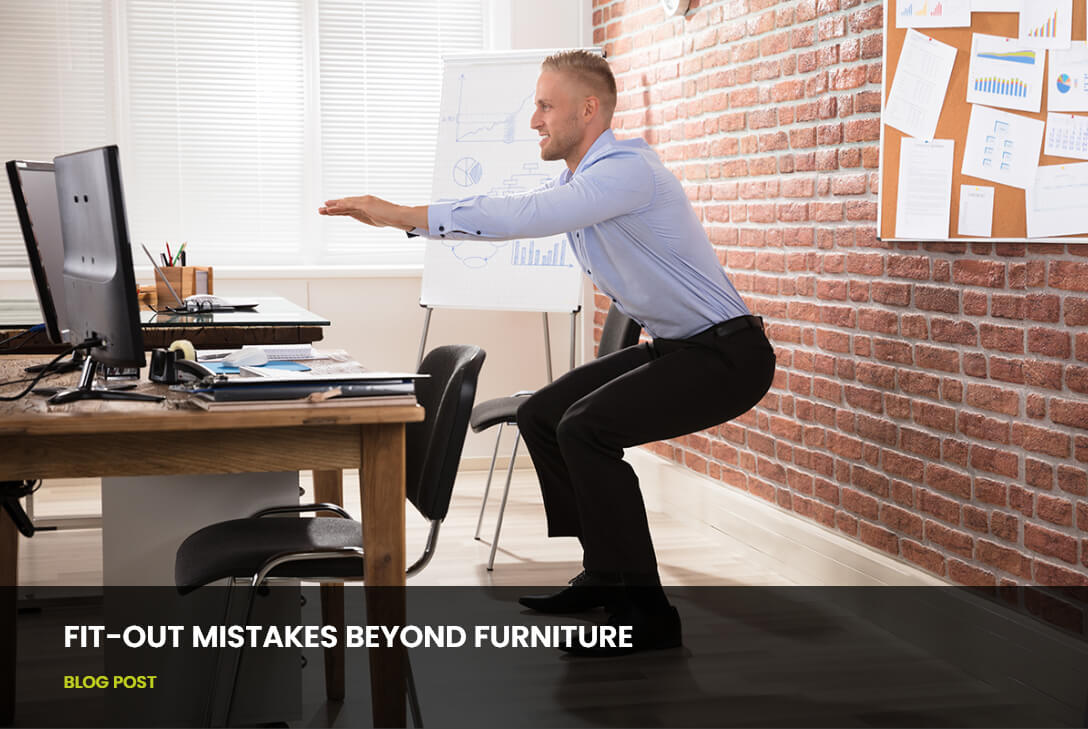 Fit-out Mistakes Beyond Furniture
Now that our workspaces are changing forever in the post-pandemic era, our future office fit-outs are going to be more expensive than before given that it will require more furniture per member of staff to run an office space as per new safety protocols. You will put safety as the first priority in your office space whether you are refurbishing your existing fit-out or completely fitting-out a brand new range of furniture. But it doesn't mean you will need to compromise your creativity and opportunity to make your fit-out an excellent long term investment.
Choosing the right set of furniture and designing the interior accordingly for the right purpose are two of the most important areas you should consider for a successful fit-out. A successful fit-out will ultimately contribute in its own way to your business growth in the long run. Apart from these, however, there are many other factors that, if not handled carefully, can contribute to a bad fit-out experience.
So what are the other mistakes that we commit time and again beyond furniture and design? Let's discuss them in this article so that you will understand well about those important areas that need your careful attention and how they have changed with the changing environment.
Not Planning Properly
While planning for office fit-outs, most of us rely fully on the contractors. We usually know what we want in a broad perspective but fail to fully plan all the details that can play important roles in future while running the office. A good contractor can only give you a good suggestion based on what you want to do with your office space. So if you fail to give your contractor the complete detail of how you want your project to be, don't expect them to deliver you a satisfactory result. Investing in an office fit-out can cost you a significant amount, so you might want to make sure that your investment returns you the best it can for years to come.
Proper planning enables you to come up with a different set of questions that you can put in front of your contractors to make sure they are answered satisfactorily and taken care of carefully while carrying out the project. Only agreeing on the suggestions of your fit-out partner/contractor does not guarantee you the best fit-out experience. Since office fit-outs of the future are going to be totally different than what they used to be, make sure you know exactly what you are doing. Make sure you are well informed about new safety protocols as well as your operational requirements.
Involve your staff members during the planning process to understand what type of working environment they prefer. Research what type of environment your customers prefer and what makes them comfortable. Make a list of areas that need improvement or addition, and observe new trends that help boost the efficiency of the office space. Thoroughly planning every corner of your office space for the people your business is involved with will result in a great fit-out experience for all.
Not Comparing Quotations The Right Way
Partnering with the right fit-out company/contractor is essential if you want the best fit-out experience in your office space. One of the methods to choose the right fit-out partner who gets things done effectively in the most cost-effective way is by comparing quotations. But we often fail to understand that quotations vary according to companies. Some fail to mention extra charges such as transportation costs and GST in their quotation.
The hidden cost component is something that we fear the most. They can make up a significant amount of the budget required, and not having them listed in the quotation can trick you into thinking that it is a much more cost-effective option. You then commit to the contractor and then later discover that you have further costs to take care of that you were previously not aware of. You should make sure that you are comparing the same offer when reviewing quotations from different fit-out contractors.
Be clear about your budget and research about all the different areas of expenses that incur from the start to the completion of your project. Always make sure you have a checklist of all the possible expenses in your plan before going through any quotation. Let your budget determine the right quotation, not quotation determine your budget if you want to avoid cost blowouts.
Assuming All Contractors Are The Same
When you ask contractors why you should choose them as your fit-out partner, almost everyone will answer you with their claim about their experience, charges, effective work culture etc. But can they all solve your problems the way you want? The answer is – no, they all can't. But it's your mistake if you assume all the contractors are the same and blindly hire the one that offers you the lowest quotation amount.
Different contractors have expertise in different fields and have experience in different projects. Their business models may also be different as some focus more on profit and some on customer satisfaction. You should choose the right contractor that has the right expertise and tools to carry out your project effectively and commitment to deliver you the best value.
The right contractor should offer you the best solution for your fit-out project. While arranging a meeting or interview with contractors before considering to work with them, you should consider:
If they have completed similar projects before
If they can detail about the results of their past projects with proof
If they have the financial capacity to carry out your project
If they adopt the technology with time
If they fully understand new safety protocols and the methods of implementing them effectively in fit-out projects
Ignoring The Importance Of Details
As the customers of fit-out experts, we are so easily convinced with the presentation of our selected contractors that we don't care about every detail of the design and layout. Ignoring the details and failing to put forward your queries gives your contract the upper hand. When you will complain about the things that have come up against your plan upon the completion of the project, you'll be told that you had reviewed the details and accepted the design the way it was.
Understanding the detailed design helps you correct the things your way before the fit-out process is started. Fit-out companies use innovative ways to make their clients understand the detailed design of their future fit-out. We, at Interia, use VR technology to make our clients experience the details of their future fit-outs. This way, we have been able to deliver our customers the best fit-out experience. 
Not Reviewing The Progress Of The Project Properly
Communicating flawlessly with the contractor and reviewing the progress in every step makes sure your project is delivered on time with minimum errors. Solely relying on the contractor and not communicating well can lead to unwanted mistakes and delays. While most of the fit-out companies try their best to deliver your project on time with minimum mistakes, your follow-up and cooperation can help you get even better results.
If you have already planned a robust and detailed project schedule, then you can easily track the project on a daily basis and compare it to your progress schedule. It allows you to track delays and mistakes early on and help save your time and money.