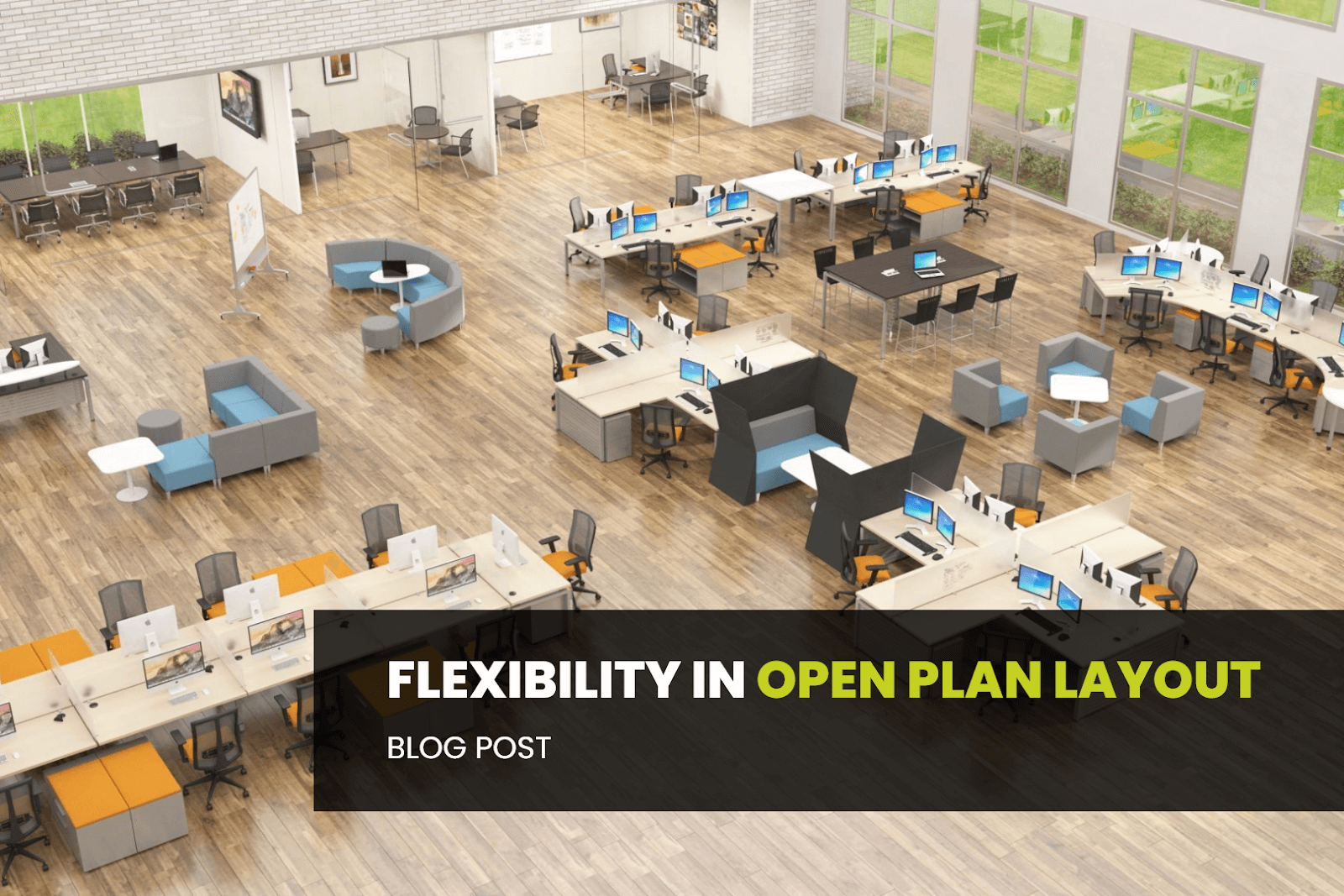 Flexibility In Open Plan layout
Updated 03/30/2021
Creating a functional office space may seem a fairly simple task from the outside as you may argue it's just the right combination of furniture and design. However, achieving an ideal office space can be tricky if you are not aware of your people, their personalities, and how they work together.
Whether you are creating a new Office space or refurbishing your existing one, you want the workplace design to support your team and operations well, so they function at peak performance. Therefore, if you are thinking about overhauling your office environment, you may need to give a little more attention to small details on how your team operates.
Open floor plan layout has been the preferred design for most office spaces for almost two decades as it backs collaborative and agile workflow in the best way possible. With the modern open floor plans, teams are communicating, engaging, and performing better. It perfectly supports a fast-paced workflow by eliminating barriers and unnecessary elements that act as friction to communication and collaboration.
However, not everyone can produce the best in an agile environment. If you're planning to opt for an exclusive open-plan layout, consider these small but crucial points.
Some job roles require an extensive focus
Some people prefer working privately
Office noise can frustrate most employees
Too much movement and distraction can affect productivity
So, let's discuss the issues we face with a sole open-plan layout first.
The Problem With The Open Plan Concept
Adopting a solely open-plan workplace is that it doesn't consider the varying work styles employees have. While some people enjoy the constant interaction and noise that comes with a solely open plan set up, for others, it can make it very hard to concentrate and get work done. Also, an entire communal area with no private areas means privacy is almost impossible, and it's hard to block out unwanted distractions from a busy workplace.
Although an open plan encourages collaboration, when a deadline is looming, or a worker simply wants to concentrate, other colleagues' constant interruptions can be a significant angst source. Indeed, many workers turn to put in earphones without music playing to show that they don't want to be approached.
Finding The Balance With A Flexible Office Plan
Open plan design has come a long way since it was first adopted, but there are some issues that come with only having communal areas in the workplace. The trick is to find the right balance between an open plan and a private space. Whilst there have been quite a few criticisms about the open-plan layout, the good news is that it's one of the most customisable designs, and creating an ideal environment for everyone isn't hard.
If you understand how your people perform the best and what job roles require what kind of environment, you can create a suitable layout within the open-plan layout. Sometimes, it's just as simple as moving your furniture around and adding removable items, such as modular partitions and screens.
The key to creating a functional workplace is to adopt a flexible approach where private area workstations are intermixed with an open plan. Open plan provides excellent opportunities for interaction and collaboration, while private spaces mean employees have the opportunity to escape the hustle and bustle to concentrate.
You may want to include the following in your open-plan office to make it more flexible:
Small, private rooms for phone calls
Meeting rooms for smaller group discussions or meetings
Offices where employees can go to escape the noise if they need to
A few private workstations
Of course, the layout of your workplace furniture depends on your business's specific needs, but a flexible approach means you can have the right balance between the benefits of an open plan and the need for privacy.
The Fit-out Experts In Western Australia
Well-designed office space is not just about creating an aesthetically pleasing environment but more about building an environment that supports the workflow and the people at best.
For over thirty years, the team at Interia has been providing Western Australia offices with the best office fit-out solutions. We learn about your operations, people, and demands of the workspace before suggesting any fit-out idea. Today, we've managed to establish ourselves as the best customer rated fit-out company in Perth.  
If it's time for a refurbishment or total refit of your office space, look no further than Interia. We provide specialised office fit-outs in Western Australia. For more information, contact us today at 1300 784 816.