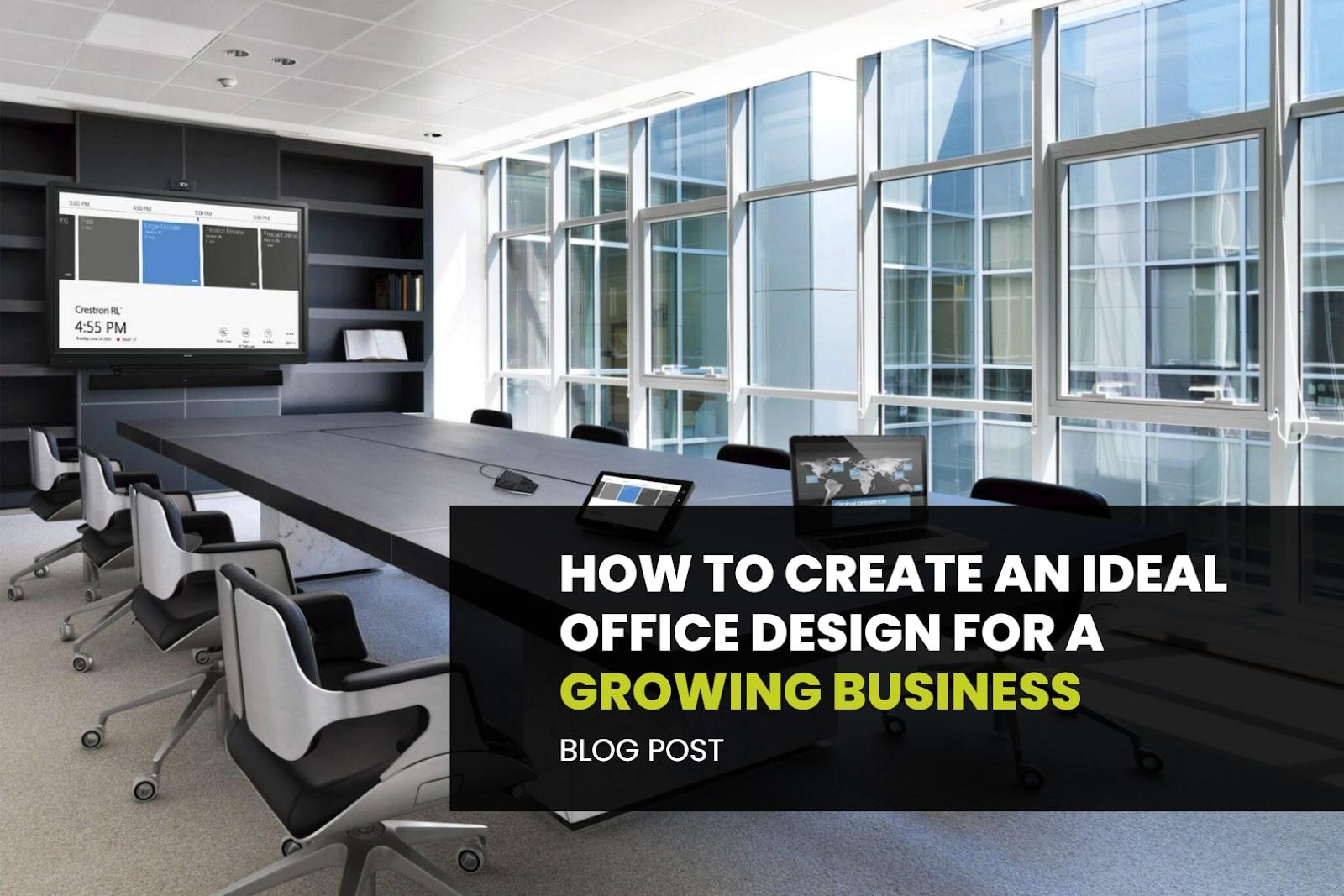 How To Create An Ideal Office Design For A Growing Business
When a business reaches new heights of success, one of the first things that grow is its workforce size. With this, there comes a need to build up a functional office layout that can accommodate an evolving team and other growing needs. At the same time, it needs to suit the allocated budget. With that said, it seems futile and redundant to keep refurbishing an office space each time a business reaches new heights. Therefore, a flexible and scalable fit-out that can accommodate future needs is vital for growing businesses. The question is: how would you create an ideal office design flexible enough to accommodate the needs of a growing workforce?
The idea is to have a floor plan functional, aesthetically pleasing, and well suited to the team's needs, but it should also adapt to the future workforce's changing requirements. An office environment needs to make its team members—new or old—feel comfortable and enthusiastic and ensure they aren't flustered over the presence of bulky furniture and uncomfortable settings. Sounds hard to pull off? Don't worry! There are tips you can use to refurbish your office space and keep everything together, and we are here to help you figure out how to start!
The Planning Process Behind The Office Layout
You can break down the task list for planning a new office layout project into four portions. These are the points you want to jot down in your notebook and think about.
There is more than one reason why a business needs to think about achieving its goals. This is crucial while evaluating the need for new office space and aids in determining the budget to set out for it as well. If the next five-year plan for your business includes expansion and diversification, going for a scalable modern office design is the best option.
We suggest using your available time to analyse the current location, the space available, and then decide whether the location can support your future operations should you achieve your business goals. While moving to a new location can be a bit overwhelming at times, it will assure you won't be facing space issues in the future. A well-equipped office layout ensures proper workflow too.
Before planning for your ideal office design, you must look into how much you are willing to invest. Budget fluidity can arise as an issue later in the process of creating the workplace you desire. This is an essential factor to put to focus. You can design an office space to make it visually appealing, but changing the structure and components of your office space without considering what you actually need can be a wrong financial decision.
The design costs vary, and they can be adjusted to match the size and requirements of your organisation. You can get a rough idea about how much you need to set aside by discussing the designs with your fit-out partner. They will look into the need for the office, the space and the number of employees to give you a rough idea about the expenditure that will follow.
Requirement analysis and research
No matter what project you start, a detailed requirement document is always helpful. Start by listing out the problems you see in your workspace today. Maybe there isn't enough room for everyone, or the sales and marketing departments are placed too far away from each other.
Whether the issue lies in the arrangement of the furniture or the setup of the layout, you need to record it and list it. This will allow you to communicate clearly to the fit-out specialist. Listing out your concerns will give them a clearer picture of what you want your end result to be.
List out the departments in your office and figure out which ones you need closer together. The decision about the workflow here can decide the overall productivity of the office too. According to a study conducted on Australian workplaces, the design of a workplace can ensure functionality and thus ensure comfort to the employees. This in turn will enhance the productivity and the performance of the office as a whole.
The next thing you can do is research! Yes, go through the websites of vendors and maybe even your competitors. Getting inspired by a set up is not a crime. You can get a visual idea of what your ideal office space layout will look like.
Taking in the tips and suggestions from your employees is another good idea. It can be done via questionnaires and will help in identifying the employee grievances related to the layout. They may even hand out suggestions about things like the office furniture colour and the kind of furniture they want to be installed. You can take the suggestions and filter them out as you go.
The modern trends in office layout are to focus not only on the visual and functional aspect but also on making it sustainable and scalable. By saying scalable, we mean an office layout that can adjust and adapt to the ever-changing needs of your evolving workforce and even office visitors.
Office space is incomplete without accommodating smart technologies, adjustable ergonomic furnishings, well-equipped meeting rooms and well-designed recreation areas. Getting these factors to merge together to form a welcoming and comfortable setting is the main challenge.
Today, businesses should adapt to new technologies and replace older ones to stay competitive in the game. A scalable business must always focus on keeping up with contemporary technological trends. Finding the right technical fit for your organization can be vital to your success. For example, switching to a smart lighting system from a traditional way can contribute to improved productivity and sustainability.. Furthermore, it can minimise overheads and enhance the user experience by providing comfort, ease and convenience.
You can focus on the following while looking to create a scalable workspace.
The vast majority of today's workforce prefers having an opportunity to work from anywhere they want. While this may not be feasible for some businesses, others can make it happen. Most businesses today are redefining the word 'office' by relating it to getting the work done rather than the place where it is done. Providing flexible working options within and outside the office can delight your team. Why not try it when a task can be completed within the deadline? Businesses also can save space and overhead costs by engaging the workforce in remote working methodologies.
Once you have created your ideal workspace, you feel accomplished and satisfied. But you also want your team to feel the same. Therefore, being attentive to the questionnaire you had prepared earlier and acknowledging the suggestions of your employees will create harmony in the workplace.
If your office has employees with health issues or certain disabilities, you should give special attention to your design. For example, you can introduce a lower sink in the bathroom for staff members who use wheelchairs, or install a protective screen for those who work in front of computer screens all day. It can also be something as simple as setting up a comfortable chair for expecting mothers.
If you thoroughly deal with the above-mentioned factors, you will get an idea as to how you can start to build your own modern office design. From here, you can take it up to a fit-out partner of your choice. If you need help, you can get in touch with any of our team members at Interia. We are always happy to answer your queries and get you started on the office layout ideas that match your concerns.