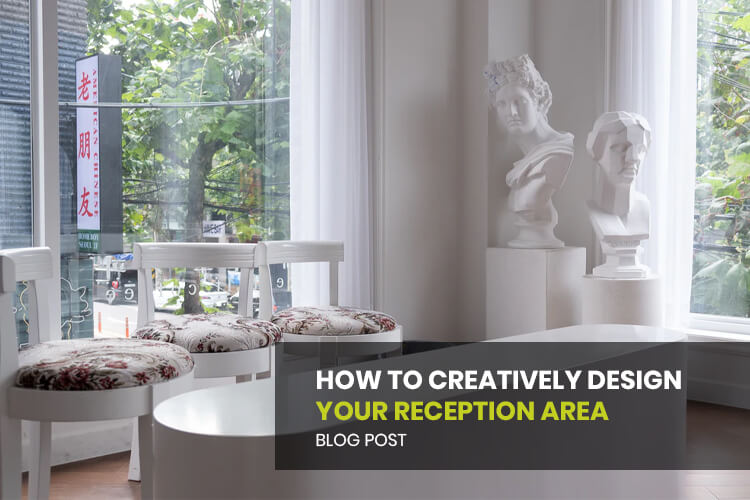 How to Creatively Design Your Reception Area
The reception area is often overlooked when it comes to design. Yet, it's the first area that everyone sees when they walk into the office. It's how your clients and prospects form their first impression. From the range of reception chairs you use to the artwork you hang, it all helps to tell your brand story.
Want to find out how to creatively design your reception area? Read our blog post.
Every reception area should tick these design boxes.
First, when you're thinking about the design, keep comfortability in mind. It's important that your guests are relaxed, especially if they're going to be waiting for a few minutes. Position the office furniture away from the door, so they're not disrupted when someone walks in. Have different seating options, like standard seats, stools, and a couch. It'll depend on the business you operate but don't be afraid to personalise this space. If you really want to treat your guests, you could include a table with water, coffee, and snacks. Again, this will depend on the number of people walking through your doors and the length of wait times.
Give thought to practicality, too. Plan your design around the practical elements that you need to address. Is there something that every guest has to do when they come into the office? Maybe it's simply signing in or filling out a form. If so, make sure you create space for them to digest information and write. Do you like a specific rug but it keeps getting dirty? Like a specific lamp but it doesn't offer enough light after hours? Reconsider your options.
Modern reception design usually follows a minimalist approach. Why? Because you don't want a prospect to walk in and feel stressed or assume anything. But as humans, we naturally do this. A messy reception area with boxes everywhere and no free room could be misconstrued for an unorganised, unprofessional company. Yet, in reality, it might simply mean there's not enough space. Either way, it's safe to assume people do make assumptions based on first impressions. Expect this but make sure those assumptions are positive.
Let the design welcome people in. Inject as much of your company's personality into the space as possible. It'll help set the tone for what's to come and introduce them to how you operate. Think about the ambience you'd like to create. Put yourself in your guest's shoes and look at the space objectively. What would welcome you in?
Reinforce your brand with a visible logo, cool graphics, and subtle design cues that help your prospects decide to work with you. Always keep your reception area neat and tidy. And the easiest way to do this is by investing in furniture that favours this.
Keep your clients and potential brand partners nice and comfortable in the waiting with quality reception chairs. We have a broad range of styles, so take a look at which look best complements your office.
Good design starts from the ground up.
Interia
With over 30 years' experience, we offer Australia's best range of office furniture. With our user friendly online ordering capabilities through to complete design & construction we remain committed to exceed your expectations. Whether you're an aspiring start-up company or one of the world's best known blue-chip corporations, we have the solutions and options to suit your work-style and your budget, just contact us on 1300 734 105