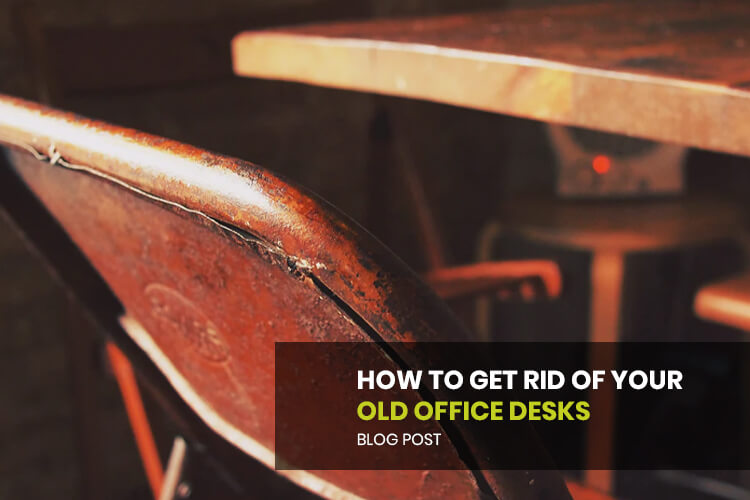 How to Get Rid of Your Old Office Desks
Are you upgrading your office desks? It's a great time of year to do this. Out with the old and in with the new. But, what do you do with the old? It's too good to throw away but no one else needs them. You've already set up your home office, too.
There are other options, like recycling, donating to charity or contacting the council. Let's go through a few of these in detail so you're not left scratching your head with what to do
Sell, donate or recycle
Look for any furniture recycling companies. Usually they'll come to your office, pick up your unwanted desks and arrange a sustainable disposal service. If it's still in good condition, they'll spend time on upholstery, refinishing and replacing any broken parts – so it can be used by another office. All parts that aren't used will get rid of in an environmentally friendly way.
Another method is to contact people around you to see if they're looking for new office furniture. Are there any new businesses in your office building? Knock on their door and see if they'd like your old desks. This is probably the easiest (and quickest) way to get rid of your items.
If you don't have luck with this approach, you can list the desks online, on a website such as Gumtree. Take a few photos of the desks and write down a few notes, including the brand, where you bought it from, and sizes. This is a good way to also make some money. It might not be much but even $20 is better than nothing. You can use this to go towards your new suite of desks.
Another good method is to donate your old desks to charity. If money really isn't an issue, giving it to people who need it the most is a wonderful thing to do. There are plenty of local groups in your area where you can donate old office furniture, equipment, and supplies. They could go to a not-for-profit who don't have the funds to purchase extra desks. Contact the council if you've tried all of these strategies or you just want to get rid of your furniture fast. They might be able to take away your old items for you.
All of these ideas are great ways to be a 'green' business. You don't necessarily have to recycle your desks for it to be an environmentally-conscious decision. By passing it onto to a private buyer or organisation who can use it for many years, you're preventing the purchase of a new desk.
Ergonomic office desk designers.
If you're on the hunt for quality, ergonomic furniture, stay comfortable. You don't even need to leave your office. Buy online from us, Interia. If you can't find the desks you need, we can custom make them. Our in-house designers will create a tailored desk range for your office.