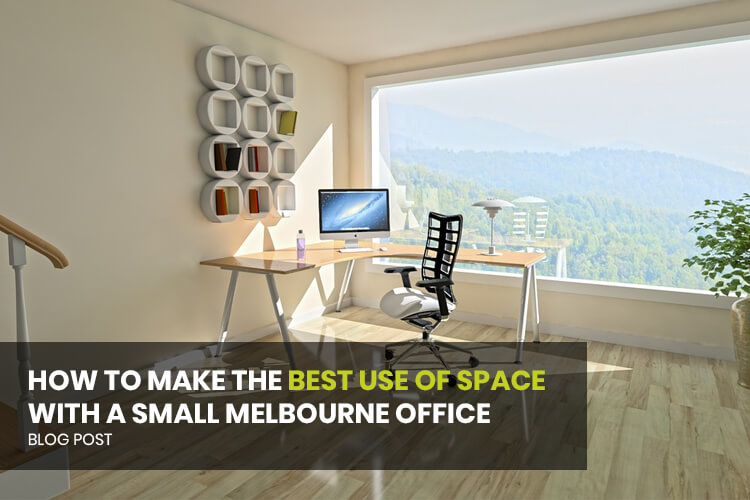 How to Make the Best Use of Space With a Small Melbourne Office
Is your Melbourne office small? Does it always feel like you're a little cramped? While having a roomy and open office is ideal, it's not realistic or economical. With rent being one of the most biggest expenses for businesses, it doesn't make sense to spend thousands more on a little extra space.
Instead, change your mindset. Educate yourself on the different strategies you can take to maximise your office, no matter how small it is.
Here are a few tips to get you thinking about what you can do.
Do What You Can With The Layout You've Got
If you're working in a confined space, every centimetre counts. That nook in the corner, that little unused space near the window and even that narrow space connecting your reception and work area.
Pull out a measuring tape and find out much space you've got. Grab a piece of paper and pen, then draw out your office. Start with the must-haves, like your office desks and office chairs, and see what you can add from there. This is a great process if you like to visualise things. It'll also help you decide what's essential and what isn't.
Invest In Storage
We tend to have this habit of sprawling everything out, horizontally. But you can't grow that way. A well-organised office is possible, even if it's a small space. Use different storage products and think vertically. We sell filing cabinets, office shelves and other solutions to save space and achieve that minimal look.
Ask yourself these questions:
• Can your teamwork distraction-free and collaboratively?
• Is there space for meetings & bringing in clients?
• Is your team comfortable? What tools do they need?
• Do you hire contractors for short periods or freelancers? Is there room?
• Is there a space to take breaks?
• What technology is required?
• Can you better utilise natural light?
When it comes to space, there are a lot of factors to account for. Have you ever noticed how opening up doors and letting sunlight in can make a room feel bigger? This is exactly what we mean. You can use these strategies in your small space.
Maximise Your Melbourne Office. Buy the right furniture.
Your furniture takes up the most space in your office. Be smart about which items you include in your layout. Consider how many employees you have and any plans for growth, so your buying decision is based on what you actually need.
Your choice of furniture is directly linked to employee productivity and motivation. Create a space that will help them perform their tasks efficiently.
If your office is small, don't worry. It just takes a little bit of creativity to work with the space you've got.
Browse our large range of furniture products such as desks, chairs, workstations, office tables, and storage solutions. And if you can't find something to suit your space, we can custom make it for you.
Let's transform your Melbourne office space… and have fun in the process.