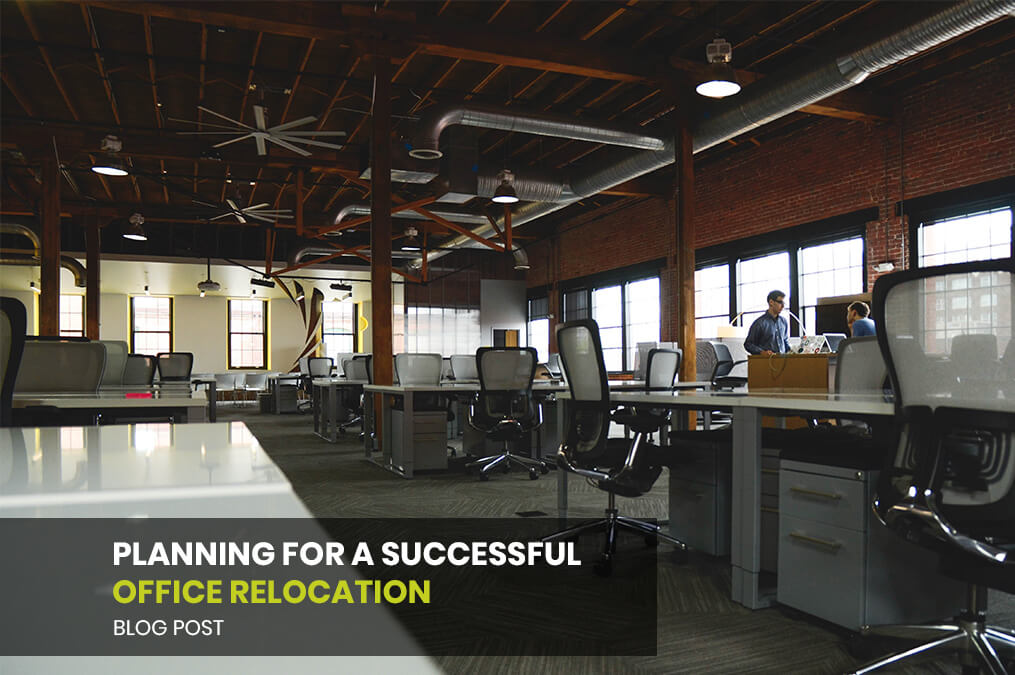 How to Plan a Successful Office Relocation
Relocating your office doesn't have to be a daunting process, although it can get complicated if you fail to plan it properly. Not planning the whole process in the right way will not only influence your regular workflow but also affect the overall productivity, resulting in losses and disturbance in work culture, which might take a substantial amount of time to recover.
A smooth office relocation will require perfect planning and a reliable relocation partner who can flawlessly take care of the process, helping you keep your operations up and running. Keeping your regular workflow in check throughout the process can be difficult, but it's something you wouldn't want to compromise.
While moving office locations, there is a range of factors, such as employee workflow, customer visits, phone calls, and noise to take care of besides moving your stuff and planning for new space. And if you think you can handle everything on our own, then good luck with that, but as the experts in office design and space planning services, Interia strongly recommends you to partner with a reliable expert for a successful relocation.   
Even when you have partnered with the right experts, there are a few areas you should carefully consider to achieve the desired outcome.
1. The Right Scheduling
Scheduling your relocation at the right time can help ease your concerns regarding workflow. Since the relocation process shouldn't affect the regular workflow of your office, the right move at the right time can help keep the disturbances to a minimum.
Investigate what a typical work week looks like in your office, or if there's a specific day or two that's usually less busy. If so, take advantage of the slow time to move office. Designate installation days, and make sure all members of your staff know what's happening and when.
2. The Right Coordination
Clear communication is essential during office relocation. While your employees will be affected the most during the process, prepare them, and also keep the lines of communication open with your customers and partners too. Get together as a team and assign roles to each person. Use a whiteboard and place it in the meeting area, so everyone can see who is in charge of what. Ask a manager to oversee the coordination of people, so there's a point of contact for anyone who has questions.
Additionally, communicate thoroughly with your relocation partner about your requirements, preferences, and plan.
3. Alternative Work Arrangements
It's best for you if you'll be able to relocate your office with minimum disruption to your workflow. The global pandemic has taught us how to work effectively from any location. Though remote work can't be feasible for all industries, you can always provide your team with an alternative method to get the job done.
Finding ways to carry out regular jobs from alternative methods will give you time to move items and set up the new workstations without distracting your staff and affecting your regular schedule. Technology can help you plan this out in advance to make sure your workflow continues throughout the entire office relocation process.
4. New Workspace Planning
You should audit your new workspace in detail before moving in. It will allow you to allocate the right section for the right furniture, purchase the right furniture if required, and avoid costly mistakes beforehand. Your relocation or fit-out partner can help you a great deal in saving your time and money during the workspace planning. But excellent communication is essential. You should thoroughly make your partner understand your situation and preferences.
To perfectly place the right piece a the right area, visualise how you want your new space to look like, think about your employees and their needs, and allow room for flexibility and future adjustment. You can additionally consider different working styles and how you can cater to each one. Brainstorm on what's missing in your current office space or if there's something your team has asked for or complained about. All these detailed considerations will help you design an ideal workspace that boosts motivation as well as productivity.
Relocating is a stressful process, but with right planning and execution, you can achieve it smoothly. Make sure you've got all the plan in place to avoid being in a state of limbo and you are keeping an eye on every detail until everything is achieved. Prior planning is essential even if you're just moving around the corner.
More modern offices these days are designed with a human-centric approach. If you can create your new office space that way, your staff won't take a single second to adjust there. 'One design fits all' approach may not correctly provide every member of the team with the equally excellent working environment, so you might need to organise weekly meetings during the first month to iron out any individual issues.
Plan a team event at a location in the new area. Do your research and see what types of extra activities would your employees be interested in, maybe it's a meditation class, a new popular lunch spot, or an after-work fitness class.
Office Relocation And Fit-out Experts
At Interia, our whole business is about making your office space run smoother. Effective office design and space planning are essential for productivity and employee happiness. Give your team the kind of workspace environment where they prefer to thrive.
Interia is Australia's leading Office Fit-out Service provider for custom office furniture solutions in Melbourne, Perth, Brisbane, Sydney and all major cities in Australia. We're passionate about creating ergonomic office spaces and ensuring that your office not only looks great but also functions to the highest standard. We're committed to bringing style, productivity and engagement to your workspace.
Contact Interia today and find out how we can help you transform your workspace without the difficulties.