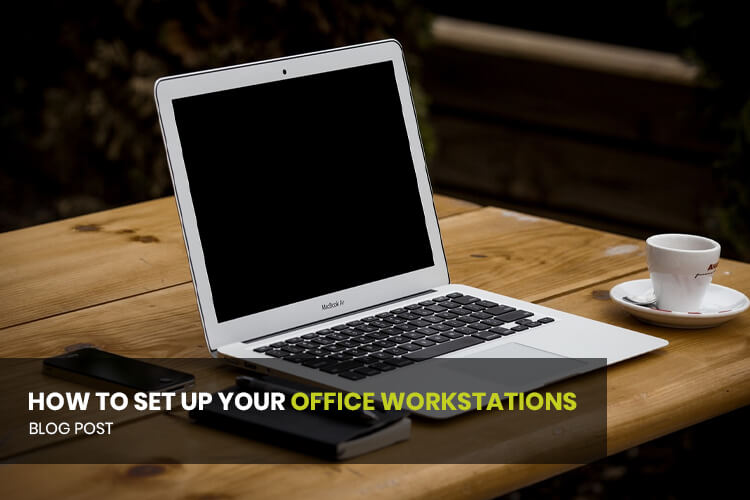 How to Set Up Your Office Workstations
Set up your office workstations correctly and you'll boost productivity. Often, people let ergonomic principles slip, as convenience takes priority. This is when accidents happen and health issues occur. Take a proactive approach to OH&S, and check these five things in your office.
Promoting safe workstations
1. Adjust your chair
There's no way to avoid sitting down, at least for part of your day. But, make sure your office chair is at an ideal height for you, so your back is supported. When you're sitting at your desk, make a right angle at the elbow and alter the height. Check that your wrists are comfortable when straight on the office desk, and your feet are flat on the floor.
2. Keep a distance between your screen
Minimise those sore, tired eyes by maintaining a distance between you and the screen. A good length is 50-100cm, so grab a ruler and measure it. This way, you can keep your laptop at this distance, always.
3. Move your keyboard & mouse
Your keyboard should sit right in front of you, with your mouse next to it on the side. Avoid looking down while you're typing. If you sit forward, the tilt of it should face away from you. When you recline, you want it to tilt forward, with your wrists staying straight. Keep your elbows at each side of your body. If you need, invest in a cushioned mouse pad.
4. Get moving, regularly
It's not always realistic to get up and walk around every few minutes. While this is ideal, it can distract you from work. Instead, spend some time stretching different muscles. Change your posture often, too – sit upright, reclined, and declined. For example, switch from sitting with your thighs horizontal and lower legs vertical, to tilting your chair back, without sliding.
5. Place all important items within reach
Don't pull your neck out trying to reach a file, stapler or book. Keep all the objects you use regularly within a hand's reach. Use your drawers and the top of your desk, without cluttering it. And if you can, invest in headsets. It'll save you from having to hold a clunky phone for minutes. Even if it is a light iPhone, after 10 minutes it starts to feel heavy.
Office Workstations made for you
Be conscious of your body and the position you're sitting in. This awareness will help you maintain a healthy posture.
Are you looking for two-person workstations? Browse our large range of ergonomic products.
Every office is different – the size, the number of employees, and how the space is used. Finding the perfect workstations to suit your individual needs can be a challenge.
But, at Interia, we have a huge range of bases that can be combined with your ideal top size and finish. Everything is made locally, in our own factory.
Pair your new modular or multi-person workstation with our chairs and office screens – and you'll have almost everything you need for an open plan area or workstation cluster.
For custom workstations, talk to us.
No more back, neck or shoulder pain.