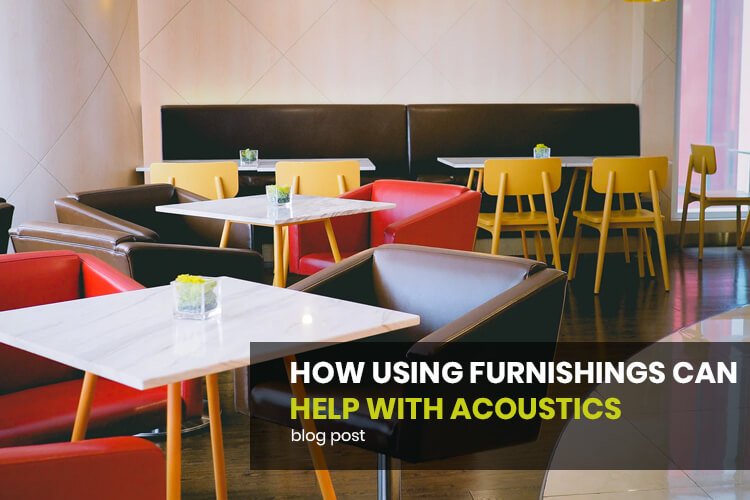 How Using Furnishings Can Help With Acoustics
Furnishing a room isn't just about aesthetics. How space is set up and the materials used can have a huge impact on acoustics. This could not be truer for an open office space. Rooms with large areas of hard surfaces such as concrete floors and open expanses can be much noisier due to the fact that these hard surfaces reflect sound. This problem is exacerbated if there is nothing to absorb the sound. Fortunately, there are many ways to counteract reflective sound. For instance, creative use of soft furnishings can cause the noise to be absorbed, creating a much more pleasant environment to be in.
Drapes
Using drapes can be really effective to absorb sound within a room. Drapes made of thick fabric are not only designed with insulation in mind but can also assist in reducing noise internally. They are also a good way to prevent noise pollution from external sources from seeping into a space. The use of false curtains can be highly effective in media rooms or large conference areas within an office to not only control the sound within the room but also keep sound both in and out therefore reducing any interference with other activities. High quality sound curtains are the best option for effective sound absorption and soundproofing.
Rugs
Carpets and rugs exist not only to provide a gentler surface to walk on, but can also help to absorb reflective sound. A good rug can be even more effective at absorbing reverberated noise within a space than drapes due to their larger surface area. Sound reduction pads can also be used together with rugs to absorb sound more effectively.
Dividing screens in offices
It is important to keep noise pollution at a minimum in offices so that employees are able to work without distractions. Dividing screens in offices can be a great way not only to divide the space between workstations and offer privacy, but also to break up large areas and form barriers to reduce noise bouncing around the room. Screens can be made from acoustic materials to help reduce noise, thereby raising concentration levels amongst workers.
Acoustic panels
Having acoustic panels installed is a highly effective way to absorb sound within a space. However, people tend to be concerned about the appearance of these panels, worrying that they will be obstructive or unsightly. In fact, installing decorative items like pinboards can help to absorb sound if they are made of the right materials. Felt-covered or cork pinboards can help, as can canvas pictures or fabric covered frames. A quick and easy way to beautify your space while combating noise pollution at the same time is to install decorative surface products designed to reduce reflective sound.
Acoustic underlay
Acoustic underlays are designed to reduce noise while remaining invisible. Perfect for high traffic areas where much activity and talking may be taking place or hallways where people may be wearing high heels, underlay products are positioned underneath floor coverings and absorb sound while remaining quietly unobtrusive. These products are usually manufactured from rubber and acoustic underlays are a great option for those who do not want the appearance of their space to be altered by sound reduction technology.
No matter how attractive an interior looks, if it does not have good acoustics to go with it, it will not be an enjoyable space to spend time in. Deploying attractive and functional furnishings to improve acoustics ensures that your space is not only beautiful to look at but also a pleasure to live, work and play in.
To speak to the Perth office furniture specialists, to contact us or call us on +61 8 9359 1288.