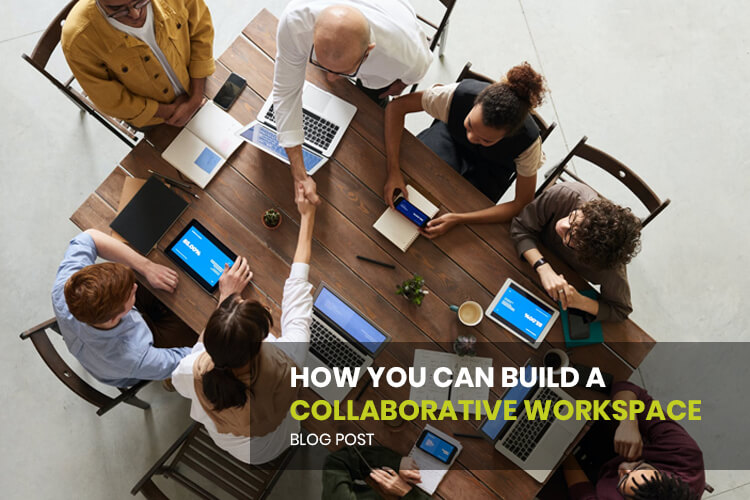 How You Can Build a Collaborative Workspace
Previously, office spaces used to be divided into clearly defined, separate offices. Then came the rise of open-plan working where partitions, rather than doors, were adopted as a way of creating a team environment. Although an open plan is still the most popular option, it needs to be done right so a collaborative workspace can be created while respecting the different working styles of employees.
Ultimately, the way you design a workspace can increase productivity or cause it to slump. There are certain dos and don'ts for office layout design, which is why many people rely on experts like the team at Interia to help them plan and design an effective office layout.
The benefits of a collaborative workspace
There are several reasons why you should consider collaborative office design. Whether you're a business owner or an interior designer helping to improve the office environment, it's essential that you provide the best workspace designs to increase productivity. Here are just some of the benefits of including a collaboration space in your office.
Removes distractions
Have you ever tried sitting at your desk to have an in-depth planning discussion with a colleague? Usually, the phone is bound to ring and take your attention away. At best, you'll probably see emails popping up on your screen and even if you don't address them, they are on your mind instead of the work you're trying to do.
Collaboration spaces provide you with a dedicated, distraction-free zone for important discussions. Also, when the area is designated for collaboration, people understand that you're working, not just having a social chat. Therefore, they're more inclined not to interrupt you.
Maximising space
We know many people probably wonder why you need collaborative workspace design if you have meeting rooms. Surely people would use these rooms for important discussions and collaboration? Well, the reality is, not all offices have meeting rooms or private offices. There just isn't room. Even if there are meeting rooms available, you can't always access them when you want.
A collaboration space gives people an area they can work without being distracted, but you maximise the space a lot better than you would if you went to the expense of sectioning off dedicated meeting rooms.
Keep everyone involved
The beauty of the collaboration space is the unique crossover between privacy and open-plan work. We mentioned before that people aren't likely to interrupt if they see you working in a dedicated collaboration space. However, the option for others to join a discussion or participate in collaboration is always there because you're essentially out in the open.
If somebody has something valuable to contribute, they can. If you need a specific person to join the discussion temporarily, you can call them over. It's a lot less formal and creates a smoother, more collaborative & productive workplace.
Increased productivity
All businesses are trying to find ways to achieve more with less, i.e. fewer staff, fewer overheads, but more output. It's definitely not easy to do by any stretch of the imagination. However, a modern collaborative workspace achieves this.
Firstly, open-plan offices are generally more conducive to collaboration and teamwork. They encourage people to talk and engage with each other and have been proven to foster a happier work environment. Therefore, collaborative workspaces are a great way to keep people's productivity high. After all, a quick chat about a project just feels so much better than scheduling a formal, lengthy meeting that could have been a simple chat in a collaboration space.
How to build a collaborative office space
There are many ways you can create a more collaborative feel in your office. From choosing the right collaborative workspace furniture to how you lay out your desks, there's a lot you can do to make a workspace feel more open and inviting.
Remember, the whole idea is to create a productive work environment. In years gone by, we may have thought that cubicles were a great way to make people productive, but they can also lead to feelings of isolation and low levels of engagement. It's essential to find a balance between creating a fun, collaborative environment while still giving people what they need to get their work done.
Here are some ways you can add some collaboration to your workspace.
Open plan to encourage collaboration
The very nature of collaboration means that you need to interact with others to make it happen. An open-plan working environment means that employees interact with others while moving about the office and can approach other colleagues more easily. Low partitions also mean that employees can pick up on the activity of other workers and helps keep noise levels in check due to the visibility of non-verbal cues.
It's a much more engaging environment when people feel they can move about the office, take breaks and switch off from work for a few minutes. In fact, most WHS guidelines recommend taking regular breaks from screens, and an open plan office makes this much easier.
Use collaborative workspace furniture
If you want an open-plan or collaborative office design, you'll need to have the right furniture to achieve it. Large partitions that keep people trapped in a cubicle certainly aren't what you need. You may choose to use office screens or partitions to separate a dedicated collaboration space from the rest of the office, but you should be looking for open-plan furniture overall.
We've mentioned low partition desks, but you can also choose individual desks with no partitions. When creating an office space for a growing business, many modern companies are thinking outside of the box, using techniques such as hot-desking, where nobody has a dedicated cubicle or desk. There are simply computers and facilities set up on desks, and people use them as required.
Diverse common areas
Gone are the days when open-plan meant dozens of cubicles and nothing else. Common areas such as lunchrooms and meeting rooms are essential to both encourage interactions between employees and also to allow workers to have an inviting space away from their desks. Additional areas such as small, private rooms for phone calls or rooms for group conversations can also add to the collaborative nature of a workplace.
While an open plan is great, you do need to think about privacy and noise. If you have a breakout space that is completely open and attached to your main desk area, the noise from people on breaks can distract those working at their desks. So, always try to create dedicated spaces for different activities where possible.
Set clear rules
Once you're working in your new office space, you need to have clear rules about how the different areas should work. This avoids areas being misused and means that employees know what's expected of them. For example, you don't want the private rooms for phone calls to be used for meetings when there is already an area put aside for that use.
Setting clear guidelines also means workers need not worry about quiet areas where they can escape office activities that turn into social hubs. If your office is well designed, employees should have no problem catching on to the best way to create a collaborative workplace.
Collaboration and privacy – the best of both worlds
The other thing we should mention regarding collaborative workspace design is that you don't need to go wholly one way or the other. The reality is that every office has different needs. Within every office, you'll have people in roles that require different levels of privacy. If your office space is big enough, why not try to achieve the best of both worlds?
You can have private closed-door offices for certain management team members while maintaining an open-plan setting for everybody else. You can even use convertible workstations to create 'pods', where teams who perform similar duties can sit together. Also, you might choose to do away with closed offices completely, but turn those rooms into temporary private spaces. Someone may need to use them for a particularly difficult client phone call. There may be occasions where somebody is running a complex project and needs their own office for a month.
These ideas give you some flexibility in how you can structure your office for the perfect mix of collaboration and privacy. You can still include a dedicated collaboration space while maintaining levels of privacy where required.
Need help building your collaborative workspace?
At Interia, we provide complete office fitouts in Perth, WA, to perfectly accommodate your working style. Whether you want a refurbishment or a complete overhaul, we have the solution for you. A collaborative workspace starts with planning, and our experts are here for you.
From the first consultation through to the fit-out stage, we're with you every step of the way. For more information about how we can help create your collaborative workspace, contact us today on 1300 784 816 or fill in our online enquiry form.