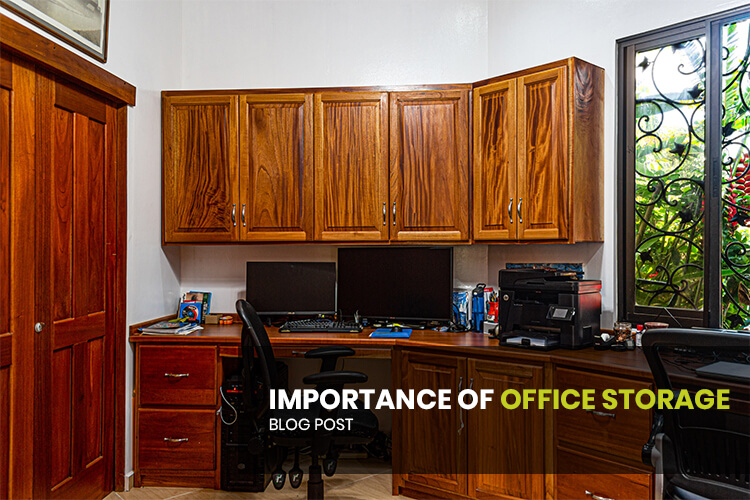 Importance of Office Storage
How you organise your office is linked to factors like employee performance and satisfaction. Just like you want to live in an organised and clean home, the same goes for your office. It starts with your office storage.
Staying organised in an office of multiple people isn't easy. Even the smallest of businesses struggle with this. 'Don't look at my desk, it's messy' is a common phrase that just about every employee has said at one point or another. But there's great value in keeping an organised office.
Organised workspaces start with good office storage
Here are a few reasons to invest in your storage solutions.
Save time (and headaches) How many times have you lost your car keys? What about that important file that you left on your desk. We spend so much time looking for misplaced items. Often, these moments are panic-fuelled and always happen in a rush. Organised workspaces allow your team to remain in control of their items, always. No more wasting time searching through a stack of papers.
Rethink your design By including storage solutions, you're forced to reconsider the space you have available. Is there a better way to set up your office? When you add great storage to an efficient design, you'll make the best use of your space. This could free up space to make the room look bigger or you can add a new feature to it.
Adds value Storage adds value to your office, too. You can take these important office furniture items with you if you move locations. If you get your storage right, you can even downsize the office space, and save more money. But from an organisational perspective, it gives off a positive image of your company – to both customers and employees. Your team will be much more productive and workflow will run smoothly. This is the most important reason to invest in storage solutions.
Buying your storage units
We all know the saying: time is money. By adding more organisation to your office, you can save time and the frantic worry that follows after losing something. Storage space can be a huge issue in offices, especially small ones. No one wants to work in a cluttered, busy office that's too distracting. While you can encourage your team to keep their workstations neat, investing in good storage solutions is the best way to achieve a minimalist look.
At Interia, we have a large range of filing cabinets, mobile pedestals, office cupboards, and office lockers for personal items. If space is at a minimum, add a few storage furniture items.
Spend time researching the type of storage units that will work for your office space. Is it horizontal or vertical? Do you want the units to double up as desks or tables? Put all your corporate documents, important files and operating procedures in your storage.
Give your employees space to breathe and get creative.
Contact us today for your next storage solution.