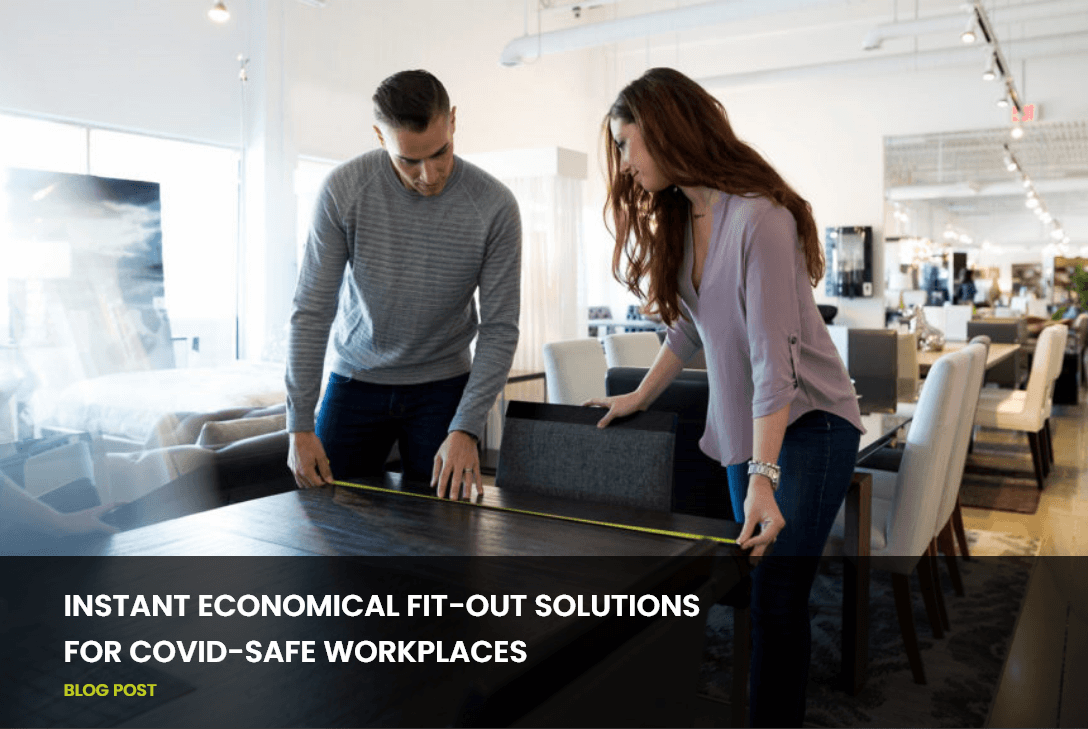 Instant Economical Fit-out Solutions For COVID-safe Workplaces
As we are ready to restart our economy by getting back to our office desks, there is an acknowledgement that our office environment is not going to be the same again in the post-COVID era. As already mentioned in our previous article, our offices would need to go through a complete transformation to better suit the changing environment because safety has never been this important in our office spaces in the recent years.
One of the first priorities for offices to run safely would be accommodating less number of staff per square meter in the office spaces, capping staff numbers at about 30 per cent and maintaining social distancing disciplines. As suggested by the experts, the future COVID-safe office designs should learn a great deal from already existing hospital designs in terms of cleanliness so that people would be working without fear in a sterile environment.
Now that the economical activities have been halted for a few months and there is a pressure to completely transform the operational layouts including the office environment, there is huge economic pressure on the businesses. A complete transformation of an office space can take weeks and a handsome amount of money. The question is – is it possible to do it instantly on a budget? With the right identification of the threat and proper planning, yes, it is possible.
In order to transform your regular office space to COVID- safe office space effectively, you need to first understand what makes your office environment COVID-safe. A general answer for it would be:
An office environment that effectively avoids the transmission of microorganisms (especially novel coronavirus) between the employees while running the operations effectively.
This is only possible when an office environment is effective in:
Maintaining social distancing between employees at all times
Minimising or completely getting rid of common touchpoints
Accommodating a high-level cleanliness routine in the office spaces
Effectively monitoring the regular health conditions of the employees
This article aims to give you an idea about the two instant economical fit-out solutions to achieve a safer working environment in your workplace. There are several areas in your office space that you will need to redesign or tweak in order to meet COVID-safe regulations. You might need to redesign the whole space planning, but with the right fit-out, you can achieve your goals with an economical solution. Let's talk about the fit-outs that can solve your office space transformation problem instantly and economically and how they are an effective solution.
Partition And Partition Accessories
Until the COVID-19 crisis, open plan layout in offices was one of the most common and effective designs. It allowed employees to collaborate, communicate, and work together effectively. Now that the physical interaction can pose a threat to the health of everyone, heavy use of partitions in office spaces is the demand of the future.
The effective partition between the departments and sections make sure there is a less physical interaction between the employees and the social distance is maintained. Since there won't be any shared items between the employees, partition accessories can help store personal items such as stationery items effectively. Partitions can also be installed in the passage if you are willing to organise the internal traffic effectively. A disciplined and controlled movement inside the office environment can help minimise the chances of physical interaction.
Modular partitions can be purchased individually as per your partition requirement and installed instantly. They effectively assimilate in your office environment without having to replace the existing furniture.
Why Are Such Partitions Cost-effective?
Designing the whole layout of your office space will require installation of new fit-outs and expensive custom partitions which, at the end of the day, serve a similar purpose although it may give you a brand new feel. Rather than investing for the complete transformation, you would want to invest in individual partitions that can blend in your office environment with only a few adjustments and without needing to replace the whole set of existing furniture. It is not only cost-effective but also an instant solution.
Workstation Screens
Workstations of the future would represent the physical separation between the employees rather than privacy and acoustics like in the past. Personal workstations installed in a standard distance between the colleagues are the reality of COVID-safe work environments. Some experts have predicted the comeback of cubicles and extinction of hot desks from the office space. While the latter can have no other option, the former has some.
Workstation screens fit easily on top of workstations and provide employees with a private space to make it highly effective in avoiding physical interactions. These screens are also being rephrased as "sneeze guards" by some analysts. Maintaining the correct social distance can work fine in normal conditions. But otherwise, these screens can help a great deal in restricting the movement of microorganisms.
Why Are Workstation Screens Cost-effective?
Replacing all your regular workstations with workstations designed for personal use can cost you a handsome amount and waste your time. Transforming the regular desk into a desk that works just as fine as a cubicle, on the other hand, is not only a cost-effective solution but an instant answer. The acrylic screen can be installed in any desk instantly. It is not only reasonably priced but also requires minimum maintenance. Even its replacement wouldn't hurt you at all.
The installation of above-mentioned fit-outs can't be effective without the right space planning and installation of the right technology. Offices will still need to accommodate new technology and methods that help avoid common touchpoints. Better cleanliness routine and methods should also be introduced to create a sterile office environment. Health monitoring apps, as they are already in the market, should be installed at every desk, and employees should be provided with enough cleaning stations. Here are a few additional systems and methods that you might want to install in your office environment to make it a safer place:
Automatic doors
Heavy use of signs and markings for the regular reminder of the new discipline
Heat mapping technology for distance inspection
Apps to control elevator commands
Automatic temperature detectors
The ultraviolet air filtration system for thorough cleaning after office hours are over to make sure the air is as clean as we can get
Interia Services has been your preferred office fit-out partner for an effective office fit-out solution for every circumstance and budget.