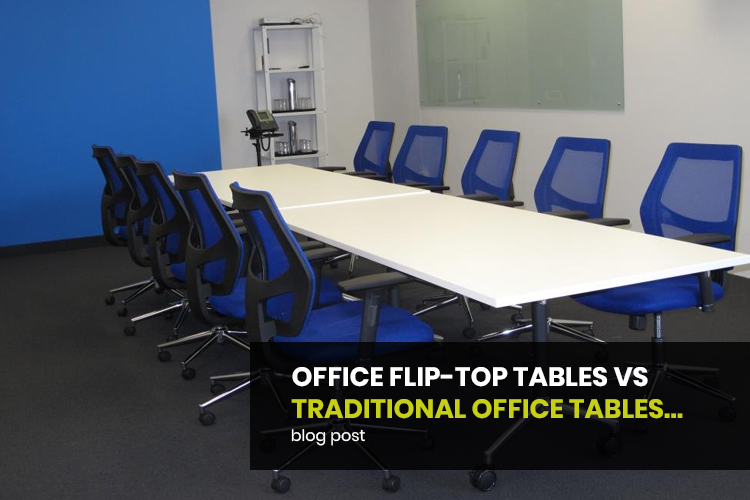 Office Flip-top Tables Vs Traditional Office Tables…
Flip-top office tables, in the past, have been misconstrued as being cheap and tacky and though the flexibility was highly desirable, they often didn't provide the image that corporate space required.
Hence the benefits of flip-top folding tables were often by-passed by a lot of office furniture buyers and the space required to incorporate a decent meeting space in Perth office fitouts just got larger and larger…So what's changed? Probably high on the list is the cost of space in Perth – it's no longer cheap like it used to be and now in very short supply.
Perhaps the superior design of office Flip-top tables such as Interias' Calais range may have influenced the equation too…offering a permanent appearance and enhanced stability whilst still providing total flexibility and very good value for money…
So why choose a flip-top table…?
Many companies in industries that grow and contract regularly such as mining and resources companies can easily store furniture that may not be needed today but will tomorrow. Calais incorporates an 'easy-to-use' mechanism allows the table top to be flipped vertical and nested together to save space when not in use.
Cost…Buying less types of furniture has to be a bonus, as is replacing them more often, rather than keeping many types for many years till they all look worn out.
Multi-tasking…A room can be a boardroom today, a training room tomorrow, a meeting room on Wednesday, and a brainstorming space the next day.
Health and safety…The castors allow easy movement around your office making it easier to quickly re-arrange your space without getting in the strong backs of the company.
Space optimisation…Many WA businesses today are looking to get the best use of more limited space, either because they can't move due to lease commitments or space is just not available at an affordable price.
Calais solves the problem of storable conference/meeting room tables by providing a complete solution for multi-purpose rooms. Interia is the 'Perth office Furniture' specialists, offering the largest range of folding tables Perth has ever seen…
Call us on +61 8 9359 1288 to see what the Calais Office Flip-top table range could do for your space…