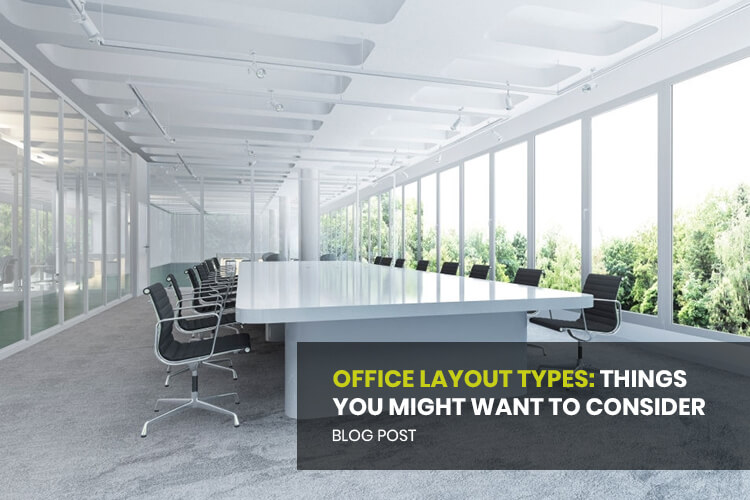 Office Layout Types: Things You Might Want To Consider!
Office layout types are like the skeleton of your organisation. It provides the base to all the movements taking place in your office. The design needs to be optimised to suit your organisation's work style and workflow, your brand, and most importantly, your employees. Above all, the different features and combinations of them will mean one office layout type is effective for some but not for others.
You can find countless suggestions, telling you how to make an effective office layout and which one is best for your company. But, how do you really know which one will be an effective office layout for you?
We want to provide you with the resources and information to help you decide which layout will work most beneficial for your organisation. Therefore, this article will discuss how you can evaluate your company, and make an informed decision about which office layout design will be best for your company.
Office Layout Types
There are different types of office layouts, which each have their own benefits. It is crucial to consider which one will fit your work environment the best. Harvard Business Review (HBR) noted how important it is to find the right mixture of work style and office layout. Moreover, HBR stated that companies were conducting million-dollar experiments to ensure they raised their output. Most importantly, they did it so they didn't waste money on choosing the wrong office layout design.
Running expensive experiments may be out of the question, but the example shows just how serious companies are taking office layout revamps. The reason companies are making sure they get it right the first time is because of employee time lost carrying out a move. Whereas, for small and midsize businesses, it will cost between 800-1000 hours to plan and execute a move.
With so much money and time on the line, it's best to get it right the first time!
Before we get into how to choose the best office layout design, let's first go over three of the most common office layout types.
1. Traditional Office Layout
This office layout consists of individual private offices that are permanent or semi-permanent. Moreover, it will include enclosed offices and rooms for meetings, with an open reception area for customers and guests.
To get a better image of this type of office layout, you can think of the office on the T.V. show Suits.
Pros:
Individual private areas
Fewer distractions and more concentration
Provides confidentiality for sensitive information and meetings
Cons:
You are restricted to one layout, difficult and costly to change the layout.
Takes up a great deal of space for everyone to have their own private area.
2. Cubicle Layout
This office layout type is a semi-open space, where workspaces are made by using partition walls on three sides of an employees workspace. With semi-permanent walls made with partitions and dividers, this office layout is more cost-effective than a traditional office layout design. Moreover, the cubicle office layout plan is usually combined with built-in meeting rooms and offices for upper management.
To get a better image of this type of office layout, you can think of the office in the movie, Office Space.
Pros:
Individual private areas
Fewer distractions and better concentration
Provides confidentiality for sensitive information
Cons:
Cubicles, walkways and doors can take up valuable space
Verbal communication is limited
3. Open-Plan
Open space office layout types utilise the furniture themselves to divide areas, to get away from partitions and dividers. By using furniture, like tables, couches and chairs, you can create impromptu collaboration areas. The open-plan office layout is flexible and can easily be expanded, contracted or reconstructed to accommodate your current office needs.
To get a better idea of what an open office-plan office layout looks like, you can think of the office on the T.V. show Mad Men.
Pros:
More collaboration – fewer phone calls and emails
Cost-efficient to expand and redesign your office
Supervising is easier
Improved operations and increased productivity
Cons:
More distractions
Increased multitasking which may lead to more errors
No privacy
Although there are other layouts available and countless combinations of them, these three are the most common office layout plans. With an idea of what your office can look like, let's look at how to choose which one will be the most effective.
How To Choose an Effective Office Layout
Equipped with a clear picture of what each office layout looks like, you can begin to visualise which one will fit best for you. However, your toolbelt is not complete.
It's crucial to take in other factors to accurately determine what the best office layout will be for your organisation. Below we highlight some essential things to consider when implementing an office layout redesign or when you are shifting to a new location.
To have an effective office layout type, you should consider the following three things:
1. Your Employees
Employees are the foundation of your organisation. Without them, you wouldn't be able to complete the everyday tasks that are required to be successful. Whereas, in the book inGenius: A Crash Course on Creativity, Dr Tina Seelig, describes how crucial it is to see your space as a habitat that communicates what you should and shouldn't be doing. Additionally, work environments that are stimulating and conducive to employees needs, their mind will be open to innovative ideas!
The right office layout will positively affect an employee's happiness and increase their productivity. A University of Warwick study stated that employees who were made happier increased their productivity by 12%.
With the right environment and worker happiness being so crucial to productivity in the office, it's imperative to consider their opinions when designing a new office layout. Employees understand the day to day happenings of your company at a personal level. Moreover, they could have insight that you did not consider.
Therefore, first things first, empower your employees by including them in decision-making opportunities around your office layout plan. Above all, by including them, you will be tapping into a sea of knowledge that will be sure to pay dividends on your new effective office layout investment.
2. Your Customers
If you are a business that deals directly with customers, it's essential to consider their thoughts and perceptions as well. Moreover, the right office layout type will speak volumes to your customers and clients. The layout you choose will tell them how you conduct business, your company's abilities, what your values are, and ultimately if your business can get the job done!
A 2019 report by Walker Information, explains just how essential customer perception is when it comes to your business and brand. The report said that customer experience will pass price and product as the most crucial factor in sales by 2020.
When your customers step foot in your office, you want to paint a positive picture of who you are and what your capabilities are. By taking feedback from your customers, you will be able to understand their perspective and incorporate it into your office layout design.
3. Your Businesses' Work Style
The type of work your business conducts is one of the most important things to consider. Work style and how your employees move around and interact is key to the success of your office layout. An office layout done right can support your strengths, while also respecting your weaknesses.
The combination of work style and office layout is becoming more evident as millennials enter the workforce. With estimates that millennials will comprise 75% of the workforce over the next ten years, it's definitely something that you should consider. Moreover, 81% of millennials want to make sure their work style fits with the office environment before signing a contract.
There are countless types of work styles that employees have, to get more acquainted with them, check out our blog on how to accommodate them here.
Takeaways
With a complete tool belt, you can now start designing your new office layout. Understanding your team, your customers, and your work style is crucial. However, that's only half of the equation, as you need to have a good understanding of the various office layout designs available.
Taking on a redesign of your office layout is a big task, and there is no one fits all solution.
After you have completed gathering information and wading through the different options, you will want to pick office furniture that matches the office layout type. We know that choosing practical, and comfortable furniture for your office can be a challenging task. Therefore, we have another blog to help you make an informed decision. You can find out more about desks, chairs, and tables on our blog.
Finally, if you need help with your new office layout or want to do one on a budget, you can always contact us. Our team is always ready and willing to help our friends out right across Australia!