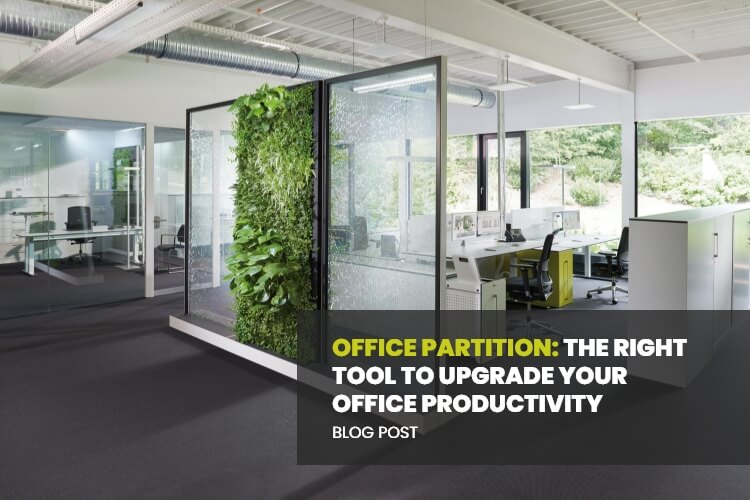 Office partition: The Right Tool To Upgrade Your Office Productivity
Looking back from the era that prefers open-plan office layout over other office design, there have been numerous experiments in the past seventy years to invent 'the best office layout'. Yet, even the most popular design of today isn't free from multiple criticisms. Now, as the popularity of the open office plan is declining, we are learning to acknowledge that it's the people that need more attention for a perfect office environment.
With personality test results being implemented on office floors, it is clear that one design doesn't fit everyone's needs. We may not be seeing a single layout dictating the design of future offices, but that doesn't mean offices will need to invest a fortune for an environment that caters to everyone. A simple tweak or addition to the design can transform a working environment and, it's where modular partitions will be of great use. They can play a significant role in transforming your office space.
Appropriate placement and styling of partitions can help to improve team productivity. In this article, we will discuss how office partitions affect productivity.
Partitions For Ideal Workstations For All Personalities
Office spaces waved goodbye to the cubicle layout in the late '90s after different studies stated that it doesn't provide employees with the best environment to thrive. With cubicles, there were severe issues with collaboration and communication. Though the cubicle is replaced by open-plan layout, it doesn't seem to provide everyone with the best working environment. Open-plan layout is beneficial to teams that prefer working in a collaborative environment, but some people still prefer to work in a cubicle-style environment. All of us have different working styles, hence it is equally important to understand the design aspect that fits the needs of every occupant.
If you want your office designs driven by a more human-centric approach, you should focus on providing the right working environment to every personality that builds your team. Different personalities prefer different workstations. Extroverts thrive in collaborative environments, whereas introverts feel comfortable working in more private workstations. Whereas, some people thrive both in a cooperative and closed environment. If you provide the right environment for every member of your team, it will help them to flourish professionally.
Partitions are cost-effective options that can help to transform your open office layout to a flexible and aesthetically pleasing office environment.
Private Workstations
Your workstation is where all the magic happens, talent thrives and skills come together to create compelling content. The key function of a workstation is to enhance the employee's work performance. To achieve this, a workstation should provide a supportive environment for one's mental and physical well-being. t. Some jobs require a high level of attention and precision, which can't be executed in a distracted environment. Hence, it's also one of the reasons why most creative people prefer working alone.
The right partition will help in fostering creativity and increase performance by creating private workstations for employees who prefer working in a calm setting. Partitions not only minimise sounds but also exterminate visual disturbances. From desk mounted options to ducted screens with glass, you can find a wide range of partition systems at interia that will help you create private workstations.
Convertible workstations
Have you ever noticed people who frequently change their locations throughout working hours? If so, you have people in your team who prefer working in a mixed environment depending on the situations they face. They switch back and forth between private and collaborative workspaces because switching helps them work better. It may not be efficient to provide different workstations for such personalities, but you can indeed create a convertible workstation for them.
You can create a convertible workstation with divider screen and desk mount partitions that are easy to fit and remove. Such partitions will help you create a private as well as an open workstation within a matter of minutes. The best part is that you don't need experts to install them for you.
Partitions For Improved Experience
Office space is not just about workstations. The design of other areas such as reception, meeting rooms, cafes, and conference halls also contribute to the office environment. Hence dividing different sections in the right way aids in creating an ideal office environment. For example, if an open office layout is your team's preferred design, glass partitions dividing the sections without affecting the open office feel would be a great choice. Partitions come in different shapes, sizes, and materials such as wood, metal, glass and much more. Selecting the right material and style for your team will increase productivity, collaboration and foster creativity.
In Your Brain on Nature, the authors share a study that found participants reacted faster and made fewer mistakes after seeing images of nature. You can add a bit of greenery in your certain partitions to positively affect the performance of your team members. Greenery reduces stress levels and pollutants, contributing to the mental wellbeing of your team.
Lighting plays an essential role in enhancing the office environment. If you want to brighten up your office space with natural light, then a glass partition should be your ideal choice. Colours can also affect productivity. Soft, cool colours soothe the mind, while vibrant shades stimulate creativity. Office spaces shouldn't feel claustrophobic and should be structured to increase imagination, collaboration and efficiency.
Partitions for safety
The recent global pandemic didn't just restrict our normal activities but also raised the bar of safety standards of our office spaces. The COVID-19 pandemic has made us rethink the way we travel, work, and collaborate. Numerous safety protocols have been put in place for post-quarantine return to work.. The standard recommendation from all the protocols is about minimising physical interactions between people. This will also encourage designers to consider t office designs for the future. Partitions will play a significant role in managing a safe cost-effective office environment.
Minimising physical interactions between team members is possible with the installation of partitions, such as acrylic screens in the workstations. Since not all businesses can afford to overhaul the whole office design for safer workspace, partitions can help create a less contagious office environment on a budget. You can use partitions in different ways to create a safer office environment.
You can use partitions to define entry and exit points to create one-way traffic flow inside the office environment.
Partitions can help create personalised workspaces to ensure less interaction between team members.
Creating visible and accessible sanitising and cleaning stations is easy with appropriate partitions.
Partitions can help define departments and minimise confusion.
They create great physical barriers between people to help hinder contagious situations.
Deal With The Partition Experts
The right installation of partitions will not only transform your office space but also positively impact your business growth. Partitions can provide you with temporary solutions to temporary problems as well as eliminate some issues permanently. 
Whenever we talk about office partitions, we think about the sketches, the expensive and flashy materials, and days of installation that cost a fortune. As one of the most trusted office fit-out experts of Australia, Interia provides you the best  quality partitions and cost-effective solutions to upgrade your office space. Some partitions are cheaper than your regular office accessories, and you can easily install them on your office space in a few minutes.
Inertia offers a wide range of office partition systems to enhance your working environment depending on your needs. Our primary goal is to provide our clients with the best office fit-out solutions while cutting down the expensive design costs. If you are looking to upgrade your office space with the right partition on budget, contact us today.