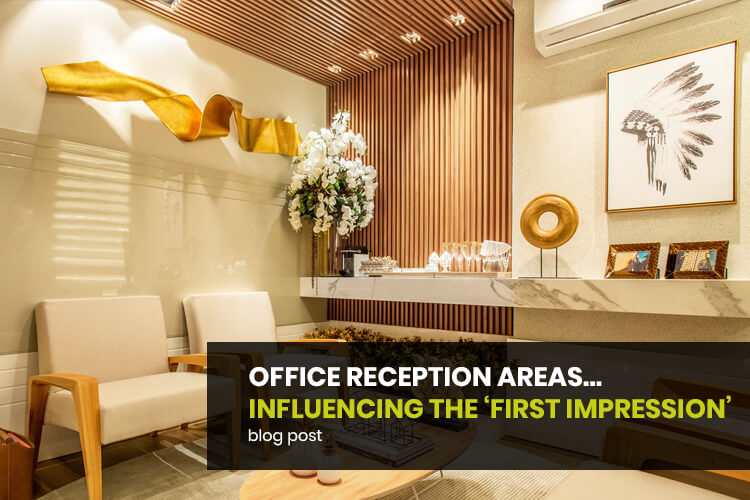 Office Reception Areas… Influencing the 'first impression'…
The Office reception area creates an impression; in fact it is usually where the initial perception of your entire company and its services is formed.
No matter which industry you operate in, your potential business partner's initial experience in the reception area could make-or-break their decision to work with your company.
The placement of modern office furniture, decorations and space considerations are things that need to be a part of the initial design so that your visitors get a positive first impression the minute they step through your door.
Whether a person is visiting your office for the very first time or back for the hundredth time, they should always feel comfortable and welcome.
In particular, the reception area should have the following key elements…
Clearly marked, Clean & Clutter-free…
When visitors walk into your reception area, they generally expect to find a clean space with a clearly marked welcome ergonomic office desk where they can make their arrival known.
Your reception area should be meticulously clean and free of clutter.
A Comfortable layout…
You should provide adequate space around your reception furniture to allow an uninterrupted path for visitors to flow through without weaving around obstacles or other people within the space.
The reception area should offer your visitors a comfortable area where they can sit and relax while waiting.
While some visitors won't spend long in your reception area, others could spend more time so make sure you provide adequate and comfortable office seating. There are many options available from the traditional or modular lounge to the contemporary tub chair, most available in a selection of sizes, colours and fabrics.
Provide reading material that is related to your industry as it shows that you're knowledgeable about your field of expertise and your industry.
Display your Company Logo and Brand…
Your reception area should always reflect your branding and corporate image. Decorate the area with your company's colours and position your logo prominently on the front of your reception desk or on the wall behind if possible.
Installing a flat screen television to play your company's advertising media near the sitting area is also a very good addition.
If you have any industry awards or accreditations, the reception area is the place to display them. Make a feature of them in either an attractive cabinet or on a display shelf.
Create a Memorable Experience…
Offer visitors free access to a drink of cold water and make sure they have easy access to promotional material about your company and its products to peruse while they are waiting.
Make sure your visitors remember your business as one that goes out of their way to welcome their visitors in a unique and hospitable way.
These simple tips will all help you create the ultimate first impression …
sales@interiasystems.com.au