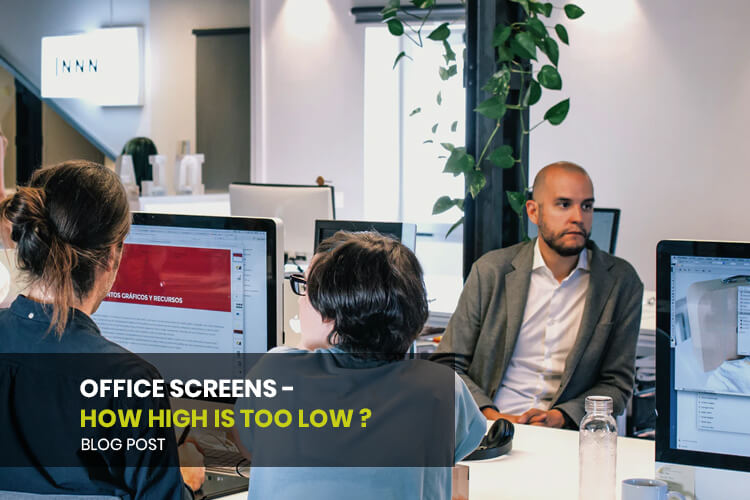 Office Screens – How High is too Low?…
The height of your office screens impacts immensely on both the visual and acoustic privacy in your office. Choosing the best screen height requires finding a balance between the physical needs and the culture of your company.
Some companies require more private spaces while others prefer an open configuration that allows employees to make eye contact and speak to each other across the screens.
Some office design experts suggest that a partition height of between 1.2 – 1.3 metres meets the privacy requirements of the modern office but research proves that this is questionable. Research statistics reveal that a screen of this height will provide some visual privacy for seated workers but very minimal acoustic privacy.
For decades, acoustic engineers have argued that for partitions to provide substantial acoustic privacy, they must be above 'seated head height'. Partitions below 'seated head height' won't block voices and noise between work-points and will dramatically increase the amount of unwanted distractions and interruptions. Statistics published by (BIFMA) Business and Institutional Furniture Manufacturer's Association for human dimensions reveal that the 'seated head height' of 95% of the male population ranges up to 1.48m. Therefore, if your screens are to be above the 'seated head height' for everyone except the tallest 5% of your male workforce, they must be taller than 1.5m.
While the trend is to make office screens lower and lower, for organisations whose workers spend large parts of their day on the telephone, a screen height in excess of 1.5m will be critical to keep their calls confidential and undistracted — if this is a requirement of the nature of their work.
A good office screening system should allow you to specify the height to suit the nature of your working style and have good acoustic properties. They should also offer the flexibility of being able to be reconfigured at any time.
sales@interiasystems.com.au