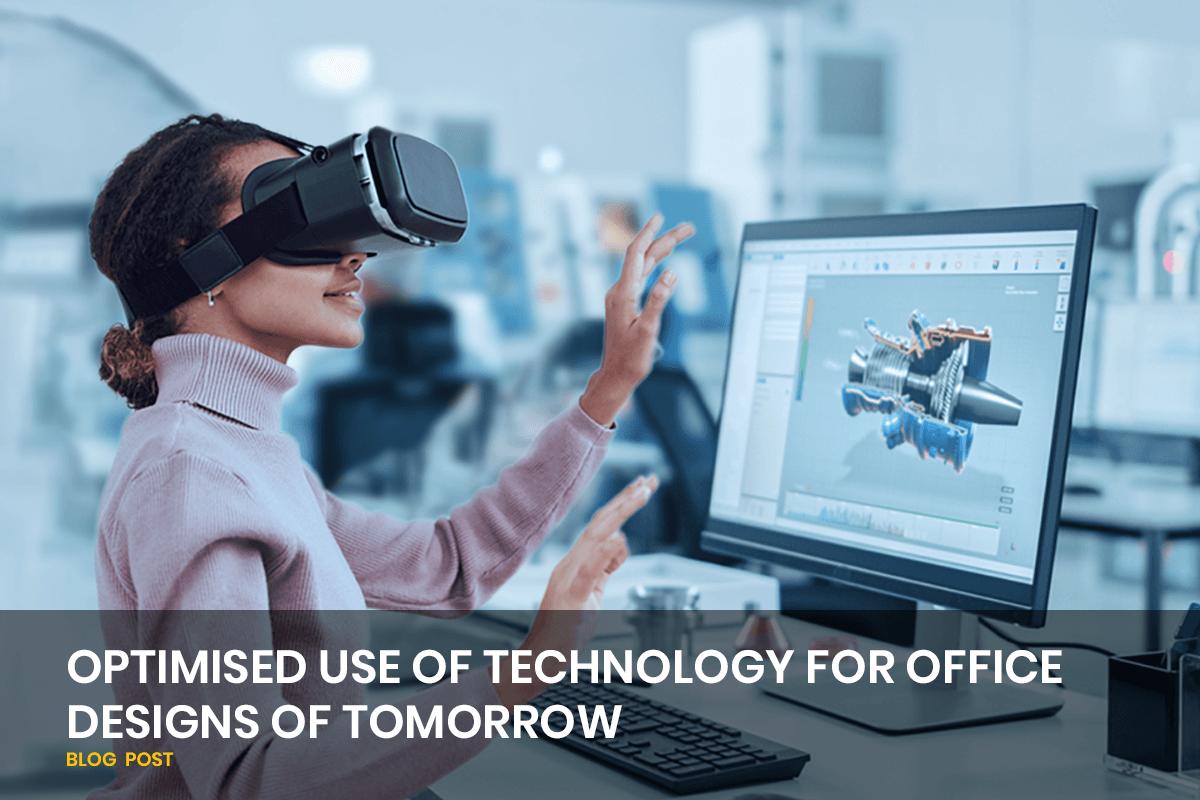 Optimised Use Of Technology For Office Designs of Tomorrow
Technology has allowed us to be more mobile than ever before. The devices we use today, such as mobile phones and laptops, provide us with the flexibility to use them at ease regardless of the location we are in. But if we take a closer look at how we work daily, it seems like we're still tied to a single position at a desk inside our workspaces.
For the last thirty years, Interia has been providing the clients with innovative solutions for office fit-outs. We have been noticing that in an average office, technology changes every two years, organisational strategies every four, workforce every eight, and office redesign every ten years. Unlike in the past, office spaces of today shouldn't only be focusing on productivity. Building office space in a future-proof way requires putting its people at the centre of the planning, and optimisation of technology in the fit-outs.
Health And Productivity
Different studies carried out over the years have been able to provide us with the right understanding of the impact our regular working habits make on our health. And modern technology has made it easier to incorporate these findings on our tools and office spaces so that the way we work supports a healthy life.
It has been long since companies have discovered that the health of the employees is directly related to their productivity. And it's a well-known fact that those who sit in the chair in higher amounts comparatively suffer a higher amount of discomfort and health problems. Frequent posture change is excellent for muscular-skeletal health, metabolic health, and also brain health. Healthy employees tend to be less confused and less distracted from their regular responsibilities. They are also more likely to take fewer days-off and take less sick leave. So what makes a healthy and productive employee? The answer includes a combination of numerous factors in his/her workstation.
The Technology Behind Ergonomic Workstations
The most common misconception about ergonomics is that people mostly relate it to office equipment such as chairs and desks. Ergonomics is more than that; it not only incorporates the basic design for good posture health but also includes arranging workspace elements to fit the users.
Though there have been high-end ergonomic seatings available, average regular desk workers sit in a chair for more than they should regularly. People move from the chair in the home to the chair in the car to the chair in the office to the chair back home. Sitting less and standing more is better for health as even standing up for a little more that we do every day can make a massive difference to our health. Encouraging movement and frequent posture change through different tools and accessories will help people stay productive and healthy.
Whenever we talk about a perfect workstation, we focus more on the aesthetics than the functionality itself. A well functioning workstation should not only provide users with comfort but also help boost their productivity.
From task seating to the desk to screen placement while working, technology has provided us with tools that help create a perfect ergonomic working environment. So there are basically a few areas that you should give special attention to if you are aiming to create a workstation that works.
Ergonomic seating
Sit-stand desk
Ergonomic keyboard and mouse
Monitor arms
The above tools have become the essential entities of a modern workstation that not only take care of employee's health but also help them perform better.
Flexibility
Have you ever wondered how creative people in big tech companies collaborate to come up with cool new ideas? Just take an example of Google's garage office where different teams collaborate in a dynamic, free-flowing environment. High performing teams need a flexible – not fancy – working environment to create excellent ideas.
Flexibility is all about working how you want to work and where you want to work. Modern employees are more motivated in flexible environments than stagnant ones. The good news is, flexibility can be achieved through proper space planning and the equipment we install in our office premises.
Modern technology has provided us with the right tools that help us create a flexible environment in our workspaces. Freedom in flexibility is not just about providing employees with the right tools but also making the optimum use of available space. With the popularity of modular concepts, a given area can be transformed into a conference room, cafe, or collaborative space within a matter of minutes.
Technology for flexible workspaces
Digital tools such as workplace apps and improved video conferencing systems that help teams collaborate online are promoting the rise of flexible working. Whereas, the rapid growth in the use of embedded technology is guiding the flexible approach to floor space inside offices. As modern technological tools and platforms are transforming the traditional ways of working, companies are changing their perspective in the way they think about and use their office space.
A smart desk on wheels accompanied by flexible monitor arms and smart connectivity can allow employees to choose to work from wherever they want and collaborate with whoever they wish to. On the other hand, modular partitions accompanied by smart furniture and connectivity will enable different teams to transform any space according to their requirement.
Safety
It took a global pandemic to make us think differently about safety in our workspaces. The new protocols of security will not just change how we work but forever transform the way office spaces will be designed. Thankfully, modern technology has our back.
Though there have been significant technological achievements in different sectors that can positively contribute to our safety, we haven't been able to widely incorporate them into our office spaces. Now is the perfect time to optimise the use of such technology in our office designs.
Technology for safer workplaces
According to new safety protocols, offices will be regulating strict social distancing rules and discouraging physical interactions between the employees as well as committing to more hygienic workplaces. Regular health monitoring and tracking the wellbeing of staff will also be one of the most important routines of the offices of the future.
Future offices will need to refine the current health and safety protocols further and incorporate new codes in their priority list. Making the perfect use of the right technology will undoubtedly help address health and safety issues in an office environment. Few of the following technological achievements may help achieve our goals.
Health monitoring apps: The wellbeing of employees is one of the major concerns of modern offices today as more businesses are implementing employee-first ethos in their policy. Health monitoring apps will provide management with the right information about the health of the staff so that they can make sure everyone is performing well without worries.
Automation and Touchless technology: Physical interaction between people is not considered safe anymore. Reducing frequent touchpoints to hinder the spread of infection has become a challenging task for offices. Automation and touchless technology have helped a great deal in minimising common touchpoints. Today, elevators can be operated with apps, and automatic doors can manage traffic flow without people needing to handle them manually. Such technology requires a more significant installation in different areas of the office spaces.
Safety apps: safety apps have been developed to monitor safety-related issues and provide crucial information at ease. Such apps can minimise the risk and improve health and safety management of office space. Different apps available today allow users to identify risk, create health and safety checklists, and track and record various actions for future reference.
3D visualisation and Virtual reality technology: 3D visualisation technology alerts employees about the risks of their workplace environment in a more effective way. Generating lifelike images and using them during the training sessions will be more practical in helping workers know the hazards in advance. It will also alert managers about the use of right safety equipment and materials to prevent and to stay alert of any unfortunate events in future. Virtual reality allows staff to experience high-risk situations in a safe environment. It will enable management to deliver its team with better training, which is much more useful than providing them with a manual.