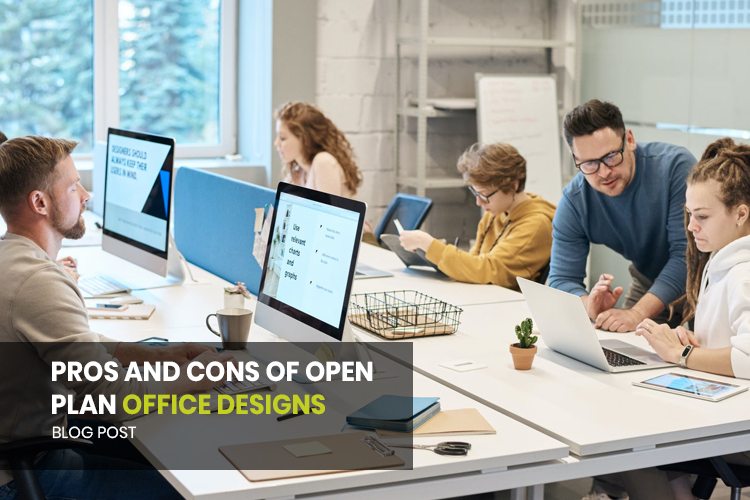 Pros and Cons of Open Plan Office Designs
An open office plan seems to be all the rage, a design force shifting the interior business landscape of today. It was given birth in the tech industry, and over time, it has spread to established sectors such as advertising and media. Now, the discussion about office spaces has become more people-centric, instead of focusing on pure design principles. The visual appeal also grows strong in open offices, acting as a centerpiece of the company's brand identity. Yet, after years of proliferation, open offices have faced fierce critique, which we will address in the article as well.
An open season
Open design is a breath of fresh air in the business world. It aims at bringing down the obstacles to human interaction and communication, thus encouraging the culture of informal and spontaneous meetings. Furthermore, it encompasses a workspace without high dividers and promotes communal areas, where people come together and connect in a meaningful way. This implies that enterprises with workflows that depend heavily on collaboration are most inclined. It is a design experiment which has given mixed results, and it is of utmost importance to weigh both its pros and cons.
A double-edged sword
An open plan helps owners and managers gain a valuable real estate, and maximize the utilization of present space. This is to say more workers can effectively fit in an office, which allows you to save money in the long run. One must not overdo it, however, as a cramped office would defeat the whole purpose. If you are just an elbow away from the co-worker and forced to listen to dozens of phone conversations, that impedes your ability to focus on the tasks ahead and deliver results. So, do not expect that open plan will solve organizational and structural problems— in fact, it could even emphasize them.
Limits of control
People have varying work styles and require different things from the workspace. An open plan gives them a control over the space, providing much greater flexibility than rigid cubicles. Hence, one should consider a wide array of movable components that offer a choice of where to perform work duties. Now, it was thought that merely tearing down the walls will create an environment where productivity, ideation, and creativity would thrive. However, a backlash against open offices has revealed that this illusion is misleading. Some even consider open-plan "oppressive", a culprit behind decline in productiveness and increase in the number of sick days.
More or less
In order to bring long-lasting benefits for the company, open design sometimes needs to be a bit less open. Privacy is a big issue in such offices, and closed rooms do have their advantages. Thus, business owners should muse on gradually implementing the new concepts of the design in their premises. Strive to combine private offices and cubicle banks with an open-plan, and pull together a versatile workplace. Ponder on dividers, doors, soundproofing, and other components that preserve the patterns of solo work. A quality supplier like Doors Plusensures both the stylishness and functionality of traditional elements, while trusted general contractors can perform renovation and remodeling.
The hybrid solution
Ultimately, an open layout is not for everyone, and some collectives are indeed plagued by near-constant interruptions. Noise is one of the most pressing problems, a nuisance that undermines workers' concentration and ability to achieve peak performance. In many open-plan spaces workers employ headphones as "do not bother me" signs. So, the prime goal is to create a hybrid office in which a range of spaces is available for employees to exploit. Give people a chance to work from the coffee bar, lounge, lobby, balcony and other places. Just keep core work areas intact, and do away with distractions, clutter and other productivity killers.
The old and the new
The innovative open design school has freed the workers from the tedious cubes, but the new environment is not without challenges – privacy being one of the most prominent ones. The present drawbacks and strong points imply that the offices of the future will likely have both the open and private spaces: We must build on the rich experience and proven methods of the offices of the past, and use these foundations to summon the future of business in our premises. Make your office a desirable place to be, and keep an open mind for novelties that are just around the corner.
Author Bio: Chloe is an art historian and a contributor at smoothdecorator.com. She is in love with photography, dance and writing. Her biggest dream is to travel the whole world and take some stunning photographs of beautiful places. Chloe also enjoys learning and writing about interior design, business and productivity management. You can find Chloe on FB and Twitter.
For help with your office furniture requirements please call us on +61 8 9359 1288 or email sales@interiasystems.com.au