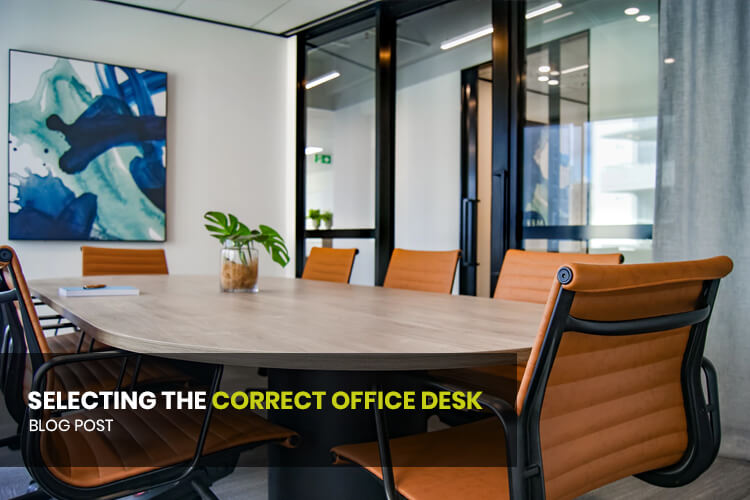 Selecting the Correct Office Desk
Today's office desk is a complete office workstation that supports the varied tasks that you perform each day while also accommodating your power and data requirements.
Interia offers a huge range for the office desk buyer, and many are available ex-stock or with very short lead times.
A question that is often asked is 'what shape should my office desks & workstations be?' Considering the points listed below when selecting your next office desk or workstation will assist you to set-up a comfortable, ergonomic and efficient workspace.
When You Are Setting Up A New Work Area, You Should Consider The Following Important Points:
• What size and shape would best suit your work style and your available space?
• What surface material and colour would best withstand the demands of your work style job and your work environment?
• What base type would best suit your work style?
How Do You Use Your Office Desk Or Office Workstation?
For Computer-based tasks?
If your tasks are primarily computer-based, select a computer office desk or workstation with a narrower depth and also consider using a monitor arm to mount your screen. If you use a PC, be sure to include a CPU holder mounted underneath the worktop to accommodate your CPU. Also, specify a cable entry duct in a suitable position to accommodate your power and data wiring as these you to route your cables to the nearest connection points below the desk.
For Paper-based tasks?
Choose a desk or workstation with a wider worktop depth and also consider a corner shape desks or an additional desk return. You may also want to consider adding an overhead hutch or a hamper with shelving for additional storage space.
For a combination of computer and paper-based tasks?
Consider an "L"-shaped corner desk to allow for the screen/keyboard as well as open writing space. If your budget and space allow, 'U'-shaped models will provide even more space.
Do you need to integrate a meeting function?
If your daily tasks involve frequent or impromptu meetings and your space allows, a separate meeting table is the best solution, if not, a P-end office desk shape is a very cost and space-effective.
Do you have very limited space?
Choose a compact rectangular office desk shape and maybe consider mobile storage units.
Would a standing desk be a better option?
Sitting for hours at a time can be very damaging to anyone's back, especially for individuals with existing back problems. Consider using a stand-up desk, where you can adjust the height of the worktop either electrically or by a crank handle and quite literally "stand up" while working.
Though more expensive to purchase, users often claim that the sit-stand method of working makes them feel more alert and productive.
Ergonomics And Space
• Your office desk should provide unimpeded clearance for your legs, and any top support beam should be no deeper than 50mm. The standard desk height is 720mm from the floor, which will accommodate most users.
• There should be a minimum of 1000mm of space provided in-between the desk and any walls or other office furniture and also in front of the desk if you use a visitor/client chair.
• Desktop equipment and materials should be within easy and comfortable reach.
Worktop Material
Melamine – Today's most popular choice, a melamine worktop is the most affordable and durable material that easily withstands the rigours of constant commercial use. You can choose from a wide array of colours, wood grains and patterns. White coloured melamine is a very common colour used in the Perth office fitouts.

Timber veneer – A more elegant choice, timber veneer has a thin surface layer of real wood finished with a clear satin polyester coating. Though not as durable as melamine, timber veneer office desks offer a classier appearance and are very often used as executive office desks in Perth. Timber veneer office desks are typically a lot more expensive than melamine desks and require considerably more care to maintain.
Base Type
Melamine slab-ends – The most affordable option that also offers the most under-desk privacy. You can choose the colour to match the worktop or another contrasting colour.
Metal legs – A more modern and flexible option, metal leg office workstations are usually used in Perth office fitouts. Most incorporate a beam system that can be adjusted in length, easily accommodating skirting and allowing the desk to be butted right up against adjoining walls.
Quality And Durability
• The quality of the office desk or workstation will firstly be evident in the thickness of the worktop and the legs if they are melamine slab-ends. Make sure your worktop is at least 25mm thick.
• 2mm ABS edging that is machine glued to the worktop is the most durable edging for today's office desks and workstations.
• The warranty itself will give you a good idea of the quality, durability and life expectancy of a particular office desk. Warranties typically should range from 5 years to 3 years and cover all materials and workmanship.
If you would like to talk to the Perth office furniture specialists, call Interia on 1800 945 292 or you can email us at sales@interiasystems.com.au