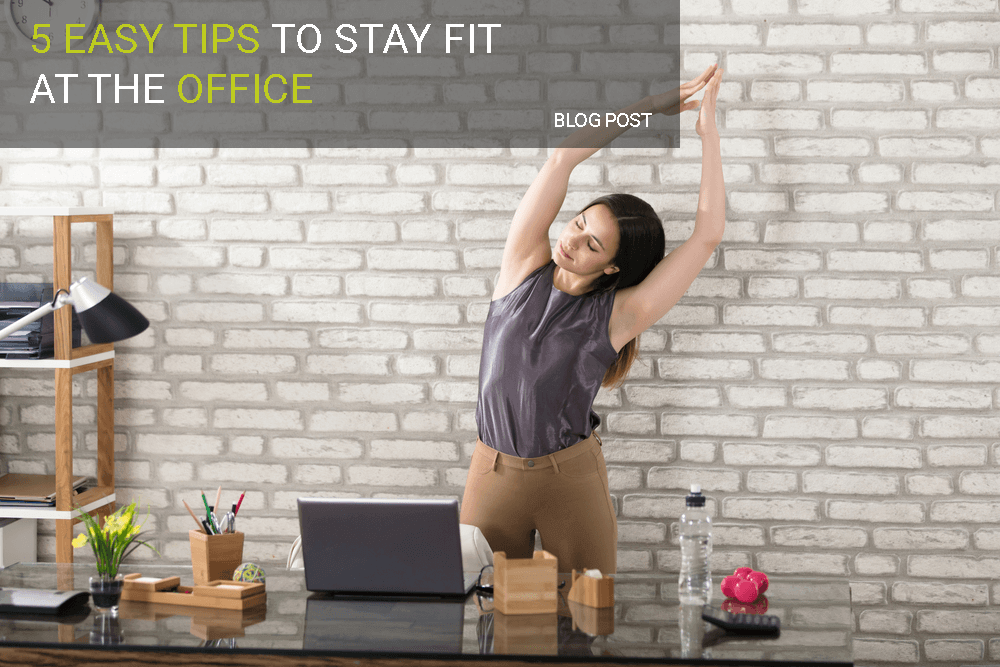 5 Easy Tips to Stay Fit at the Office
It is difficult for working professionals who spend hours in the office chairs to stick to a healthy routine. It can be hard to stay fit and healthy while working. Sometimes you are so focused on the tasks you neglect your physical wellness.

But just because you spend most of your day in the office does not mean you cannot stay healthy. You can always do little things to take care of yourself. Listed below are 5 easy tips to stay fit and healthy no matter your work schedule.

1. Watch your posture
It is interesting to know how often we slouch even if we tell ourselves to sit straight. Here's a little trick to help with that. Set up reminders every 1 hour to ask yourself if you are slouching and correct your posture. Keep at it as if you are building a new habit and you will never slouch again. Good posture, in the long run, will help prevent neck and spine pain.

2. Drink lots of water
Carry a reusable water container with you at all times. Drink plenty of water to stay hydrated and focused for prolonged periods. It's even better to switch cups of coffee for glasses of water to stay healthy. Drinking water will keep you full and fight off unhealthy snack cravings.

3. Pack snacks
Say no to starving. If you're hungry, you are likely to eat anything from the kitchen. You will have sweet food cravings that are not good for your health. Bring almonds, fruits and protein bars handy to eat in the afternoon. Keep any healthy snacks to make your willpower strong.

4. Prepare your meals at home
One of the best ways to control what you eat is by preparing homemade foods. Include healthy options in your lunch box as much as you can. Some healthy food includes fruits, seeds, or nuts for your snacks. This way, you no longer have to buy food from food trucks or fast-food chains and can even save money. If your colleagues share food with you, eat it in moderation. Also, do not skip meals as they lead to overeating.
5. Walk or ride the way to work
If you can bike or walk your way to work, then use it to add more activity into your day. You will arrive feeling fresh and energised, with a clear mind. If this is not viable, you can even take the stairs instead of an elevator. If you are using a car for commuting, you can park it a few metres away and walk the rest of the way to the office. Try a few different things and see what works best for you.

Is staying fit at work important to you? What other ideas have you used to stay healthy at work?