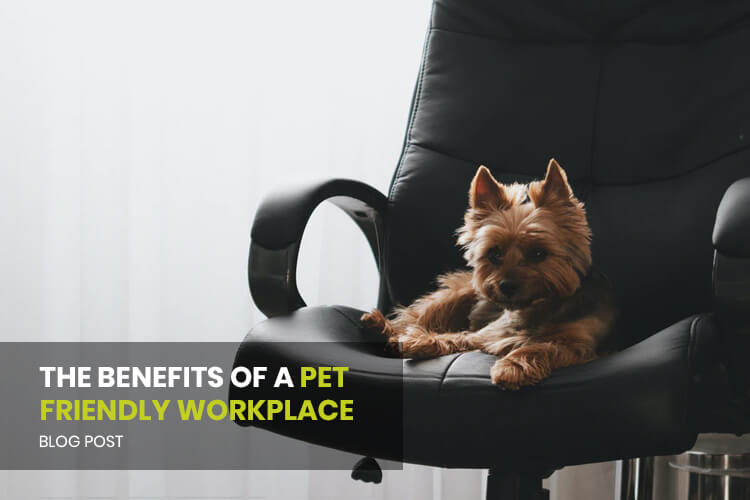 The Benefits of a Pet Friendly Workplace
Pitch 'bring your pet to work day' will be easy with pet friendly furniture. No longer do you have to deal with puppy dog eyes every time you walk out the door. And for managers and business owners, pet friendly workplaces attract millennials. It's a win-win.
Pets are like a natural mood booster. Walk down the street with a cute dog and you'll have people stopping to make a cuteness comment. One hospital ran a survey on pet-friendly workplaces, from the HR perspectives. The results showed that allowing pets at work positively affected everything from recruiting and retention. Daily morale and productivity also increased from furry friends in the office.
That same study uncovered 53% of employees are more likely to stay with their company if it were pet friendly. HR Managers believe company loyalty would increase and the environments are more positive – 88% showed improved morale, 86% reduced stress, and 67% increased productivity.
Why? Because pets bring people together. Having them at work creates a space where employees have real conversations with leaders. It creates a 'family-like' environment. There's improved work relationships and common ground to connect with new people.
Employees are more likely to work longer, because they don't have to rush home and feed the dog. There's a greater work-life balance.
As millennials are marrying later, more are getting pets. Targeting those go-getter entrepreneurs in their 20's and 30's is easier if they're able to bring their pet to work. It highlights a causal, laid-back structure that many younger workers look for. It's a simple strategy to attract top pet-owning talent.
Thinking about a pet friendly office?
Like the idea of a pooch-friendly workplace? It's important to train your employees on general best practices for having pets in the office. This includes training, giving someone else's dog a treat, cleaning up after it, and no-go zones like conference areas.
It's best to talk it over with your team and judge their response. Talk to them about potential allergies and any hesitations they may have. The last thing you want to do is to have a pet rat or bird in the office, so laying ground rules is critical.
Dogs are a natural conversation ice-breaker. They lift moods, improve happiness, and reduce stress. All of those reasons people buy a dog can be transferred into the office. It's another way to encourage movement, as co-workers can take their pooch out for a walk during breaks. It kills two birds with one stone: exercising and walking the dog.
The productivity and motivation in your office starts with a well-planned layout. We sell office desks, tables, chairs, kitchen furniture, accessories, and storage – all designed to make your office work.
Need something custom made? Our in-house manufacturing allows us to create an individualised product. Take advantage of our complimentary layout service.
Hello, token office dog.