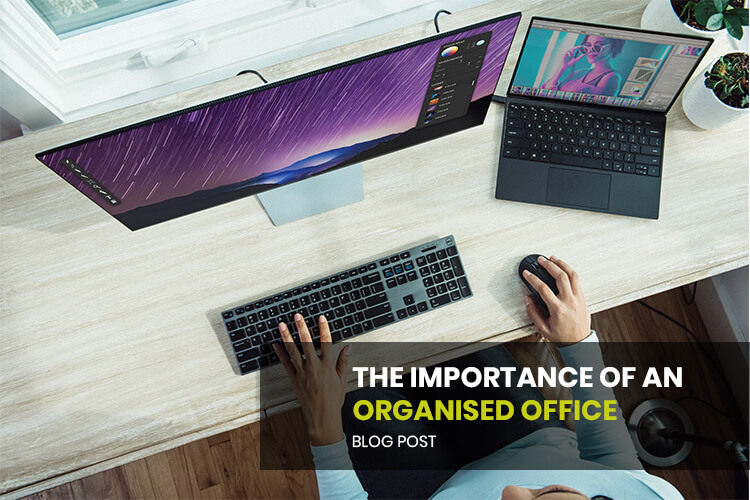 The Importance of an Organised Office
Ever tried to work in an unorganised desk? It's a minimalist's nightmare. A clean, tidy workspace starts with thoughtful office fitout design. Your space should be constructed to suit your changing needs. It requires an idea of where (and how) you're planning to evolve.
If you wait to the last minute and buy furniture just when you need it, those quick decisions usually lead to the wrong purchases.
Work stress is more than just how long your to-do list is. It's also about the environment you work in. If getting to your desk is like following a maze, it's probably stressing you out (even without realising).
Be organised, lower stress, improve workflow.
Don't spend hours searching for files or trying to find the contact details of 'that' client. An organised office leads to efficient no-stress working. Online organisation is just as important as the physical environment. A growing inbox of 'unread messages' will carve out those worry lines on your face. Adopt a clean and organised workstation and on your laptop.
Organisation boosts success. An organised space makes a strong impression, on both your employees and clients (and the delivery man). It helps positively reinforce how people view the company.
Alongside higher morale, it's more professional. You don't want your client to worry resonate with a chaotic feeling, because this will spill over into how they view your work. Set the tone and high level of professionalism. You can't expect your employees to embody it, if it's not coming from the top.
Then, of course, there's health and safety. Whether it's a layer of dust on the desk that's affecting asthma-sufferers or the tables are old, with sharp corners, there are all types of risks that need to be managed.
Even something that seemingly 'safe' like a fridge could be harbouring dangerous bacteria or the gas heater hasn't been serviced in years. Make sure the floors are clear to walk on and there's no clutter.
An ongoing approach is needed when it comes to keeping offices organised. If you need to, make cleaning fun. Spend an hour at the end of every week, together as a group. Do this before knock off drinks (as their reward). Schedule it in, if that helps.
Re-think your office fitout.
An organised workplace reduces stress, saves time, and encourages productivity. At the very least, you'll spend less time looking for things. Review your office regularly. We suggest every six or 12 months, especially if you've recently hired new people (or are planning to). Your office is meant to evolve. Don't be afraid to be creative and test new office designs and layouts.
Your workstations, desks, chairs, storage and privacy solutions should all complement each other – while all serving a purpose. At Interia, we make sure your furniture not only looks good but functions to the highest standard.
Furniture isn't just what you sit on when you work. It has a direct link to how productive and motivated you are.