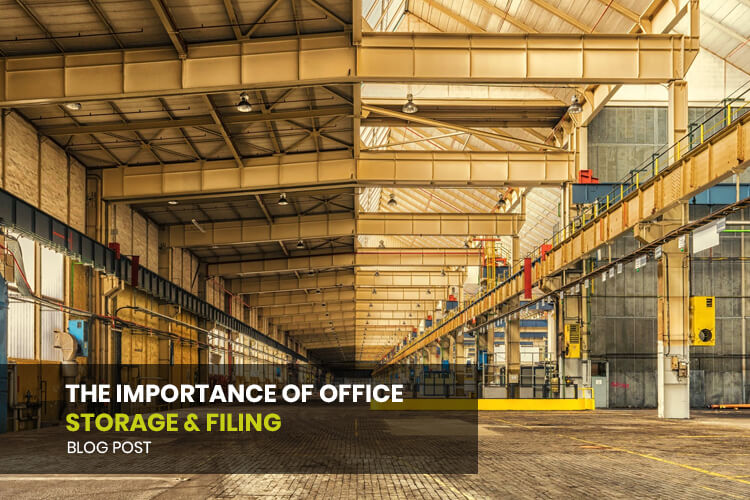 The Importance of Office Storage & Filing
Office storage & filing is a huge issue for business owners and is very critical in keeping an efficient work place environment. Personal office space is being reduced in favor of more collaborative environments such as conference rooms, training rooms & break out areas. As work life & personal life becomes more entwined through the advancement of technology personal items such as gym backs, shoes & healthy snacks are finding their way into the office which in turn creates a need for more storage space. Effective storage solutions in the office set the tone for the entire working staff. Read on to find out how your business can benefit from having a professional storage solution.
Nurturing Collaboration
Open plan offices are, and have been for many years the choice for business that wants to incorporate a collaborative environment into the work place and encourage communication & team work. While they are effective for a host of reasons the downside is that sometimes employees require privacy in order to work effectively. Office storage can serve as a dual function in an open plan layout. Storage units such as filing Cabinets & Bookcases can help divide the space and give employees a sense of personal space. With many open plan offices now electing for the bench style desks in view of achieving ultimate flexibility, companies can choose how many employees sit at a desk, and in what configuration and even allows for staff to sit at different locations each day encouraging collaboration & innovation. Most environments still require personal storage so storage caddy's and mobile pedestals are purpose built for this type of workplace and being mobile they can be easily relocated around the office.
Making the Most of the Available Space
Well planned out office storage solutions make small spaces seem larger and large spaces more functional. Businesses that need to find ways to fit more employees into a small space must maximize their use of office storage in order to give their employees adequate storage for their files and belongings, while utilizing storage that takes up as little space as possible. Buying modular pieces designed to fit with other pieces of furniture in the room allows businesses to maximize space. Modular pieces that are all bought from the same furniture collection will often maximize space naturally because these specific pieces were meant to be used together.
Promoting Health & Safety in the Workplace
Effective office storage puts files and documents where employees need them, within easy reach of the desk or office chair where the employee is working. Office storage that puts items high up or in deep cabinetry can make it difficult for employees to reach important items, leading to problems with the back and joints. Mid-sized, easy to reach cabinets allow employees to keep all their necessary office items, papers, files and personal items in a convenient location that doesn't require the employee to strain his or her back in the process of retrieving whatever it is that he or she needs. Yet proper ergonomically safe office storage must take this a step further. All aspects of interaction with the office storage must be positive for the employee. Ease of use is as important as ease of accessibility. Well-designed office storage must have drawers that pull out easily on their tracks and doors that open and shut cleanly and without hassle. Mobile pedestals that fit under desks will fit perfectly, and will not protrude or become a trip hazard for employees. Want a professional to assist with your office storage requirements? Send us an email sales@interiasystems.com.au or call us on +61 8 9359 1288.