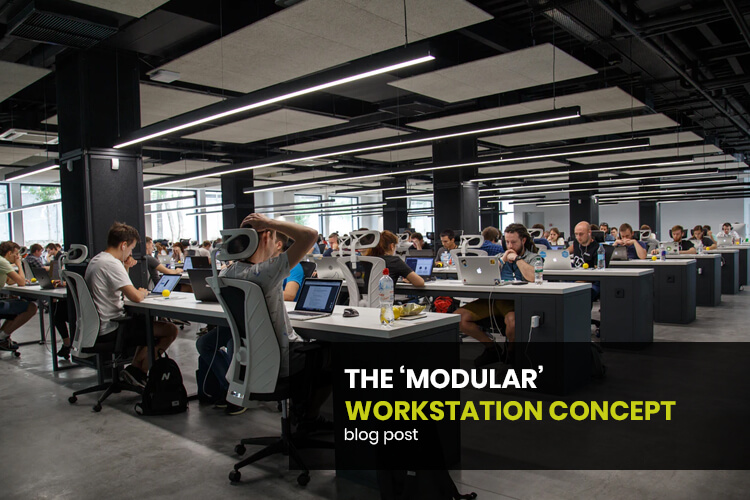 The 'Modular' Workstation Concept…
Modular workstations offer the most effective and affordable solution for today's workplace and are used by most businesses because of their versatility and efficient use of space…
With the current uncertain and unpredictable economic environment creating waves and fluctuations in staffing levels, frequent reconfigurations in office set-ups are now demanded almost instantly without the need to perform expensive renovations.
The modular office workstation system does not need any attachment to walls, floors or beams provided a stable configuration and layout is achieved. This allows the flexibility to easily modify your office layout to suit your requirements without expensive alterations.
Modules can be added, removed, moved and set back up very quickly using a minimal amount of tools and labour. You won't need to hire construction workers or even outside workers to change the setup of your office. Another benefit of the modular workstation is that they are fully customisable.
While basic configurations generally offer just a worktop and some sort of screen for privacy, most models offer a full range of options that include shelving, desk height adjustment, power and data modules, lighting and integral storage.
Today's modular workstations are available in a variety of vast array of colours and finishes. You can usually choose the colour of the metal components such as the legs, the colour of the worktops and also the colour of the screen fabric.
Achieve a Clean, Crisp and Professional Look…
The use of a modular workstation system will improve the professional image of your business by offering a consistent theme throughout your fitout. This brings with it the benefits of neat and orderly appearance that is sure to impress your clients and potential ones.
You can zone up your modular workstations with divider screens as required to improve employee efficiency and provide enough privacy so that each person can focus on their work without distraction. Modular privacy screens are part of the workstation system and can be added or removed as your needs change.
Mobile storage units such as drawer mobile pedestals and storage caddies with lockable compartments can be integrated as required offering less desk-top clutter and security for your staff. They also provide your employees with instant access to the documents that they need without wasting time walking to other locations.
Ergonomically Friendly…
Modern modular workstations are designed to be ergonomically friendly, so your workers will be more comfortable while they are performing their duties. Good ergonomics office furniture also cuts down on employee injury, lost productivity and downtime.
Supporting Technology…
The conception of modular workstations was driven partly by the need in the modern office for power and data cabling to support the evolving and ever-expanding use of technology.
Connection points must now be readily accessible from the desktop whilst the cabling is discreetly routed to each work-point. Accessibility to all cables must be easy and the modular workstation system usually incorporates open wire cable baskets that integrate with the metal leg frame system.
Affordability…
Once only considered as a designer option for the high-end office fitout, one of the most appealing benefits of the modular workstation system of today is that they are now completely affordable, and within the reach of practically any business regardless of their budget for office furniture.
New innovations and manufacturing techniques have delivered options and packages that are a far better option than investing in individual desks and partitions.
They also retain their value so can be amortized over a longer period of time. Since modular workstations require no indentations in the floor, walls or ceiling, the 'make-good' liability at the time of relocating premises is substantially reduced.