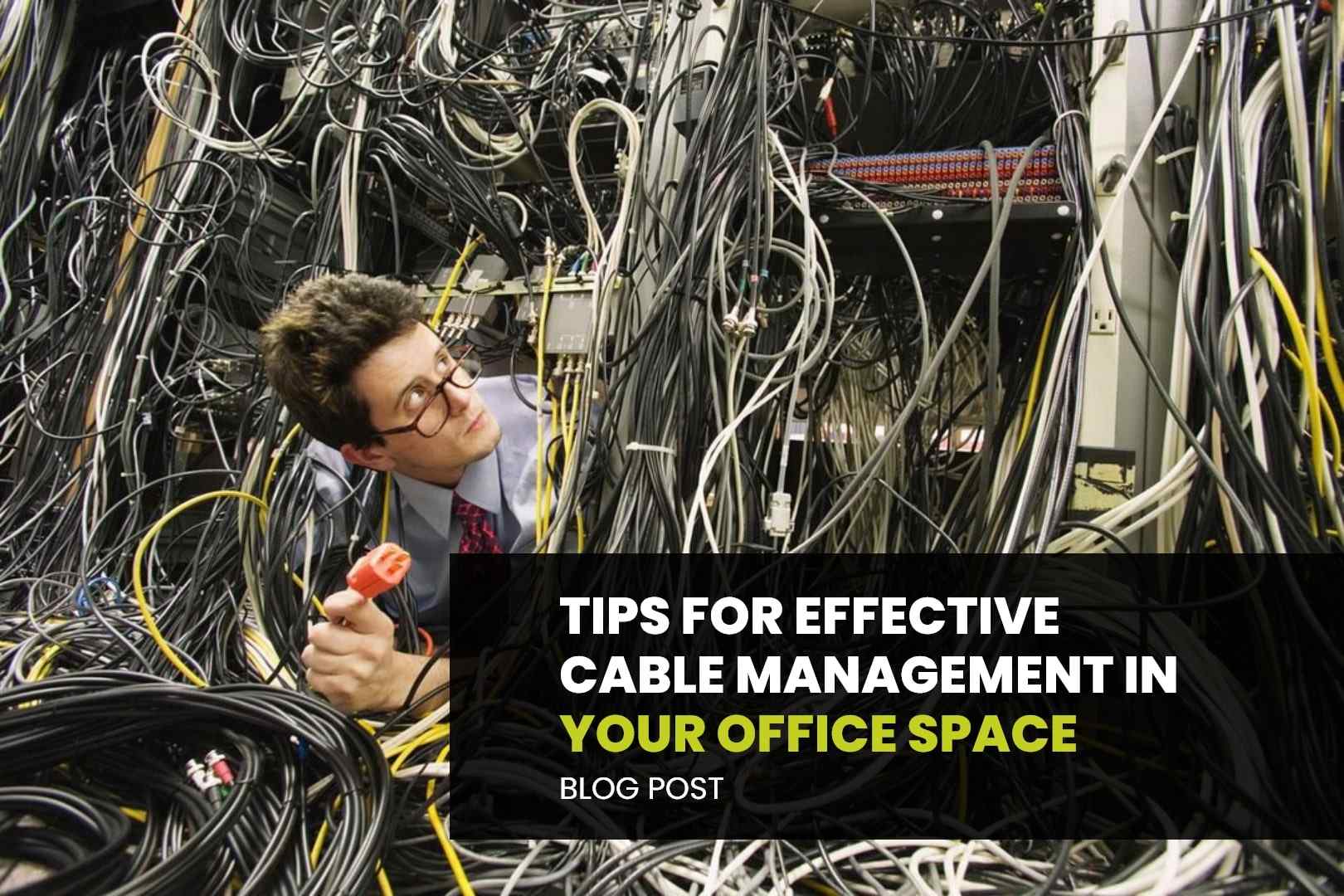 Tips For Effective Cable Management In Your Office Space
We all want a clean, clutter-free workspace, but we also need cables to stay connected and perform efficiently. With connectivity at the centre of every operation, more open-plan office spaces deal with the messes of tangled-up wires all over the floor. It isn't the worst thing your team will face, but can undoubtedly be a distracting factor and sometimes may pose a safety threat.
The good news is: there are ways you can provide your team with the cable they need while still managing to keep the floor and the desk clean and functional. This article is about tips and tricks for ideal office desk cable management and cable management ideas for office floors. Let's begin with straightforward tips.
Go Wireless
Simply eliminating cables is one of the best ways to manage them. Try installing more wireless office equipment in your workspace to get rid of distracting cables. Wireless mouse, keyboards, and even printers work just as effectively as their wired counterparts do. Additionally, introduce innovative devices, such as wireless charges to achieve cord-free workspaces.
Install The Right Furniture
Going wireless may not always be the option available on your table, and it may not provide a solution for each cable. In such a case, opt for furniture that helps you manage your cables. Furniture items, such as Interia Office Desks, are designed with dedicated routing channels for wires and cords to help you manage your devices that come with cables.
Better Position Power Strips
Wouldn't it be nice if your power strips perform naturally without being noticed? Well, if you rethink the placement of power strips, it's achievable. Don't look for obscure corners or dark areas; look beneath the desks for the best wiring management. Mount your power strips beneath your desks instead of placing it on the floor. It will keep your cords up and out of view. You will need special fasteners for sufficient mounting and cable ties to manage excess cord.
Manage Cables With Clips
Cable mounting clips not only organise your cables but also keep them accessible. We often waste time locating essential cords around the office space. On the other hand, misplaced cords make office space look messy. If you use mounting cable clips effectively, you'll have no problem accessing your laptop charger or an HDMI cable instantly when you need it.
Cover Them Up
You can camouflage the cables running along the floor with the right cable covers and avoid feet from tripping over any long-running cables. It not only keeps your office space clean but also provides an additional safety benefit. There is a wide range of cable covers in different styles and colours that perfectly blend in with your office aesthetics.
Label The Cables
Managing cables is not just about getting rid of them from your sight or cleaning up your workspace. It's also about accessing them instantly whenever you need them. You don't want to hide your cords away from the workspace to make it look clutter-free. You need them to get your things done. Therefore, you should manage your cables knowing what device is associated with each of them. The best way to do it is by labelling each cord to not spend time looking for a specific cable for a particular purpose.
Manage The Length
Long cables can make things complicated, whether on the floor or your desk. One of the most straightforward ways to shorten the cables' length is by wrapping them around cable wraps. Cable wraps are more effective in office desk cable management. Just mount them on your desk and manage the cords. It will ensure you won't get tangled between long cables while working.
And that's all for the 'Band-Aid' solution…
Yes, you've read it right: 'Band-aid' solution because it's what it sounds like. The tips mentioned above work in the short term, and they may not completely solve the modern office cable problems. However, if you have overlooked 'cable management' while designing your office space, you'll likely stick on with it until overhauling your workspace again.
Ideal Cable Management Begins With Ideal Office Design
Most office owners emphasise more on design and aesthetics and focus on cost-effective solutions from the outset. However, focusing on short-term economical solutions can lead to long-term unplanned expenses. Overlooking cable management during the design phase can be costly in future. Therefore, you should be aware of the significance of designing your office space with cable management in mind.
An office design should begin with understanding the amount of power and data that runs through it. If you have understood your needs, you'll include the best cable management practices in your office design. From raised floor grids to cable friendly design, there are solutions to help you flawlessly manage your cables and keep your office space free from distraction.
Ask The Design Experts
Interia is the provider of the best office fit-out solutions in Australia. For more than three decades, we've been helping office spaces of all sizes create an ideal space for their teams while providing practical cable management ideas. If you are looking to build brand-new office space for your team, overhaul your existing space to meet the demands of time, or simply manage cable issues in your office space, contact us today.