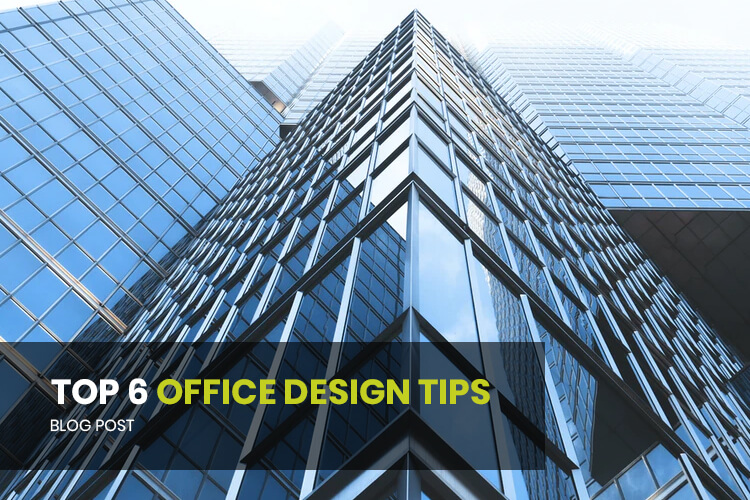 Top 6 office design tips
The office environment can have a big impact on your work and it's important that you have a well-designed workplace as this can significantly influence productivity. Unfortunately, many businesses don't place much emphasis on office design which can impact negatively on the workplace.
Today, we'll be look at our top office design tips to have your workplace looking great and functioning optimally.
Get the lighting right

A lot of workplaces overlook the importance of good lighting but it can have a big impact on the mood of the office. Try to allow as much natural light as possible into the space and utilise well placed lights or lamps in darker areas.
Offer different areas

Make sure you have inviting areas within the office for employees to relax, such as a communal lounge, as well as areas which offer privacy. Don't just adopt an open plan approach – well thought out additional spaces can also add to the workplace.
Add a touch of nature
Never underestimate the power of a bit of greenery in the office. Make sure you have some plants dotted amongst the workplace to lift the mood as well as adding to the aesthetic look of the office.
Ergonomic desks and chair
If you're going to splurge, getting quality office desks and chairs is the area to focus on. Ergonomic chairs and desks can make all the difference to the health of your employees and can mean less musculoskeletal issues. Standing desks are also well worth considering given the associated health benefits.
Choose the right colour
The colour you choose for the office can make a huge difference to mood and brain function. Remember that too much colour can be overwhelming so look for splashes of colour, such as murals or feature walls. Encourage employees to add a bit of colour to their workspaces.
Clear the clutter
A clutter-free workplace can go a long way to increase productivity and focus. Adopt a culture around the office where workspaces are kept clutter free and do regular cleanouts so the build-up of unnecessary clutter doesn't occur.
If you want to put some of our office design tips into practice, Interia can help. We provide custom office refits in Perth, WA as well as providing specialised furniture and equipment across most of Australian through our online ordering system. For more information, contact us today on 1300 784 816 or fill in our online enquiry form.