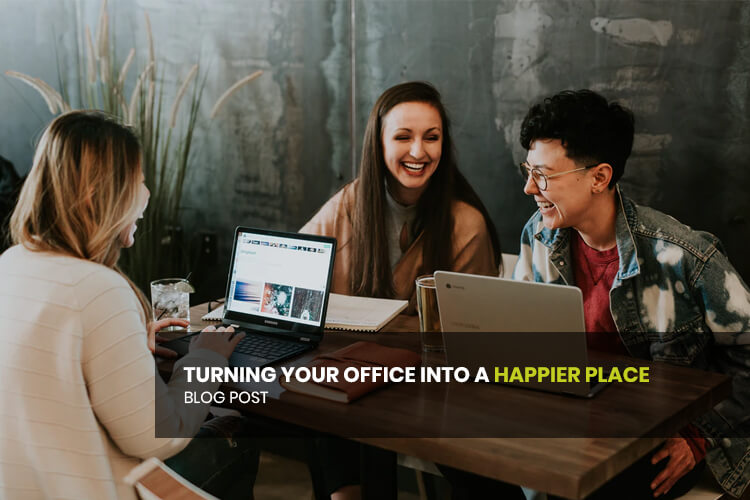 Turning Your Office Into A Happier Place
What's the key motivating factor at the work place? Majority think it's the paycheck but research has shown that it's the happiness found among employees. Employees who are happy work harder and are more driven to achieve results. They are also more fulfilled and satisfied. In such a workplace, there is less stress and frustration.
This article will share 5 tips on increasing happiness at the workplace and making your employees have morale and be more productive.
1. Give the office a personality
When the walls are plain white and all the drapery is cream and the floors are brown, it gives the office a drab and serious look. Inject some creativity in the design, layout and accents in your office. An example is having an open office plan. You can have the walls painted bold or with contrasting colors and hang some great art and inspirational quotes on the wall. Having standing desks as an option at work can also help to encourage free movement and better posture that can reduce stress. Ergonomic office chairs also offer comfort as compared to normal chairs and can increase one's productivity without causing strain.
2. Have a break room and make use of it.
Your company should have a break room where staff go and relax once they are tired. Your employees should get breaks often since this is important for their personal happiness at the workplace. There should be decorations and amenities in the break room. If it's within your reach, add free beverages. To those who want to go the extra mile, they can put some games like chess or darts.
3. Be Spontaneous
The main reason why many people lose interest in their jobs is because its turns into a routine and it becomes too predictable. You can introduce spontaneity in the office by bringing wide breaks, offering employees outings without their prior knowledge or having random meetings which are more relaxed. The employees should also feel that there free around the office.
4. Relax and have fun
All work and no play made Jack a dull boy. It's good to have fun among office staff because this encourages them to know each other better and reduces the tension and stress. Each day, there should be fun in the office whether it's through a game or a talk. Having fun brings about positivity which is infectious and people at the workplace will be happier.
5. Offer flexibility to your employees
If your employees feel that there is flexibility in the office, they will be more inspired to work. Flexibility can be in terms of time; e.g. allowing your workers to do heavy tasks at the times they feel they are best suited to do them. Some people prefer morning hours while others prefer the evening hours. You can also offer the option of working from home.
If you would like assistance with your office layout and making the work environment an efficient and happier place then please do not hestiate to call us on +61 8 9359 1288 or email sales@interiasystems.com.au