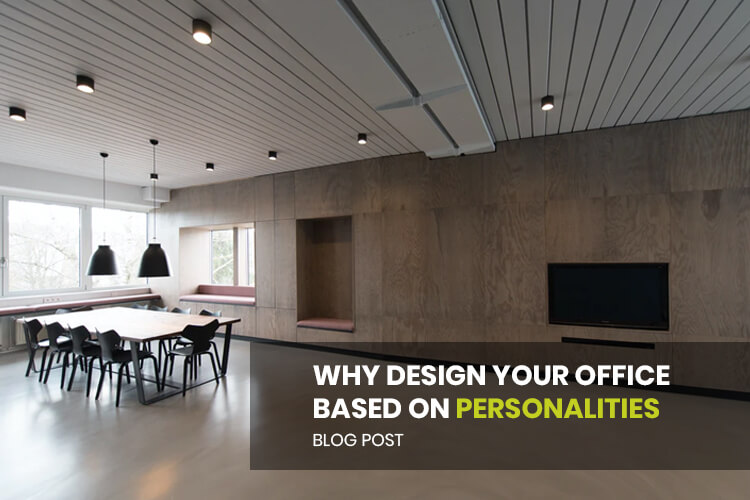 Why Design Your Office Based on Personalities – Introverts, Extraverts & Ambiverts
What comes to mind when you think of office design? Placement to the window, the bathroom, the coffee machine? When organising an office, most people think functionally. But there's one part of it that shouldn't be missed: personalities.
Every employee has their own unique personality that affects the way they work. This needs to be considered when planning your space. In fact, it's less about the physical environment and more about how to work it to cater for your staff. The more the space resonates with your team, the greater the productivity and motivation.
Avoid conflict, improve communication. Get more done.
Someone who works well in a quiet, laid-back area will enjoy the privacy of little corner books and high-walled workstations. While an extravert probably loves collaborative settings where they're constantly connected and engaged. Yes, this contrast doesn't always make it easy when thinking about the placement of workstations, but this is where offering various work styles helps. A combination of multiple design elements is key. Consider the four modes of working: Learning, focusing, socialising, and collaboration.
For introverts…
Introverts need solitude. They usually take longer to make decisions and require a space to sit, ponder, and decide. Give your introverts modular workstations to create dedicated spaces away from high-traffic areas. This is where they'll go to focus on their work and make decisions. It doesn't mean that they'll always need space, but it's important to give them little 'breaks' away from the main area.
Pictured: Oslo Corner Desk
For extraverts…
For your louder, 'let's talk about our weekends' type of people, they thrive on social interactions. Extraverts are typically verbal, quick to share their ideas, and love working as a team. It's in brainstorming sessions and office gatherings where your extraverts will shine. You can spot them (or more likely hear them) in a crowd. If you have project work that requires a team, extraverts will be your go-to personalities. They need open spaces, huddle rooms, and lounge areas. Again, this is not to say they don't need their own space, but they'll be pulled towards a group of people rather than peaceful corners.
When considering your office layout, think about the types of tasks that will be performed and create opportunities for both independent and collaborative work styles. Some people, your ambiverts, will switch between the two. Individual, deep-work nodes are just as important as open-plan settings. They just serve different purposes for your people. Listen to what your employees are telling you – both verbally and observing the way they work
Base your office design on your employee's personalities.
Don't know much about your employees, beyond what they do on the weekends? Why not ask them to do the Myers Briggs personality test and all look at the results together. Use the findings, as well as what your employees tell you, to redesign your office.
You'll see the positive effects, probably instantly.
Interia
With over 30 years' experience, we offer Australia's best range of office furniture. With our user friendly online ordering capabilities through to complete design & construction we remain committed to exceed your expectations. Whether you're an aspiring start-up company or one of the world's best known blue-chip corporations, we have the solutions and options to suit your work-style and your budget, just contact us on 1300 734 105.