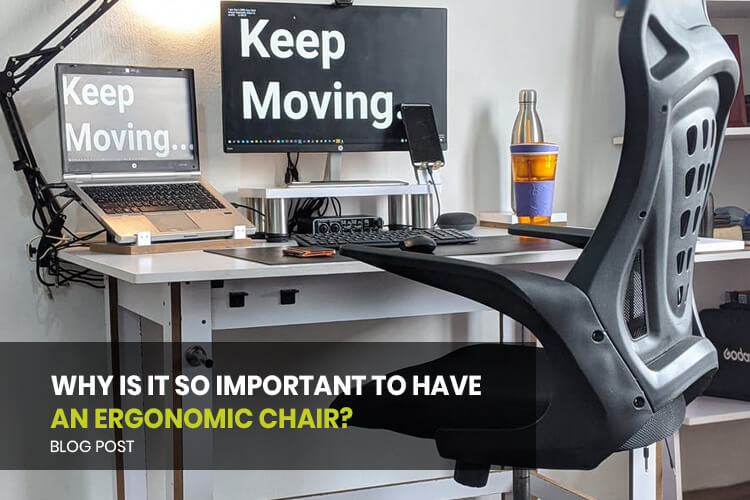 Why is it so important to have an ergonomic chair?
Ergonomics is the study of how individuals fit within their environment and how this impacts on their wellbeing. Office ergonomics in particular work towards improving the office space to minimise the detrimental impact on health and wellbeing. Research shows that adjusting elements of the office environment such as desks, monitors, and ergonomic office chairs can assist with improving productivity and worker happiness. It can also decrease instances of worker's compensation claims, office injuries, and sick days.
The effects of bad ergonomics
Ergonomics can stem into every aspect of the office, from the level and angles of the computer monitors, to the curve support of the office chair, to the shape of the keyboard and softness of the mousepad. Weather you have Computer desks or Executive office desks. Due to the sedentary nature of office work in particular, the humble office chair is particularly important in producing positive ergonomics to prevent back injuries.
There are elements of a chair which should be considered as to how they will affect your office employees specifically:
The size of the chair and weight support
Fabric used or leather
Mesh or solid back
Supporting materials such as foam inside the cushioning
Head rest
Wheels and flexibility
Adjustability for height and recline
When choosing an office chair, it's important to consider what the chair will be used for primarily. Your chairs might be for operators, for meetings, for executives working long hours at the desk, for specific task making, or for visitors. Different purposes require different design elements to ensure a comfortable and productive workspace.
How to choose an ergonomic office chair
In order to choose the correct ergonomic chair for your office, it should match the purpose, also be adjustable to the individual who will be using it, as well as match the workstation fit-out.
Chairs which are ergonomic can also will carry a Level 6 blue tick from The Australasian Furnishing Research & Development Institute (AFRDI). This is an international, not-for-profit, organisation which aims to promote the production and purchase of sustainable freestanding furniture products. This blue tick notes that the chair has been tested for Severe Commercial use of up to 140kg.
To view one of the largest selections of ergonomic office chairs in Australia, check out our website. We supply Perth, Darwin, Adelaide, Canberra, Melbourne and Sydney via online order. To find out more information or to speak to a member of our team, you can call us on +61 8 9359 1288 or send an email to sales@interiasystems.com.au.