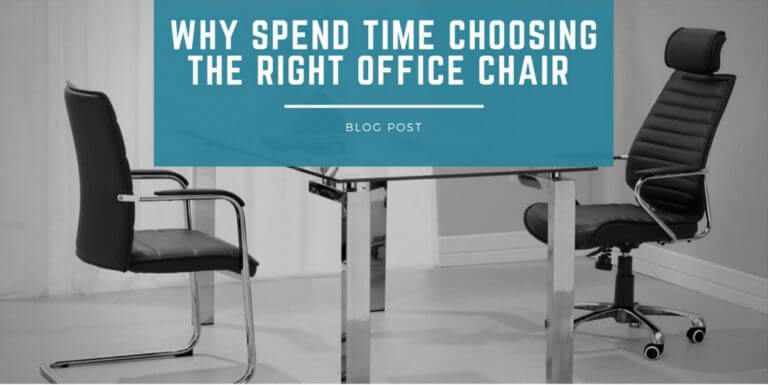 Why Spend Time Choosing the Right Office Chair
Do you experience back pain after a long day of work? Maybe your team are constantly stretching. These are signs that it's time to replace your office chairs.
Think about the number of hours you spend sitting down. Your chair and the position you sit can add stress to the structure of your spine. It's important that your chairs are ergonomically-designed so that it supports the lower back and encourages good posture.
Choosing your office chairs.
When adding chairs to your office, make sure they have these ergonomic principles. Investing in quality office furniture can, in fact, save you money. You'll experience less absences from work and your employees will be happier and healthier.
Consider the ergonomics of your chairs:
Lumbar supportChairs need to support the lower back. Some are better than others at this, but at the very least, make sure your chairs have an adjustable lumbar support. The different users can tailor the chair to suit their lower back – an important strategy to prevent back strain.
Adjust height & arms following on from our last point, almost all chairs have a height and arm adjustment. But for office chairs, the more adjustments you have the better – up to 15 if possible. Look out for adjustability in the arm width and height, seat back width and height, seat and back angle, and tension control.
Wheel base what floors do you have in your office? Keep this in mind when you're purchasing office chairs. The wheel base will affect your buying decision. If your office has carpet, you might need wheels that's specifically made for this.
Swivel base It's common for your employees to take their chair from room to room. If there's a meeting held in another room, they need to be able to use the swivel. Accessing different parts of the office desk is required to prevent muscle strain.
Fabric The material of the chair is something many people forget to consider. The fabric should breathe in the office climate. The last thing you want are chairs that start to smell overtime. The material should also be comfortable and have plenty of cushion.
To wrap this up, the most important part of buying chairs is comfort in your working posture. It should tick all the boxes of support, adjustability, and flexibility. Choosing the right chairs for your office isn't a quick trip. It's a critical part of your office design and a purchase decision that you should take the time on. Just think about the thousands of hours your team spend sitting down per year, just to put this into perspective.
The ergonomic office chair specialists
Ready to update your chairs? Contact us today and view our large range to suit all functions and workplaces. Mesh chairs for ventilation, boardroom chairs for customers, and armless chairs for hangout areas.
Give your employees the right support, from the ground up.