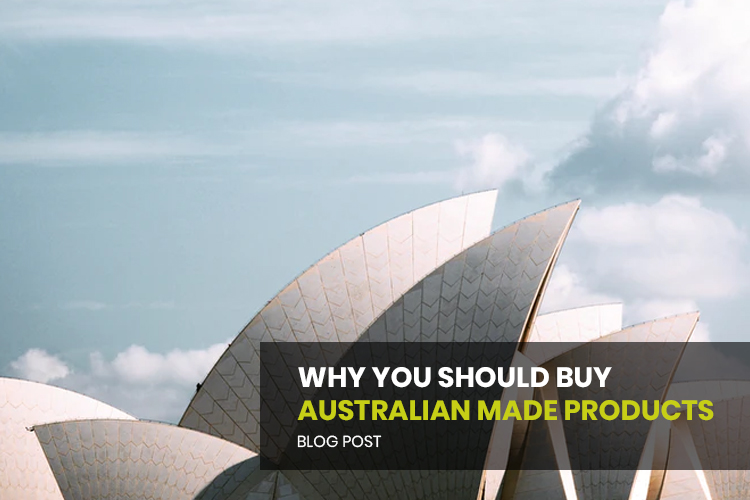 Why you should buy Australian Made Products
Did you know that for every $1 Million of Australian Made products sold, 10 new full-time jobs are created and almost $350 Thousand of Tax Revenue is generated?
With Australian's moving away from purchasing Australian Made products, it is important to realise the significance of this trend.
The supermarkets are a prime example of the drift towards overseas purchasing. It is reported that up to 85% of supermarket products are manufactured by foreign business' which creates an incredible amount of export dollars flowing out of the country (this is reportedly as high as $36.5 Billion). If each & every Australian replaced $25 per week of foreign products with Australian Made products, the Australian Government coffers would be overflowing with the extra $10 Billion of tax revenue and 250,000 new jobs filled. These reasons certainly show the benefit to the economy of increased purchasing of Australian Made products but "What's in it for me" you ask?
1. Peace of mind
Australian made products are designed and manufactured to work in Australian conditions and are certain to be made according to stringent Australian Standards. How many stories have you heard about consumers buying cheap imported products only to find out that they don't meet the strict requirements of the market they are meant to be used in? This has become a very severe problem in the construction industry with even the Pariamentary Secretary to the Ministry of Industry weighing in by saying:
"These faulty products are not meeting Australian standards and are causing significant risk of fire or failing the most basic of stress tests".
2. More peace of mind
You get guaranteed Customer Service which means any issues you may have will be resolved very promptly and spare parts if required will be easily accessible. When issues arise with foreign products there is very little protection for the consumer with regards to the Manufacturers / Suppliers obligations. With Australian products the user has the Consumer Protection Agency which is able to mediate and enforce resolutions.
3. Even more peace of mind
The products will be designed to operate safely and will not cause any harm to users. As the Minister Bob Baldwin suggested:
"Families building or renovating homes should be able to have confidence that products used were safe and up to the task".
As Benjamin Franklin is often quoted:
"The Bitterness of Poor Quality remains Long after theSweetness of Low Price is Forgotten".
Please bear this in mind next time you are deciding between purchasing an Australian Made product and a product manufactured overseas.
Interia has Australian Made certification on their Alpha office furniture range, view the Office workstations & desks and the storage options. Alpha is locally manufactured office furniture in Perth and can be purchased in our online store.
Contact us today on +61 8 9359 1288 or online. Interia Online Furniture Store open 24/7.