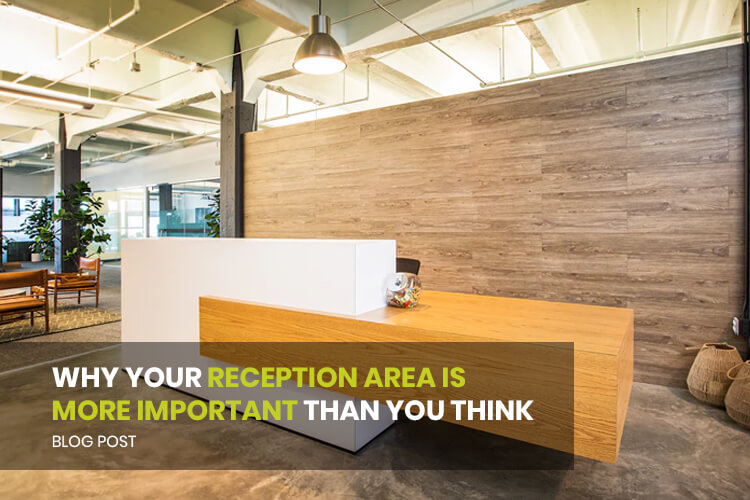 Why Your Reception Area is More Important Than You Think
Reception areas certainly aren't top on the list when it comes to decorating your office. It's a space that your employees or customers don't spend much time in. Rather, it's simply where they pass through. All you need is a reception desk, a few office chairs, and there you have it: your reception area.
A reception area is more important than you think, read our blog post to find out why.
This isn't exactly true. We spend so much time investing in making our offices amazing but forget about the first thing that people see when they walk through the door: the reception area.
The reception: The link between you & your customers.
As humans, we naturally form opinions within seconds. And these first impressions matter. They could be the difference between someone feeling like your company is professional and trustworthy – or, that you're not. What's more, your clients, prospects and new staff members will often spend a few minutes waiting in your reception, looking around and making assumptions (probably without even realising it). This is an opportunity, if used correctly.
One of the most important parts of your reception is the desk. They come in all shapes and sizes such as rectangular, square, and semi-circle. Choosing a smart and stylish desk can make (or break) the space. They 'say' a lot about your business and its culture. Think of the reception desk as a statement piece for the room. All eyes will go to it when people walk in. But the importance of the desk goes beyond just aesthetics.
There are many tasks that will be carried out from this area – phone calls, sending and receiving letters, organising meetings, greeting people, and handling employee requests. Having enough space is extremely important, especially if your receptionist does a lot and needs to switch from one task to another, quickly. Many business owners fall into the trap of thinking their reception just needs to be small. But, a lot of tasks happen here, so space is essential. You don't want people to walk in and see a cluttered, stressful space. This is what they'll attach to your business.
Visitors should be able to walk in, look around, feel relaxed, and understand what you do. Your reception area should send a good message and reinforce your brand, positively. Make your space welcoming, creative, and in line with your brand's culture. Don't be afraid to inject personality into it. Think of it as an extension of your workspace, so people get a feel for what working with you is all about. Have fun with the space and make little changes to it frequently.
Choosing a reception desk.
Give your clients, prospects and employees a great first impression by taking the time to update your reception area. Make sure the space is professional and the people who walk in are comfortable while they wait. We sell desks that are designed for your reception. Find the style and size that you need for the greatest impact.
How do you want your customers to think about your brand? Evoke this, through the creative use of your reception area.
Interia
With over 30 years' experience, we offer Australia's best range of office furniture. With our user friendly online ordering capabilities through to complete design & construction we remain committed to exceed your expectations. Whether you're an aspiring start-up company or one of the world's best known blue-chip corporations, we have the solutions and options to suit your work-style and your budget, just contact us on 1300 734 105.