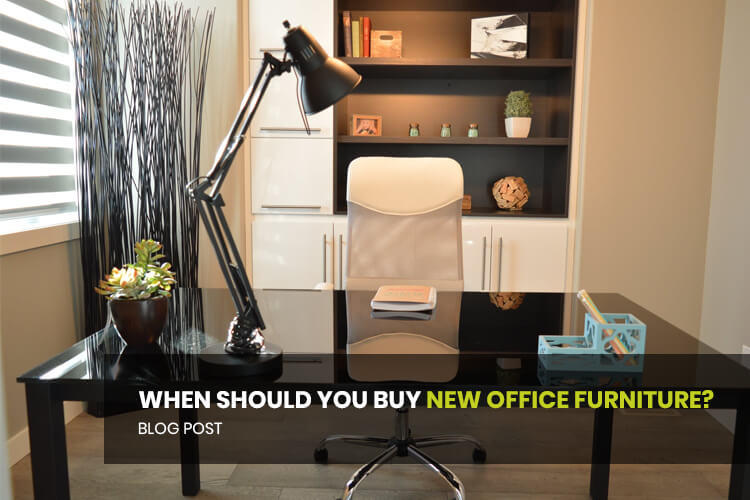 When Should You Buy New Office Furniture?
It's a decision every business owner has to make 'When should I purchase new office furniture?'
The lease could have expired and you think it's time to move closer to the CBD or upgrade to a modern office. Maybe there is little collaboration in your current office with its outdated cubicles & rabbit warren layout and you would like an open plan office to get the vibe back into the workplace. Or your furniture literally is on its last legs and it's time to replace it fast.
Thankfully there are options available and we have given our opinion on the benefits of purchasing new office furniture.
Benefits of Purchasing New Office Furniture
It's the perfect opportunity to revitalize the office:
If your business opened its doors in the late 80's in Perth when beech / charcoal was the only colour option for your slab end style workstations and your staff are complaining their desks are falling apart it's definitely time for an update.
Today modern office furniture is very simple to install and change the layout as your office changes or expands. With the advancement of technology each desk can have built in power & data called soft wiring which takes away the need of getting an electrician out every time a desk is moved.
It demonstrates to your customers that you plan on staying around.
Yes purchasing new furniture may seem like an expensive outlay but the impression it will leave on your customers that you are planning for future growth and have confidence in your business to succeed will no doubt give you excellent return on investment. Also these days there are great finance options like the one Interia offers through Flexi Commercial.
It demonstrates to your employees that you plan on staying around.
The investment will be proven through the revitalized energetic staff who now instead of sitting in their cubicle going through the motions will now be working together as a team, collaborating and sharing ideas that you never thought they were capable of. To put simply it a culture of success & positivity will be created.
It meets OH&S requirements.
The humble office desk & chair has developed at a rapid rate over time. Show your staff that you care about their welfare & health by investing in modern and stylish office desks & ergonomic friendly chairs.
It's tax deductible:
For small businesses, the cost of your office supplies (including furniture) is tax deductible. These expenses can either be deducted in the first year (up to a certain amount) or depreciated. Take advantage of the new tax breaks the government offer by clicking here.
It has a warranty:
Office furniture today comes with warranties ranging from 1 year through to 10 years on local manufactured products. If there is a problem with the new office furniture you can contact the supplier & they will arrange a technician to attend to this free of charge. If the item is faulty the component can be repaired or replaced.